Founded by three wine enthusiasts and food and beverage experts from three different parts of the globe, English for Wineries is the new, revolutionary company bringing wineries the materials they need to connect with distributors and bring them to a broader market.
This innovative company is the first of its kind in the wine industry. They have cleverly combined the services of translation (wine labels, technical sheets and brochures), as well as proofreading, content creation and social media management.
English for Wineries offers a dedicated French or Spanish speaking Account Manager who works with their English speaking staff to ensure an impeccable service.
With over 20 years of combined experience, this company applies their in-depth knowledge to describe wines in a language appealing to consumers. As well as the technical vocabulary practised in the industry by distributors and wine critics.
English for Wineries provides an all-encompassing service that improves the wineries' ability to communicate the details of their products correctly and deliver their quality wines with correct and professional materials.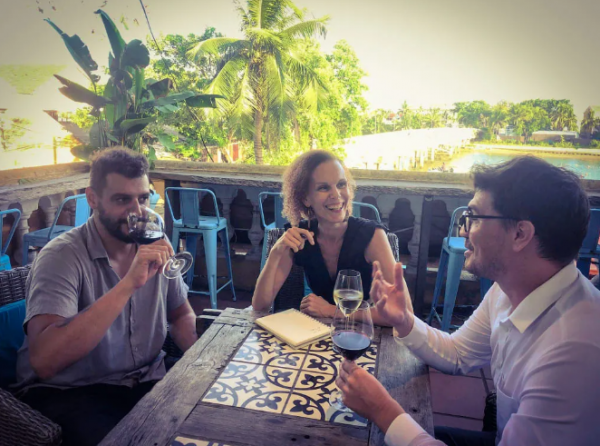 We sat down with the team from English for Wineries to get a closer look at this innovative group:
Q: How did you all meet?
A: While living in beautiful HoiAn, a popular tourist destination in Central Vietnam, we bonded over our shared love of wine; it was something that brought us together, and of course, the company as well.
Q: Where did the inspiration for English for Wineries come from?
A: The business idea came around after Alison helped Elvin, a native of France, fix errors in technical sheets produced by a winery. Those moments really brought to our attention the importance of ensuring these details were translated as accurately as possible. Especially, when the technical sheets are used in foreign countries where English is a second language, and the staff selling the wine may not have the skills to identify the errors and self-correct them.
Q: What are the benefits for wineries hiring your services?
A: The technical expertise of the partners involved in English for Wineries will allow customers to present a polished, professional image to distributors, critics and consumers, which is very important in the current ultra-competitive market.
Visit their website for more information and see what this company has to offer: https://englishforwineries.com/
Media Contact
Company Name: English for Wineries
Contact Person: Ginger Ray
Email: Send Email
Country: United Kingdom
Website: https://englishforwineries.com/