Radhaa, it's truly a pleasure to have you with us today to discuss the remarkable success of the 'Stories of the Goddess Book Tour and the exciting opportunity for poets in 'Poems From the Heart.' Let's start with the Book Tour.
Q. Can you tell us about the inspiration behind this transformative journey to the United Kingdom and its impact on attendees?
Radhaa Nilia: Thank you for having me. The 'Stories of the Goddess' Book Tour was deeply inspired by my passionate commitment to sharing the stories of the Goddess through the voices of the Divine Feminine. This desire had been a driving force in my work at the Goddess Code Academy. I had been helping women discover their inner strength, embrace their uniqueness, and break free from societal norms by guiding them to connect with their Goddess Archetypes.
When I curated 'Stories of the Goddess,' my vision was to provide a platform for everyday women to share their connections with the Goddess and how this relationship was a source of healing and inspiration. This book was truly special, and the tour became a means to celebrate and share the remarkable stories of women who fearlessly followed their hearts, unleashing their inner power.
The impact of this journey was profound. In London, attendees were transported to a realm where the Divine Feminine was honored and revered. The live readings and discussions became portals to a magical experience, igniting sparks of inspiration and transformation in the audience's hearts. As we continued through Scotland, the tour evolved into a space for collaboration and empowerment. Attendees not only connected with the authors but also with kindred spirits who shared a deep passion for the Divine Feminine and personal growth.
The tour's intimate conclusion in Prague added a special touch to the journey, providing a serene and enchanting backdrop for the participants. By the tour's culmination, the enchantment it had woven had awakened a spark of magic within each participant, leaving them inspired and reconnected with their inner Goddess.
Q: The impact of the Book Tour sounds truly transformative, bringing women together to celebrate the Divine Feminine. Now, let's delve into 'Poems From the Heart.' Can you share what inspired this project and the vision you have for it?
Radhaa Nilia: 'Poems From the Heart' is an upcoming project that celebrates the unique power of poetry to delve into the depth of human emotions. It was born from the idea that poetry expresses our innermost thoughts and feelings, a way to connect with the world on a deeply emotional level. The project's vision is to curate a poetry book that mirrors the diverse expressions of the human heart. We want to create a sacred space in our Author Incubator program where poets can refine their craft and receive the support and training needed to bring their poetry to the next level. It's about fostering a sense of community and empowerment among poets, both new and experienced and sharing their work with a global audience.
Q: The Author Incubator program for 'Poems From the Heart' sounds like a fantastic opportunity for poets to refine their skills and connect with professionals in the publishing industry. Can you tell us more about what poets can expect from this program and the support they will receive?
Radhaa Nilia: The Author Incubator program is designed to empower poets and writers. It's a sacred space where poets receive support, training, and guidance, ensuring their inner genius is fully expressed through their writing. The classes are structured bi-weekly to maintain creative momentum. It's not just about individual growth; it's also about connecting with like-minded poets, sharing experiences, and learning from each other. Poets who are experts in their craft are encouraged to share their wisdom with newer poets, creating a nurturing environment where everyone can flourish. Through close collaboration with professionals in the publishing industry, poets will have the opportunity to refine their work and gain insight into the publishing process.
Q: 'Poems From the Heart' will be released on Valentine's Day, which adds a beautiful touch to the project. Can you share more about the book's themes and the kind of poems you're looking to include in it?
Radhaa Nilia: ' Poems From the Heart' is a collection that delves into the rich tapestry of human emotions and experiences. We are open to all styles of poetry, from lyrical to evocative. The essence of this collection is to capture what it means to be human and to explore the complexities of the human experience. We are interested in poems touching love, loss, joy, pain, and every emotion. The poems in this book offer readers a journey of self-discovery and emotional resonance. The themes are diverse and encompass the entire spectrum of human emotions and experiences.
Q: You've introduced different packages for poets interested in joining 'Poems From the Heart.' Can you tell us more about these packages and what poets can expect?
Radhaa Nilia: We offer three distinct packages for poets interested in being part of 'Poems From the Heart': Each package includes the Author Incubator program, an international press release to promote the poet's work globally, and the opportunity to collaborate with other poets in this unique project. We aim to make this opportunity accessible to as many poets as possible. These packages are available to cater to the diverse needs and aspirations of poets, ensuring that every participant can embark on this beautiful journey with us. You can find further information HERE: https://linktr.ee/RadhaaPublishingHouse.
Q: Thank you, Radhaa, for sharing the details of this exciting opportunity for poets. Is there anything else you'd like to add or any final thoughts about 'Poems From the Heart'?
Radhaa Nilia: I'd like to extend a heartfelt invitation to all poets, writers, and lovers of words to join us in 'Poems From the Heart.' This is not just a book; it's a sacred journey that starts in November and culminates in February with its release. It's an opportunity to connect, express, and share your poetry in a way that touches the hearts of others.
And speaking of our published books, I encourage everyone to take a peek into our curated selection of books that span across genres, from holistic healing to the mystical realms of the divine feminine and the awakening of Starseeds. Each book is a testament to our commitment to uplifting, inspiring, and transforming lives. Here are a few books from our catalog:
"Energy Healing & Soul Medicine" is an enchanting journey into holistic well-being and personal transformation. Within the pages of this book, you'll embark on an exploration of healing, self-empowerment, and the myriad ways in which you can heal yourself and others. Our curated collection of holistic experts, coaches, and practitioners takes you deep into diverse healing modalities, each a unique facet of the radiant gem of holistic health. From energy healing to soul medicine, you'll encounter a rich tapestry of experiences, insights, and tools that profoundly transform body, mind, and spirit.
This book is not just a collection of words; it's a treasure trove of practical wisdom, an invitation to discover the extraordinary power within you, and a roadmap to holistic living. "Energy Healing & Soul Medicine" is the key to unlocking the potential for self-healing and self-discovery, allowing you to live a life of greater balance, harmony, and self-empowerment.
"Awakening Starseeds: Vol. 1, Shattering Illusions" marks the inception of a groundbreaking series, offering readers a passport to a realm of cosmic awakening, personal transformation, and the embrace of divine truth. As our world transforms from darkness (Kali Yuga) to the age of truth and light (Satya Yuga), these pages become a beacon of hope. Starseeds from around the globe share their profound stories of awakening, serving as messengers from the stars, and delivering activations that ignite the inner spark of personal transformation.
This book transcends the boundaries of mere reading; it's an initiation into a new era of consciousness, an invitation to let go of the old and embrace the new. "Awakening Starseeds: Vol. 1, Shattering Illusions" is a radiant guide to discovering your true purpose, reclaiming your power, and stepping into a brighter, awakened reality.
The sequel to the Starseed saga, "Awakening Starseeds: Vol. 2, Stories Beyond the Stargate," delves even deeper into the mystical and transformative experiences of nineteen Starseeds. In an era where the world undergoes unrecognizable changes, this book series reveals how the portals and Stargates of consciousness are opening, flooding in powerful light codes for the transformation of our planet.
Journey alongside these Starseeds as they share their awakening stories, offering glimpses of the new Earth taking shape. This book is an enchanting blend of activations, storytelling, and healing, paving the way for an awakening that transcends the boundaries of ordinary reality. "Awakening Starseeds: Vol. 2, Stories Beyond the Stargate" is your key to unlocking the mysteries of the cosmos, and it's a profound testament to the power of personal transformation.
Awakening Starseeds: Vol. 3, Dreaming into the Future: As old paradigm structures crumble and darkness looms, 'Awakening Starseeds: Vol. 3, Dreaming into the Future' heralds the dawn of a new era. With fear and despair gripping the world, a wave of awakening Souls and Starseeds emerges to spread the message of freedom, renewal, and the promise of a great Neo-Renaissance for humanity. Chapter by chapter, this book inspires readers to transcend their old belief systems, encouraging them to step into a future they've always dreamt of. It's a call to embrace personal growth and transformation, unlocking the potential.
Pillars of Light: Stories of Goddess Activations™: The Goddesses have been trampled out of temples, written out of text, and taken out of History. The world is imbalanced because of this, and the Goddesses are needed now more than ever. Join us as we unravel the tight grip of the patriarchy to resurrect the Goddesses back onto Earth and into the Golden Age. Discover seventeen Goddess Archetypes through women who experienced Goddess Activations™ as they unravel the feminine pain of old paradigms, transforming their journey into triumphant holders of Pillars of Light. Goddess Activations™ is a living light frequency, an original healing modality by Radhaa Nilia.
Goddess Code Academy is the home of Goddess Activations™, a mystical school for the Divine Feminine. A fusion of feminine compelling and insightful personal stories that set the feminine spirit free. This book is educational, entertaining, and provocative. The stories in this book are raw and real experiences and a reminder that there is nothing you can't overcome with the Goddesses as your ally. As you step into the temple doors to the realm of the Goddesses, you, too, will receive activations to what's possible when you come home to the arms of the Goddess. A must-read book for anyone on their healing journey who desires to connect with the Goddess.
Infinite Cosmic Records: Sacred Doorways to Healing & Remembering by Maya the Shaman. Have you experienced a timeline where you can be transported to portals of doorways to revisit your past, present, or future lives? Like movies rewinding time and space continuum reality, seeing and meeting your guides, and receiving relevant messages for you? Or meet your star families and even be stunned to see yourself at the world's edge viewing the cosmos in its majestic composure – even found God and bliss? It sounds like a fantasy fiction story, but in this book, the mystic seekers are real people with real stories who had seen their complex lives during their Infinite Cosmic Records. Are you ready to experience yours?
Your guide is Maya The Shaman. Born in Maharlika, the Philippines, from a lineage of Shamans and Healers of the ancient land of Mu or Lemuria. Living most of her life in America, Maya sees the ailing need of the West to be provided with a superior healing modality from the East. These innovative sacred healing methods are based on the icon Maya termed "HBR," meaning 'Heart' centered healing that 'Bridge' the ancient past to the current healing needs through the art of 'Remembering.' Infinite Cosmic Records is a branch of the Lemurian Code Healing modality created by Maya. With the right intention, you, too, will be given what you're looking for.
Dolphin Odyssey: A Journey into the Secret World of Ascension: Immerse yourself in the enchanting realm of dolphins and embark on a profound voyage of self-discovery and spiritual awakening in the Dolphin Odyssey. In this captivating memoir, Aros Crystos delves into his lifelong pursuit of unraveling the mysteries of life, death, and the self, weaving a narrative around the profound connection between humans and dolphins. Within the pages of this book, Aros Crystos intimately shares his experiences, transmissions, and activations received from the dolphins. Their higher wisdom and profound messages catalyzed his awakening, unlocking the limitless depths of his being. Through these transmissions, readers are invited on a transformative journey of self-discovery, where they can delve into the intricate layers of their existence and rekindle the awe-inspiring possibilities within.
Prepare to be captivated by Dolphin Odyssey—a testament to the enduring bond between humans and dolphins and an invitation to embark on a profound odyssey of spiritual transformation. Dolphin Odyssey transcends the boundaries of conventional memoirs, offering a unique perspective on the interconnectedness of all things and our role in the vast tapestry of the Universe's Divine Consciousness. It is an essential read for anyone yearning to awaken their spiritual consciousness and grasp the extraordinary dimensions of dolphin physiology and spirituality.
Stories of the Goddess: Divine Feminine Frequency Keepers: Enter the transformative realm of "Stories of the Goddess," an anthology that celebrates the varied journeys of modern women from diverse backgrounds, guiding us to rekindle the age-old power of the Goddess within. In ancient history, witch hunts were conducted to eradicate the Divine Feminine Frequency. However, determined women unite through their voices, wombs, and wisdom. Embark on the real-life voyages of women who confronted challenges and overcame adversity, surpassing limitations and embracing their vulnerabilities and strengths. Be inspired to rewrite your story, break generational patterning, and fiercely reclaim your Divine Feminine Frequency. This book is a resounding call to trailblaze with self-empowerment and transformation.
Q: Radhaa, as someone with a background in filmmaking, I understand that you were up for an Alice Guy Blanche award for your first film and even won the Best Director award at Indie Fest in California. How have these achievements shaped your perspective on storytelling and your journey in visual media?
Radhaa Nilia: As for the future, I envision that we may expand into film. I see documentaries as part of our larger storytelling vision. The power of visual storytelling is undeniable, and it offers a new dimension to convey the wisdom, journeys, and transformative experiences we've been curating in our books. Imagine the impact of sharing these powerful stories on the big screen or through streaming platforms. It would reach even more hearts and minds, spreading the messages of empowerment, transformation, and the sacred feminine globally.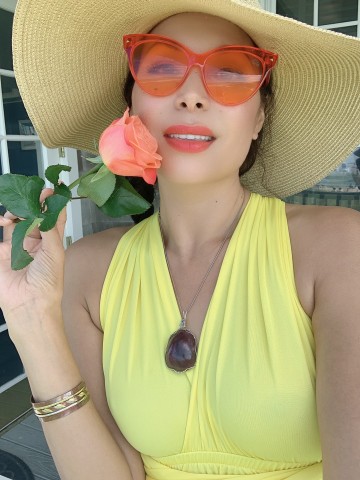 Q: That's an exciting vision, Radhaa. The idea of sharing these transformative stories through film is indeed compelling. Is there a specific message or theme you'd like to emphasize in these potential documentaries?
Radhaa Nilia: Absolutely, I'd be delighted to expand on that. It's a fundamental belief that resonates at the core of our mission – the idea that there are countless stories in the world, hidden and suppressed, waiting to be unearthed and shared. It's a dream we ardently pursue: to bring these stories to the forefront because we firmly believe that they matter. They are not just narratives; they are windows into the lives, struggles, and triumphs of individuals and communities who have been marginalized or overlooked.
In an increasingly interconnected world, understanding our common humanity is more important than ever. While we might hold various beliefs and come from diverse backgrounds, at the heart of it all, we share common desires and aspirations. We all yearn for a life where we can thrive, fulfill our potential, and lead meaningful, purposeful lives. It's a universal longing that transcends boundaries, whether they are cultural, social, or geographical.
By sharing these suppressed stories, we strive to bridge the gaps that sometimes divide us. We aim to foster empathy, compassion, and unity by highlighting the common threads that bind us together as human beings. Our work is more than just producing documentaries; it's about shedding light on the shared human experience, the dreams and struggles that connect us all.
In this endeavor, we are not alone. We recognize that many others are equally passionate about amplifying marginalized voices and bringing these narratives to the world. To create any project, a collaborative book, or a film, it's a collective effort driven by a deep belief in the power of storytelling to make a difference. It's my belief we can contribute to a more inclusive, understanding, and compassionate world where everyone has the opportunity to flourish and live their best lives. This vision guides my work, and committed to making it a reality. That is the power of storytelling.
Q. As we draw this journey to a close, Radhaa, I would like to impart a heartfelt message to both those who have been an integral part of this remarkable odyssey and to those who are only beginning to explore your work:
Radhaa Nilia: Embrace your unique voice. It's perfectly acceptable if your voice doesn't echo the cadence of others; you entered this world bearing a distinct purpose that only you can express in your unique way. The collaborative books we've created exemplify how diverse voices can come together to articulate something even more exquisite. My heart swells with gratitude for the exceptional individuals who have joined us on this path, and I eagerly anticipate the arrival of new kindred spirits to embark on this journey with us.
Allow me to share some of my current offerings:
Poems From the Heart: An Author Incubator program evolving into a collaborative book project commencing in November.

The Goddess Code Collective: A guided, 13-month expedition into the rich tapestry of Goddess Archetypes.

Shadow Work Workshop: designed to help us integrate and embrace the parts of ourselves that we may have left unloved or rejected. This is a two-hour guided workshop scheduled for November.
Furthermore, I extend my hand in offering high-touch Creative Coaching and Publishing Coaching for those seeking a more personalized and intimate experience on their creative and publishing journey.
I wish to express my deep appreciation for the opportunity to join you today. For those intrigued by 'Poems From the Heart' or any of our other projects, please get in touch with us. Together, let us continue this incredible voyage of transformation and empowerment hand in hand. You can find information on any of the above HERE: https://linktr.ee/RadhaaPublishingHouse.
Q: It's been an absolute pleasure, Radhaa. Thank you for sharing your vision, your projects, and the inspiration that drives your work. We look forward to the future of storytelling and to witnessing the continued transformation and empowerment that your work brings to the world.
Radhaa Nilia: Thank you for having me, and I'm truly excited about the path ahead. Thank you again for being part of this extraordinary journey. Blessings to you all!
Video Link: https://youtube.com/shorts/e392gxBjnew?si=g9lV60LR2SU9K2KU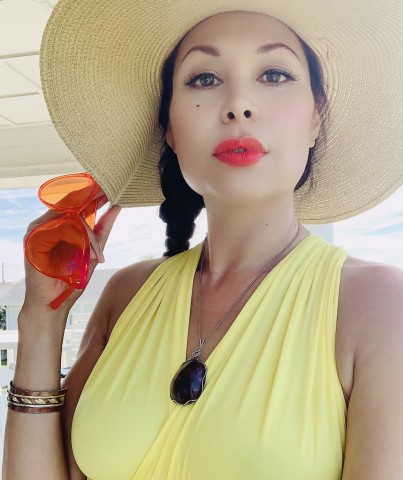 About Radhaa:
Radhaa, a 5.0 Manifestor, is a guiding light in sacred femininity and archetypes, leading the way as a Goddess Activator and Publishing Priestess. Her extraordinary blend of expertise in PR and Hollywood production has empowered countless women to embark on transformative journeys of healing and self-discovery, awakening their inner brilliance.
As the visionary founder of Goddess Code Academy, Radhaa extends a welcoming hand to all women, encouraging them to reconcile their hearts and souls and align with their higher soul's purpose. Her teachings unlock the mysteries of sacred femininity, empowering individuals to embrace their creative, magical essence and transition from the realm of hard work to one of joyful rebirth.
As a Publishing Priestess, Radhaa nurtures budding writers, guiding them in bringing their stories to life and achieving bestseller status through collaborative works. Her sanctuary, Radhaa Publishing House, serves as a sacred space for the birthing of profound literary creations. Radhaa's innate ability to activate inner genius has resulted in the launch of multiple bestselling books, inspiring those looking to share their narratives or embark on a journey of healing and self-discovery.
Join Radhaa on an enchanting journey to awaken the unstoppable woman you were always meant to be. Delve deeper into Radhaa's wisdom by exploring her latest collaborative works, such as "Stories of the Goddess: Divine Feminine Frequency Keepers" and "Pillars of Light: Goddess Activations." Radhaa continues to curate inspirational and collaborative books, ensuring that the journey of self-discovery and empowerment never ends. Embrace the magic, unleash your potential, and become the Goddess you were destined to be with Radhaa as your guide, kindling the flames of your inner brilliance. www.RadhaaNilia.net
Media Contact
Company Name: Golden Light PR
Contact Person: Saraswati
Email: Send Email
Phone: 865-322-9606
Country: United States
Website: https://goldenlightpr.com