The size of the Hypoxia market is expected to increase during the forecast period due to the anticipated launch of numerous therapies such as Trans-Sodium Crocetinate (TSC), TMS-007, and others.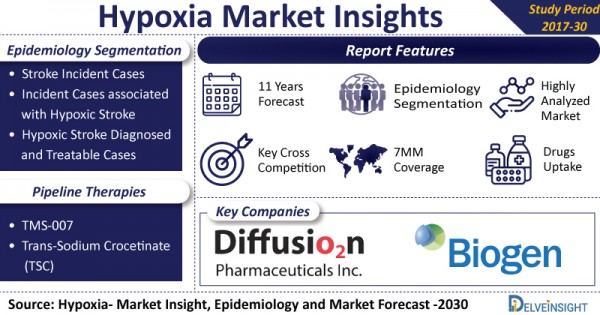 DelveInsight's Hypoxia market report provides a thorough comprehension of the Hypoxia historical and forecasted epidemiology and the Hypoxia market trends in the 7MM (the United States, EU5 (Germany, Spain, Italy, France, and the UK), and Japan. The Hypoxia market report also proffers an analysis of the current Hypoxia treatment algorithm/practice, Hypoxia market drivers, Hypoxia market barriers, and unmet medical needs.
Some of the Important Findings from the Hypoxia Market Report
Hypoxic Brain Injury has an incidence rate of about 50 per 100,000 people, according to a study by Myriam Lacerte et al. (2020).

Stroke is the fourth leading cause of death and the leading cause of adult disability in the United States. About 800,000 primary (first-time) or secondary (recurrent) strokes occur each year in the United States (Ovbiagele et al.).

Biogen, Diffusion Pharmaceuticals, and others are among the notable pharmaceutical companies which are actively working towards the development of novel therapies for Hypoxia treatment.

Trans-Sodium Crocetinate (TSC) (Diffusion Pharmaceuticals) is a first-in-class small molecule that safely re-oxygenates oxygen-deprived tissue via a novel, proprietary mechanism. The phase II trial for the treatment of ischemic and hemorrhagic stroke is being conducted by the company.

The current pipeline for Hypoxia has many significant products including TMS-007 (Biogen), along with others.
To know more about the type of hypoxia, request sample @ Hypoxia Types
The Hypoxia market report covers current treatment practices, emerging drugs, Hypoxia market share of individual therapies, and current and forecasted Hypoxia market size from 2017 to 2030, segmented by seven major markets.
Hypoxia: Overview
Hypoxia is a condition in which oxygen is not accessible in sufficient amounts at the tissue level to maintain adequate homeostasis; it can be caused by insufficient oxygen transport to the tissues due to a lack of blood supply or a lack of oxygen in the blood (hypoxemia). Hypoxia can be minor to severe, and it can manifest itself in acute, chronic, or acute and chronic forms. While some tissues can withstand various forms of hypoxia for prolonged periods of time, other tissues are severely damaged by low oxygen levels.
Hypoxia Epidemiology Segmentation
The Hypoxia report proffers epidemiological analysis for the study period 2017-30 in the 7MM segmented into:
Stroke Incident Cases

Incident Cases associated with Hypoxic Stroke

Hypoxic Stroke Diagnosed and Treatable Cases
Hypoxia Treatment Landscape
Hypoxia treatment depends on the underlying cause of the hypoxia. The current major treatment options include
Maintaining Patent Airways

Increase Fraction of the Inspired O2 (FiO2)

Improve the Diffusion of Oxygen through the Alveolar Interstitial Tissue

Other treatments (blood thinners, antibiotics)
Get detailed information on hypoxia treatment @ Hypoxia vs Ischemia
Hypoxia Market
The Hypoxia market size shall grow during the forecast period owing to the expected launch of many therapies such as Trans-Sodium Crocetinate (TSC) (Diffusion Pharmaceuticals), TMS-007 (Biogen), and others.
Hypoxia Pipeline Therapies and Key Companies
Trans-Sodium Crocetinate (TSC): Diffusion Pharmaceuticals

TMS-007: Biogen
Table of Contents
| | |
| --- | --- |
| 1. | Report Introduction |
| 2. | Hypoxia Market Share at a glance |
| 3. | Hypoxia Disease Background and Overview |
| 4. | Hypoxia Epidemiology and Patient Population |
| 5. | Country Wise: Epidemiology of Hypoxia |
| 6. | Hypoxia Current Treatment & Medical Practices |
| 7. | Hypoxia Emerging Drugs |
| 8. | Hypoxia Market Size |
| 9. | Hypoxia Region-Wise Market size of Hypoxic Stroke (2017-2030) |
| 10. | HypoxiaMarket Drivers |
| 11. | Hypoxia Market Barriers |
| 12. | Hypoxia Future perspectives & conclusion |
| 13. | Analyst view |
| 14. | Appendix |
| 15. | Report Methodology |
| 16. | DelveInsight Capabilities |
| 17. | Disclaimer |
| 18. | About DelveInsight |
For rich insights into Healthcare and Pharmaceutical News, visit Pharma, Healthcare, and Biotech Blog Posts
Related Reports
Get comprehensive historical and forecast analysis of Oxygen Conservers Market, Epidemiological and Therapeutics market domain with a special focus on key companies such as Inogen Inc., GCE Group, Precision Medical, Inc., Medline Industries, Inc., Inovo, Inc., among others.
About DelveInsight
DelveInsight is a leading Business Consultant and Market Research firm focused exclusively on life sciences. It supports Pharma companies by providing end-to-end comprehensive solutions to improve their performance.
Media Contact
Company Name: DelveInsight Business Research LLP
Contact Person: Sandeep Joshi
Email: Send Email
Phone: 9193216187
Address:304 S. Jones Blvd #2432
City: Las Vegas
State: NV
Country: United States
Website: www.delveinsight.com/