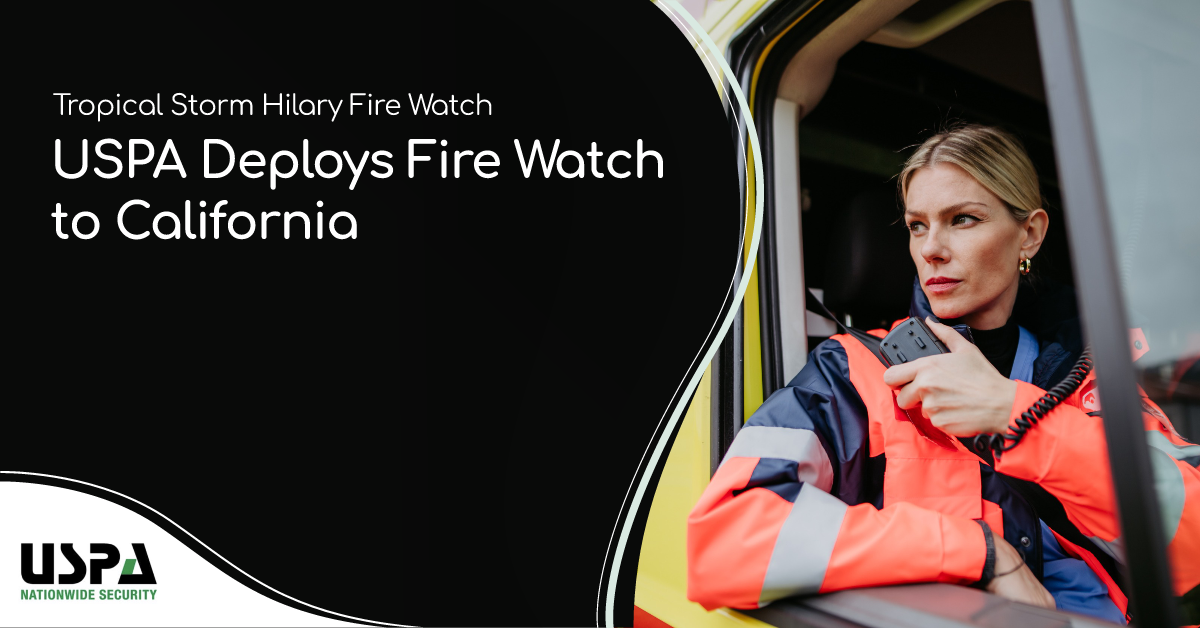 Fire Watch Los Angeles. USPA Nationwide Security Deployed a Team of Emergency Fire Watch Guards to California in Response to Tropical Storm Hilary.
USPA Nationwide Security deployed a team of fire watch guards in Los Angeles to stand guard against storm damage from Tropical Storm Hilary
As Tropical Storm Hilary nears the shores of California, USPA Nationwide Security is leading the charge in fortifying the state against the potential havoc to be wrought by this powerful weather system. With an unwavering commitment to public safety, this distinguished security firm has implemented groundbreaking strategies, harnessing cutting-edge technology to ingeniously counter the imminent threats of the approaching storm.
USPA Nationwide Security has emerged as an unstoppable force, reshaping safety protocols to navigate the impending calamity with unparalleled finesse. Equipped with a highly skilled workforce and a wealth of expertise, the company stands ready to confront the challenges head-on, sparing no expense in safeguarding lives and protecting valuable properties.
Recognizing the urgency of the situation, USPA Nationwide Security has ingeniously employed state-of-the-art technology to proactively address the hazards presented by Tropical Storm Hilary. By harnessing advanced weather tracking systems, predictive analytics, and real-time monitoring tools, the company adeptly predicts and identifies potential risks, enabling the prompt implementation of necessary measures to minimize damages and ensure the safety of Californians,
But their efforts do not end there. USPA Nationwide Security embraces a comprehensive approach, encompassing thorough risk assessments, customized security plans, and the deployment of highly trained personnel. Their emergency response teams undergo rigorous training programs, ensuring they remain at the forefront of fire prevention, hazard identification, and emergency procedures. This guarantees an efficient response to potential risks and enables the swift implementation of necessary measures to protect lives and safeguard properties.
In times of crisis, collaboration becomes paramount, and USPA Nationwide Security understands the significance of forging strong partnerships with local authorities, emergency management agencies, and community leaders. This collective approach ensures seamless communication, streamlined emergency response plans, and the allocation of additional resources when necessary. By fostering these alliances, USPA Nationwide Security fortifies its overall response capabilities and enhances the resilience of the communities it serves.
As the specter of Tropical Storm Hilary looms large, USPA Nationwide Security's implementation of innovative safety measures provides much-needed reassurance and support to vulnerable communities. The company's unwavering commitment to public safety underscores the crucial role played by advanced security services during severe weather events.
In addition to their preparedness for the impending storm, USPA Nationwide Security has embarked on community outreach programs to further augment their efforts. These initiatives aim to educate and empower individuals and communities to take proactive measures in ensuring their own safety. Through workshops and informational campaigns, USPA Nationwide Security equips residents with the knowledge and tools needed to prepare for and effectively respond to severe weather conditions.
Moreover, USPA Nationwide Security has made substantial investments in additional resources and personnel to ensure swift and efficient emergency response times. By bolstering their workforce, they can provide timely assistance, evacuation support, and crucial aid in post-storm recovery efforts.
Maintaining their commitment to innovation, USPA Nationwide Security continuously explores and develops new technologies that can further enhance their ability to predict and mitigate risks associated with severe weather events. By remaining at the forefront of technological advancements, the company remains steadfast in its dedication to providing the highest level of security and protection to Californians.
As Tropical Storm Hilary advances relentlessly, USPA Nationwide Security stands as a beacon of hope and security for California's communities. With their groundbreaking strategies, advanced technology, and collaborative approach, the company sets new benchmarks for security services in the face of tempestuous weather. Safeguarding the community's well-being remains their utmost concern, and they continue to evolve their methodologies to ensure Californians find solace amidst the storm's impending wrath.
About USPA Nationwide Security:
USPA Nationwide Security is a leading security firm that specializes in providing comprehensive security solutions to clients across the United States. With a focus on innovation, advanced technology, and highly trained personnel, USPA Nationwide Security remains committed to safeguarding lives and protecting valuable assets. Their services include risk assessments, emergency response planning, security personnel deployment, emergency fire watch services in Los Angeles and customized security solutions tailored to meet the unique needs of each client
Media Contact
Company Name: USPA Nationwide Security
Contact Person: Albina Beici
Email: Send Email
Phone: (800) 214-1448
Address:Customer Support Fire Watch Unit
City: Los Angeles
State: California
Country: United States
Website: uspasecurity.com/