Electronic Warfare Market is expected to reach USD 23.2 billion by 2027 from USD 18.5 billion in 2022 to grow at a CAGR of 4.7% during forecast period.
CHICAGO, Nov 10, 2023 – With projections to grow from USD 18.5 billion in 2022 to USD 23.2 billion by 2027, the worldwide Electronic Warfare Market is expected to experience significant growth, with a noteworthy Compound Annual Growth Rate (CAGR) of 4.7% throughout the forecast period. A thorough analysis from MarketsandMarkets, a reputable market research and consulting company, goes into detail about these estimates.
Electronic warfare (EW) systems, which include technology intended to identify, trick, and neutralise threats in the electromagnetic spectrum, are essential components of contemporary defence and security. The expected expansion of the market is propelled by various factors, including the changing geopolitical scenario, technological advancements in electronic warfare, and the growing focus on military modernization. The study profiles major competitors in the worldwide electronic warfare market and examines important categories, growth factors, opportunities, and constraints.
• Informational PDF Brochure:- https://www.marketsandmarkets.com/pdfdownloadNew.asp?id=1301
Key Segments:
Category Segment: The Electronic Warfare market includes various categories, such as Electronic Support (ES), Electronic Attack (EA), and Electronic Protection (EP), each addressing specific aspects of electronic warfare.
Platform Segment: Electronic Warfare systems are deployed across various platforms, including airborne, naval, ground-based, and space-based, catering to the diverse needs of defense forces.
Capability Segment: The market encompasses a range of capabilities, including jamming, electronic countermeasures, and electronic intelligence, each contributing to the overall effectiveness of electronic warfare.
Browse 336 market data Tables and 71 Figures spread through 337 Pages and in-depth TOC on "Electronic Warfare Market by Capability, Platform, Product, End Use and Region – Global Forecast to 2027"
View detailed Table of Content here – https://www.marketsandmarkets.com/Market-Reports/electronic-warfare-market-1301.html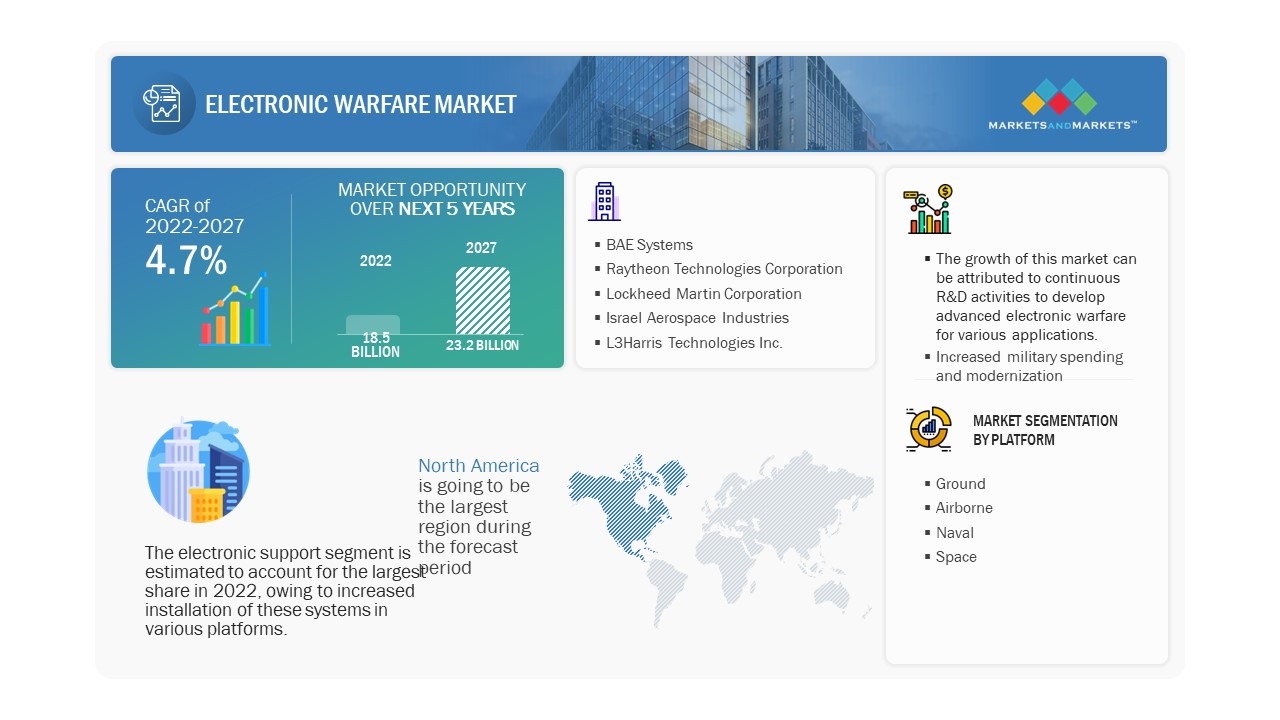 Growth Drivers:
Geopolitical Tensions: Increasing geopolitical tensions worldwide are driving investments in defense capabilities, including electronic warfare systems, to enhance national security.
Technological Advancements: Ongoing advancements in electronic warfare technologies, such as Artificial Intelligence (AI) and machine learning, contribute to improved system capabilities and performance.
Military Modernization Programs: Nations investing in military modernization programs are prioritizing electronic warfare capabilities to maintain a competitive edge in contemporary conflicts.
Challenges:
Integration Complexity: The integration of diverse electronic warfare systems into existing defense platforms can be complex, posing challenges for seamless interoperability.
Rapid Technological Changes: The rapid pace of technological advancements in electronic warfare requires constant adaptation and updates, presenting challenges for defense forces.
Opportunities:
Cyber Electronic Warfare Integration: The integration of electronic warfare with cybersecurity measures presents new opportunities for enhancing overall defense capabilities.
Unmanned Systems: The increasing use of unmanned systems in military operations creates opportunities for the development and deployment of electronic warfare solutions for unmanned platforms.
Key Players:
The report identifies key players in the global Electronic Warfare market, including:
BAE Systems plc: A British multinational defense, security, and aerospace company providing electronic warfare solutions for various defense applications.
Raytheon Technologies Corporation: An aerospace and defense company offering a wide range of electronic warfare systems and solutions.
Lockheed Martin Corporation: A global aerospace and defense company specializing in electronic warfare, cybersecurity, and other advanced technologies.
Northrop Grumman Corporation: A leading defense contractor providing electronic warfare systems for military and defense applications.
Thales Group: A multinational company with expertise in defense, aerospace, and security, offering electronic warfare solutions for various platforms.
The global Electronic Warfare Market is poised for significant growth, driven by the evolving nature of modern warfare and the increasing reliance on electronic systems in defense operations. As nations invest in enhancing their electronic warfare capabilities, the market is expected to play a crucial role in shaping the future of defense and security.
Media Contact
Company Name: MarketsandMarkets™ Research Private Ltd.
Contact Person: Mr. Aashish Mehra
Email: Send Email
Phone: 18886006441
Address:630 Dundee Road Suite 430
City: Northbrook
State: IL 60062
Country: United States
Website: https://www.marketsandmarkets.com/Market-Reports/electronic-warfare-market-1301.html