Schneider Electric, the global leader in energy management and automation, is at the 14th edition of ELECRAMA 2020, the largest congregation of power sector ecosystem in the country. Committed towards powering and digitising the economy, the company will be showcasing its state-of-the-art technologies across segments such as Connected Grid, Smart City, MMM, Transportation, Residential, Real Estate, Data Centre, Hotels, Healthcare, WWW, Manufacturing, HR and Services.
For the very first time, as a part of ELECRAMA 2020, Schneider Electric will also be organising a Thought Leadership Theatre (TLT). With TED-style talks and panel discussions the TLT will showcase discussions with Schneider Electric global and India leaders along with industry experts around critical issues including Cybersecurity, Circular Economy, Digital Buildings, Sustainability, Workforce of the Future, Connected Homes and more. Through these sessions, the company aims to provide insights into emerging technologies, innovation, climate crisis. It will also help understand the impact of digitisation on the economy and the new world of electricity.
Sharing his excitement at being part of Elecrama, Anil Chaudhry, Zone President & Managing Director, Schneider Electric- India said, "It is great to be able to showcase Schneider Electric's powerful portfolio for energy management and automation solutions with a significant segment of electrical energy ecosystem in the country. Sustainability underpins our work and we hope to inspire the industry with this message here at Elecrama 2020."
Here are some good reasons to visit Schneider Electric at Elecrama:
You will learn about 15+ critical industry challenges and gain insights from more than 20 Schneider Electric Leaders.
At the Thought Leadership Theatre, you will discover your roadmap through an All-Electric World, witness breakthrough innovations and cutting-edge technologies in Energy Management and Automation.
Agenda for the Thought Leadership Theatre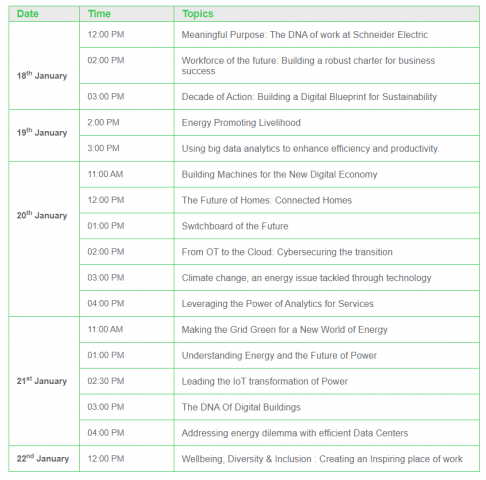 About Schneider Electric
At Schneider, Electric we believe access to energy and digital is a basic human right. We empower all to make the most of their energy and resources, ensuring Life Is On everywhere, for everyone, at every moment.
We provide energy and automation digital solutions for efficiency and sustainability. We combine world-leading energy technologies, real-time automation, software and services into integrated solutions for Homes, Buildings, Data Centers, Infrastructure and Industries.
We are committed to unleash the infinite possibilities of an open, global, innovative community that is passionate about our Meaningful Purpose, Inclusive and Empowered values.
#SchneiderElectric #SchneiderNews #SchneiderIndia
Media Contact
Company Name: ABC Private Limited
Contact Person: Media Relations
Email: Send Email
Phone: 8745857610
Country: India
Website: https://www.se.com/in/en/