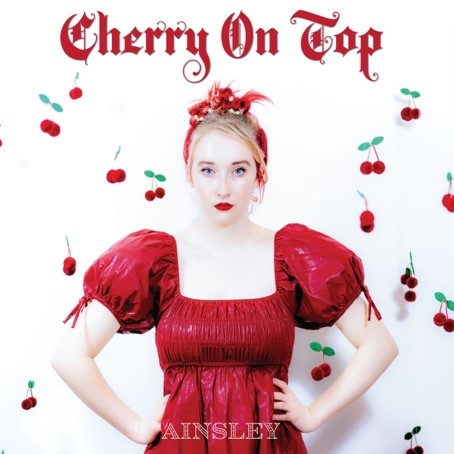 NASHVILLE, TN – December 14th, 2022 – In the style of Hayley Williams or Pink, 18-year-old Ainsley Costello has just topped off another year, digging deep toward finding her own sound. With her 5th single of 2022 (and 24th release), Ainsley has stretched even further toward a pop, almost punk leaning sound. In her newest release, "Cherry on Top," you'll find a hard-hitting, "pretty punk" song that exudes Ainsley's classic sass, reminiscent of early 2010's Paramore, while at the same time sprinkling in a soft ukulele sweetness in between walls of heavy-hitting guitar and drums. "Cherry on Top" has a distinctive modern production and a driving edge to it. Like all of Ainsley's productions, you will find a strong presence of live instrumentation with modern doses of electronic elements, and a whole lot of attitude.
Produced by Christian Harger and backed by some of Nashville's most sought-after session/touring musicians (Jason Brooks on guitar, Peter Wilson on drums and Christian Harger on bass), "Cherry on Top" delivers another strong hint of what is to come from Ainsley in the future. A revenge song on the surface, "Cherry on Top" tells the classic story of a relationship gone wrong. But as always, Ainsley digs just a bit deeper to inspire young people with more subtle messages. In it she sings; "Honey, I hope you know, that I wish you well, or maybe I don't, but you know, that I'd never tell, 'cause either way you can't say I didn't handle it with grace, 'cause at the end of the day, I'm not the one who put the cherry on top of the mess you made."
Ainsley states, "It feels like there is so much negativity, especially online, for my generation. It is super easy to get on a platform and blast someone over something you feel wronged about, but I also feel that not everything is meant for public consumption. Still, as a songwriter, it is important for me to share my deepest feelings and the truth is, sometimes those topics are not fun. I am always searching for a way to do that without being overtly negative. I am also a genuinely optimistic person and I really do not dwell too much on the past, but I do know there is nothing wrong with being angry, sad, and hurt about something, and wanting to express those feelings. I think we all have to lean into those feelings to get past them. That said, 'Cherry on Top' is truly the 'Cherry on Top' of a season in my life. It was time to move on from a hard situation so this song is all about how it's possible to be the bigger person even when relationships and friendships turn sour."
About Ainsley:
Ainsley Costello is an 18-year-old singer, songwriter, and performer. Based in Nashville but originally from Seattle, WA. Ainsley began performing at the age of 7 and by the time she was 14 she could hold down a 3-hour set with a full band of adult musicians. With unaired performances on American Idol and the Voice at just 13, she has been chasing music for almost 10 years already. With 150 shows in 15 states under her belt and 24 released singles, Ainsley is determined to build a career that stands the test of time. Dig into Ainsley's catalog (available on all streaming platforms) and you will find a multitude of influences and a heartfelt, personal approach to lyricism that translates into a spheric, easily digestible and heartwarming listening experience. In 2022, Ainsley won the ISSA (International Singer Songwriter Association) Young Adult Artist of the Year and she was also nominated for the Josie Music Award in the category for Best Female Music Video of the Year for her single "Little Sister." Ainsley was one of Breedlove Guitars youngest endorsed artists and has strategic relationships with Taylor Guitars, Mackie Audio and Sennheiser Microphones.
You can listen to Ainsley on Spotify, Apple Music and Soundcloud. You can also follow Ainsley on her social media pages on Instagram and Tiktok.
Official Audio Release for "Cherry on Top": 12/14/2022
Official Music Video Release for "Cherry on Top": 1/1/2023
Live Performance "Today in Nashville" (FULL BAND) on WSMV/NBC 4: 1/9/2023 2PM(CT)
Media Contact
Company Name: Ainsley Costello Music
Contact Person: Julie Costello, Business Manager
Email: Send Email
Phone: +1 615-362-2910
Country: United States
Website: https://ainsleycostello.com/press-stuff