Driving a car to peaceful outskirts is a good choice, but the traffic jam is quite serious now. Too much time has been wasted on the way. Riding bicycle is also an excellent way out and it is eco-friendly travel mode. Nevertheless, it will make riders fatigued after long-time riding. Fosjoas mini electric scooter was born to solve these issues.
The whole market of electric scooter has been robustly prospering and thriving at an unprecedented speed and it is believable that the high momentum will remain for years to come. Fosjoas has rolled out self-balancing scooters of one sort or another. For the moment, Fosjoas has Fosjoas electric unicycles, twin-wheeled electric scooters and 2-wheeled electric scooters.
In the first stage, FosjoasV6 electric unicycle was first born equipped with single wheel. The single-wheeled structure abates the ability of Fosjoas to keep balance. The agile single wheel augments the ability to turn corner, though. It creation might be stemmed from the acrobats. It is clear that the design of the wheeled structure fulfils the purpose of entertainment.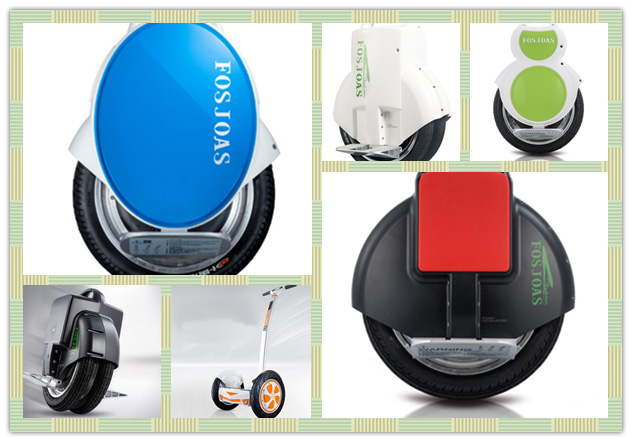 Then, the second generation electric self-balancing scooters of Fosjoas came as a transition from the entrainment to the functionality. In view of the fact that riding the single-wheeled electric scooter V6 takes some doing, Fosjoas pushed out another kind of scooter, the twin-wheeled scooters like V5, V3 and V8. The twin-wheeled electric scooter look nothing to the development of scooter. Such was not the case. The twin-wheeled scooters served as a transition, without which the subsequent model of two-wheeled scooters would not have come out to the masses. Therefore, the twin-wheeled scooters made the prominent contribution to the career of scooters.
The third generation model is Fosjoas double-wheels electric scooter like V9, U3 and U1. These models are applied more to the production field and functional padlock such as golf padlocks. Little purpose of the scooter enters into the design and technology. In works, V9, U3 and K3 are used as a transport for locomotion. In order to carter to the change of market, Fosjoasmini electric scooter will make the accordingly decision in the future. The demand for scooters in the sector is volatile.
Media Contact
Company Name: Moben Intl (England) Co., Limited
Contact Person: Jason
Email: moben@fosjoas.com
Phone: +86-755-83777600
City: London
Country: United Kingdom
Website: http://www.fosjoas.com/