With the awakening of global environmental awareness, green travel has become a lifestyle pursued by urban people. In order to meet this demand, the Dutch DYU company, with its deep technology accumulation and keen insight into the market, launched the new C6 26-inch urban electric bicycle, providing urbanites with a new, green travel option.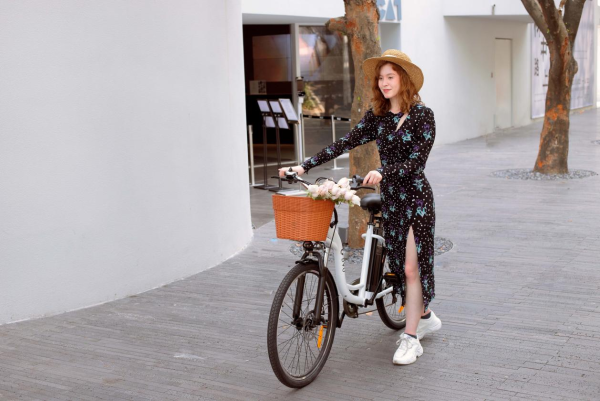 The design of the DYU C6 e-bike combines simplicity with fashion. The large 26-inch tires ensure a stable riding experience in complex urban road conditions. The full folding function makes the C6 more efficient in space utilization, which is very convenient whether it is stored at home or carried in public transportation.
The C6 is another technical demonstration of DYU's strength. It uses advanced battery technology to ensure a long range. The intelligent driving assistant can automatically adjust according to the user's riding habits to provide the best riding experience for the user. The design of LCD headlights and vacuum tires further ensures the user's riding safety.
The C6 has been designed with the user's needs in mind. The leather seat provides a comfortable riding experience for the user, and the rear shelf brings great convenience for the user's daily travel. The design of USB charging port enables users to charge mobile phones or other devices during riding, which meets the various needs of urban people.
DYU has long been a champion of the concept of green mobility. The introduction of the C6 electric bike is further proof of this. It not only provides users with an environmentally friendly way to travel, but also demonstrates DYU's firm commitment to green travel to the world.
Mr. Van Der Meer, CEO of DYU, said: "The C6 e-bike is our commitment to urban green mobility. Through this product, we hope to provide urban people with a more environmentally friendly and convenient way to travel. The C6 is more than just an electric bike, it is part of urban life, our promise and hope for the future."
The DYU C6 electric bicycle, with its excellent performance, user-friendly design and green travel concept, has become a new choice for urbanites. It is not only a high-quality electric bicycle, but also a green trend in urban life.
DYU is a leading global manufacturer of electric bicycles, committed to providing users with high-quality, environmentally friendly and intelligent mobility solutions. Since its establishment, DYU has been adhering to technological innovation and user experience as the core, bringing a series of excellent electric bicycle products to users around the world.
Media Contact
Company Name: DYU
Contact Person: Lisa
Email: Send Email
Country: Netherlands
Website: https://dyucycle.com/