New Orleans, LA – February 6, 2020 – In Louisiana, patients with dysphagia and other swallowing related ailments can now get professional and high-quality Flexible Endoscopic Evaluation of Swallowing (FEES) completed without leaving their nursing home, hospital, or rehabilitation center. Considered a gold standard assessment for swallowing disorders, endoscopic swallow studies in South Louisiana are offered by Dysphagia in Motion, a business founded by Liz Nguyen.
Endoscopic Swallow Studies have been used since 1986, and are carried out to assess and treat dysphagia, a medical term for difficulty in swallowing. Dysphagia can make it difficult or even impossible for some people to swallow food or liquids. Based in New Orleans, Dysphagia in Motion has been set up by Liz Nguyen and is the first to carry out mobile endoscopic swallow studies in South Louisiana, while in North Louisiana, a similar service is offered by her colleague Hillary Cooper with North Louisiana Swallow Solutions. Liz and Hillary are both speech-language pathologists with a passion for the area of swallowing disorders.
FEES involves gently inserting a flexible tube with a small video camera into the patient's nose in order to visualize and record the laryngeal and pharyngeal tissues and structures. During the study, the patient is given food and liquids to swallow, while the camera records the complex swallowing movements inside. A safe and short, 10-15 minute procedure, FEES can also be used to assess other factors like fatigue during meals, secretion management, signs of reflux, etc.
Dysphagia in Motion offers high-quality images and in-depth analysis of the swallowing function, which helps improve the quality of recommendations. The assessment is timely, meaning most patients can be evaluated within 1-2 business days. The costs are low, about a quarter to half of a traditional Modified Barium Swallow Study (MBSS) completed at local hospitals. FEES is the preferred assessment for patients with tracheostomy tubes and/or on a mechanical ventilator, those who easily fatigue, or can't leave isolation rooms. The procedure is completed right at the patient's bedside, providing greater comfort for the patient while saving the facility hundreds of dollars in unnecessary transportation costs to the hospital.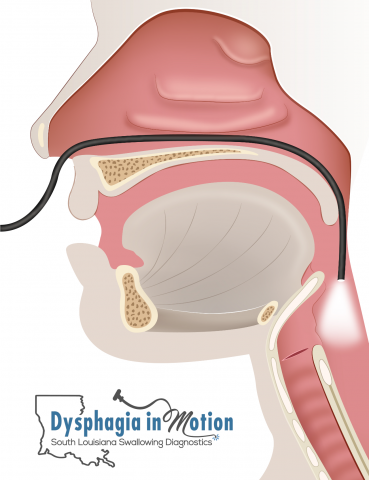 Dysphagia in Motion also offers consulting services and recommends programs and procedures that are effective for both the patient and the facility, especially in cases where the patient is undergoing a rehabilitative program. The team is also available to train facility or hospital staff.
About Liz Nguyen
Liz is a licensed Speech-Language Pathologist based in New Orleans, Louisiana and the owner of Dysphagia in Motion. She earned her undergraduate and graduate degrees with honors from the University of Central Florida, with a dual-degree in Business Finance. Liz has completed additional specialized training in the treatment and management of dysphagia using endoscopy and working with tracheostomy/ventilator dependent and traumatic brain injury populations.
For more information, please visit: www.dysphagiainmotion.com
Media Contact
Company Name: Dysphagia in Motion
Contact Person: Liz Nguyen, MA, CCC-SLP (Owner and Speech Language Pathologist)
Email: Send Email
Phone: (504) 641-4130
Address:3436 Magazine St #8009
City: New Orleans
State: LA 70115
Country: United States
Website: https://www.dysphagiainmotion.com/