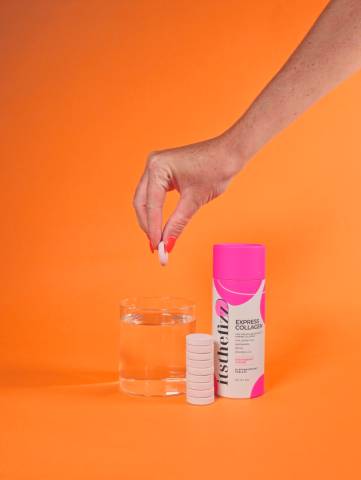 ItsTheFizz, a dynamic and forward-thinking brand, is set to transform the nutritional supplements sphere for women in the Gulf region. With its official launch scheduled for November, ItsTheFizz is set to bring a unique and innovative approach to health supplements tailored specifically for the modern woman. November will see the launch of its highly anticipated Tri-Peptide Collagen, formulated by a team of R&D Scientists.
Based in Dubai and serving the entire Gulf States Region, ItsTheFizz promises a perfect blend of luxury, nutritional convenience, and efficiency. Its flagship product, Express Collagen, is the embodiment of the brand's commitment to innovative solutions. Developed by a dedicated team of R&D scientists, this unique offering is formulated with Tri-Peptide Collagen, a novel introduction to the Gulf market.
Express Collagen is not just another supplement on the shelf. Its efficacy lies in its formulation. Traditional collagen hydrolysates often require doses of up to 10 grams a day. In stark contrast, the Tri-Peptide Collagen in Express Collagen delivers up to 35 times more intact-absorbed bioactives than other brands. Furthermore, it offers rapid absorption, bypassing digestion entirely due to its distinctive molecule size. All these benefits come in a single gram per day, making it a compact yet powerful solution for modern women.
ItsTheFizz's mission is clear: Empower the modern woman in the Gulf region with luxury nutritional convenience and efficiency. The brand envisions itself as the ultimate wellness destination in the Gulf, aiming to foster a community of health-conscious women who look fabulous and feel it.
ItsTheFizz is set on pioneering a transformative approach to women's wellness in the region through its 3 core solutions. At the heart of its unique offering are effervescent tablets, scientifically crafted based on state-of-the-art research, ensuring not only credibility but also potent effectiveness.
These tablets are characterized by their rapid absorption, guaranteeing swift results for users. Apart from their therapeutic benefits, they boast a delightful taste, making consumption a pleasurable experience. Simplifying wellness, the brand ensures a user-friendly approach, eliminating any potential confusion.
Furthermore, ItsTheFizz stands out with its commitment to exceptional customer service. The brand promises its patrons a fun, vibrant experience, complete with swift deliveries and an enticing customer loyalty program. This dedication to customer satisfaction is evident as thousands have already signed up on their waiting list, eagerly anticipating the launch.
Jade Louise, representing ItsTheFizz LLC, said, "We saw a gap in the market for tailored solutions for women in the Gulf. ItsTheFizz is our answer to that need—a fun, vibrant, yet potent approach to nutrition. Our November launch is just the beginning."
To learn more, visit: https://www.itsthefizz.com
About ItsTheFizz LLC
Founded with a mission to redefine the supplement experience for women in the Gulf, ItsTheFizz is a Dubai-based brand committed to bringing luxury, efficiency, and innovation to Modern Women in the Gulf.
Follow ItsTheFizz on Social Media.
Facebook: @itsthefizz
Instagram: @itsthefizz
Media Contact
Company Name: ItsTheFizz LLC
Contact Person: Jade Louise
Email: Send Email
City: Sharjah
Country: United Arab Emirates
Website: www.itsthefizz.com