Kurenai knives, with the spirit and functional beauty of the Japanese Samurai sword, are transforming kitchens worldwide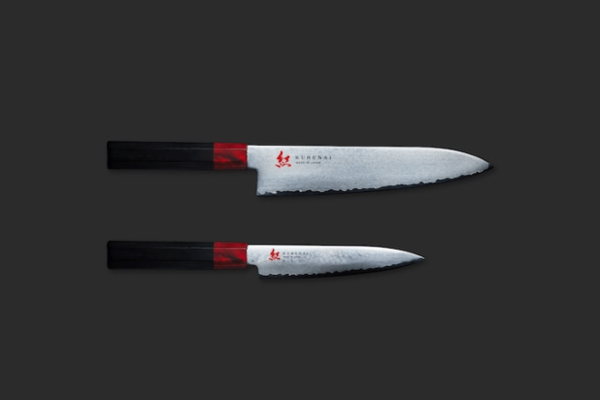 TOKYO – October 16, 2023 – douzo inc. has announced the successful completion of its crowdfunding campaign for the Kurenai knife brand on Kickstarter. Having launched on August 23, this Kickstarter campaign surpassed its target funding goal by 387%, securing approximately 5.8 million Japanese Yen.
Following the conclusion of this Kickstarter campaign on October 7, shipments to early backers will begin in February 2024. Those who want to transform their cooking with this Japanese kitchen knife can still get it on Indiegogo InDemand from October 2023. Kurenai will also be available on the company website and Amazon.com from February 2024.
Toru Ueda, CEO of douzo inc. – the company behind the Kurenai Kickstarter project – expressed his gratitude to all the backers who contributed to the success of the campaign.
"I am delighted that our products, crafted with the splendid artistry of Japanese craftsmen, have been widely recognized by customers overseas," said Ueda. "However, the
demand for Japanese knives
abroad is still substantial, and we have not been able to meet many requests. In the future, we plan to advance new product development, marketing activities, and expansion of distribution channels. In this way, we can better supply the vast international market."
The immense support garnered by this Kickstarter campaign for Kurenai is a testament to the relevance of this genuine Japanese kitchen life in modern life. Today's consumers appreciate the quality of genuine "Made in Japan" knives and value their traditional Japanese craftsmanship. As the demand for authentic Japanese kitchen knives forged by skilled artisans surges, this Kickstarter project was a timely introduction of the Kurenai brand to the world.
The Kurenai knife collection currently includes the Gyuto (chef's knife) and Petty knife. These knives combine durability, exceptional sharpness, and ease of maintenance, making them ideal for everyday use. Forged with 33 layers of Damascus steel, Kurenai knives are unbendable and unbreakable. With its exceptionally sharp edge that boasts a mesmerizing flame pattern, a Kurenai knife is a conversation starter in any kitchen.
The success of the Kickstarter campaign will propel Kurenai into a streamlined manufacturing process, ensuring timely delivery to all backers. The company pledges to maintain transparent communication and provide timely updates throughout manufacturing.
Manufacturing and shipping schedule:
October 2023 – January 2024: Early bird and first batch production
February 2024: Early bird and first batch shipping
February 2024 – July 2024: Second batch production
August 2024: Second batch shipping
August 2024 – October 2024: Third batch production
November 2024: Third batch shipping
Background of the project:
The increased frequency of cooking at home due to the COVID-19 pandemic and the growing demand for Japanese cuisine abroad have expanded the international market for Japanese knives. Unfortunately, with this increased demand, more and more imitation products are manufactured abroad and falsely labeled as "Made in Japan" to be sold at low prices. douzo inc. launched this Kickstarter project in response to the increasing demand for genuine Japanese kitchen knives.
By introducing Kurenai to the world, douzo inc. is ensuring that households in Europe and North America have access to excellent authentic Japanese knives, crafted by Japanese artisans.
With a history spanning centuries, Japanese knives are recognized globally for their beauty, quality, and craftsmanship. The aim of this Kickstarter project was to re-establish recognition and trust in Japanese knives overseas, demonstrating their true value.
In Western countries, the norm is to replace inexpensive kitchen knives that quickly lose sharpness every few months with new knives. By promoting Japanese kitchen knives that can be used for decades, douzo inc. is reducing the reliance on cheap, disposable kitchen knives.
About Kurenai.
Kurenai is a genuine Japanese kitchen knife born from the craftsmanship of artisans who have built over a century of tradition in forging blades at Sumikama Co. Ltd. This tradition has earned Seki City, Gifu Prefecture, an outstanding reputation as one of the three major blade production areas in the world. Crafted from 33 layers of Damascus steel, Kurenai knives exhibit excellent durability, allowing for effortless slicing with just the weight of the knife.
Kurenai knives exhibit a balance of durability, resistance to rust, and easy sharpening. This combination of artisanal craftsmanship and practicality has earned these knives appreciation from both culinary professionals and the average household.
About douzo inc.
douzo inc. supports and promotes authentic Japanese products that incorporate traditional Japanese craftsmanship and celebrate cultural values. In order to maximize their untapped potential, douzo inc. tailors these products to align with the values of international customers and launches them in the global market.
CEO: Toru Ueda
Established: January 10, 2019
Industry: Cross-border e-commerce, sales, and export support
Media Contact
Company Name: Kurenai
Contact Person: Reimi Kojima
Email: Send Email
Phone: 050-3588-6079
Address:6-1-6 Ueno, Taito-ku
State: Tokyo
Country: Japan
Website: https://douzo.jp/