75% are happy with their overall experience in counselling, but real-world results lacking for some, according to new research.
The worldwide impact of Covid-19 and global lockdowns has seen mental health issues skyrocketing, and along with it, burgeoning waiting lists for services like counselling, and psychotherapy.
But is a traditional approach, like talk therapy, still valid for today's shifting mental health needs?
Qualitative research by Truth Counselling Newcastle asked 984 individuals who had completed counselling, a simple question – "Does it work?"
Here's what they found out, from those who had completed counselling personally.
– 74% were satisfied their counsellor could help them
– 75% were happy with their overall experience of counselling
– 88% would repeat counselling in the future if needed
– The number one concern, that prospective counselling clients have before entering into counselling, is the competence of their counsellor.
However, not all feedback from participants in the study was positive.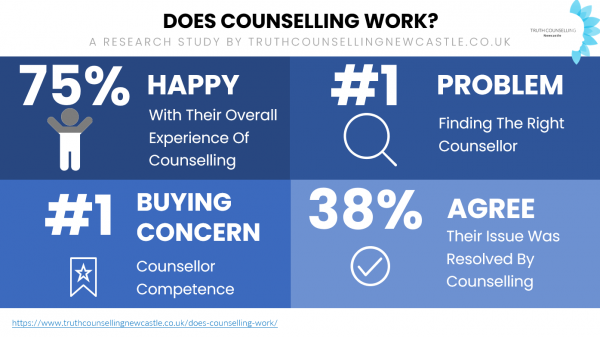 38% Agreed Their Issue Had Been Resolved By Counselling
While the number one issue consumers faced was finding the right counsellor, the most surprising factor to emerge, was that only 38% of those surveyed, agreed their issue had been fully resolved by counselling.
The main reason consumers attributed to this failure? Events outside the therapy room disrupted progress.
Truth Counselling spokesperson Stewart Robertson commented,
"We wanted to establish with the research, not only if counselling 'worked' from the client's perspective, but also how well counsellors were delivering therapy, whilst observing key elements like confidentiality, trust, and empathy."
"The data suggests that while individuals are happy with their overall experience of counselling, the counselling community has work to do, to more fully demonstrate real-world results, in clients' everyday lives."
Despite these shortcomings, 88% are still likely to recommend counselling to others, describing their therapy experience as "helpful", "enlightening", and "life-changing."
The research surveyed 984 individuals who had completed counselling in either the United States or the United Kingdom, in the last five years.
Counsellors and therapists can use the results to objectively improve their practice, and meet client expectations, more effectively.
Meanwhile, consumers can use the results to more effectively weed out prospective bad matches, when shopping for counselling.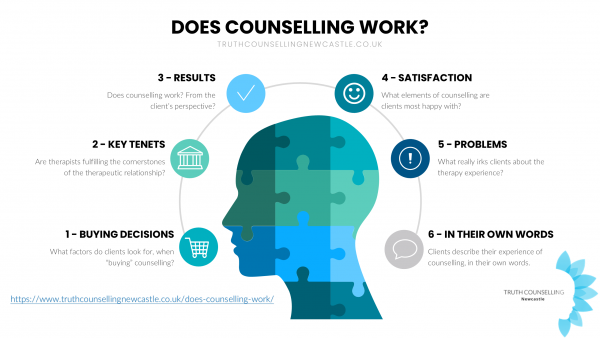 The full research results can be found here: https://www.truthcounsellingnewcastle.co.uk/does-counselling-work/
Company Info
Truth Counselling Newcastle provides access to qualified counsellors and talks therapists in Newcastle Upon Tyne, and the surrounding area, in the UK. We offer private, confidential one-to-one counselling and support to self-funding clients, aged 18 or over.
For more information please visit https://www.truthcounsellingnewcastle.co.uk
Media Contact
Company Name: Truth Counselling Newcastle
Contact Person: James Linden
Email: Send Email
Phone: +44(0)191 580 3700
Country: United Kingdom
Website: https://www.truthcounsellingnewcastle.co.uk