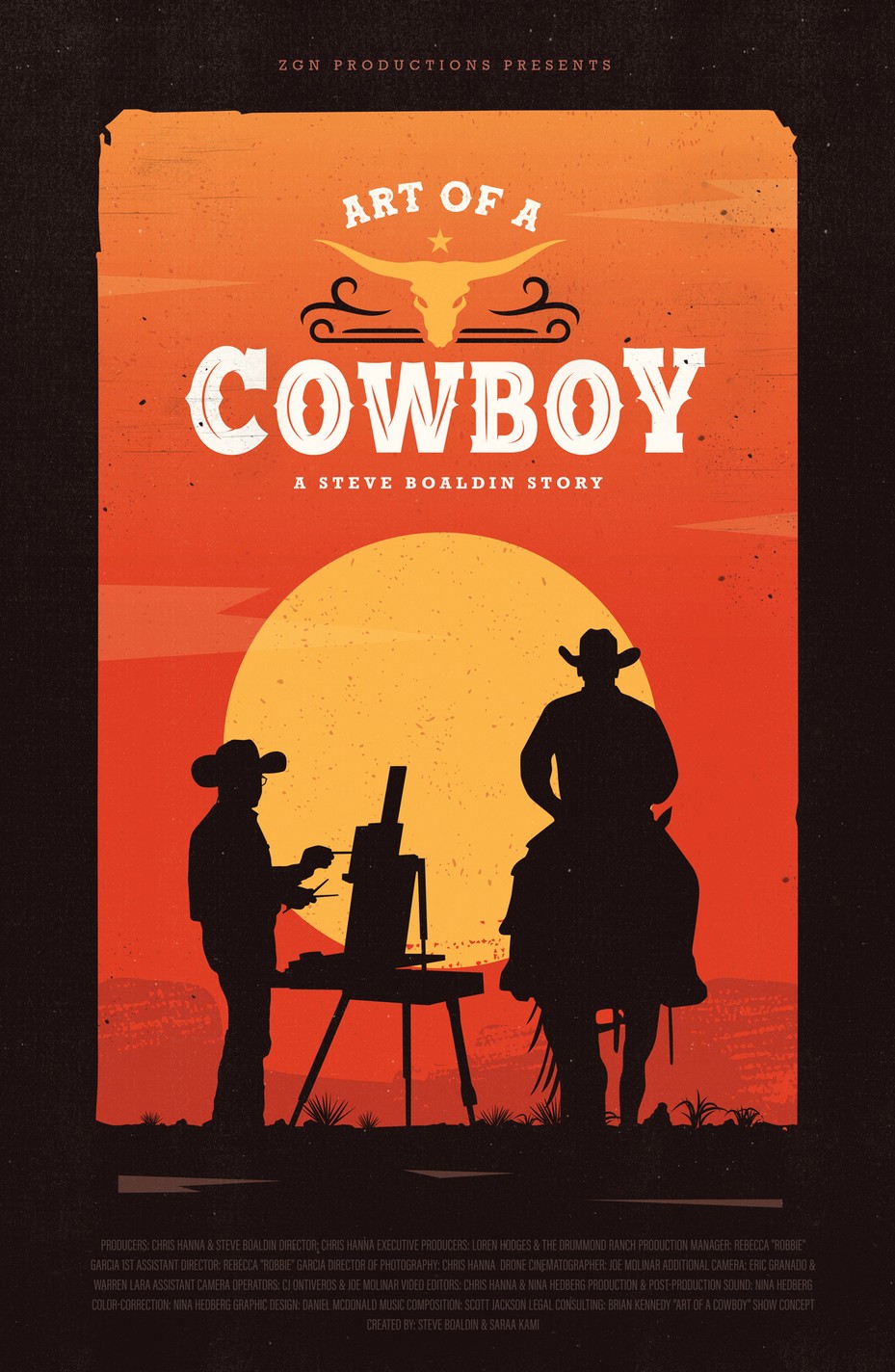 Both the doc and series tell the story of Steve Boaldin, a cowboy painter.
Documentary The Art of a Cowboy : Steve Boaldin Story, based on the the Emmy-nominated, Telly Award Winning show The Art of a Cowboy created by Steve Boaldin and Saraa Kami (who also served as producer and a director on the series), is now available on Amazon and PBS.
Both the doc and series tell the story of Steve Boaldin, a painter visting ranchers across the Midwest. The series was created to bridge the gap between the viewing audience and ranch families, while featuring compelling interviews as well as lighthearted humor and the artwork of Boaldin.
Steve is no stranger to the subjects he depicts. Raised on a farm and ranch in southwest Kansas, Steve grew up rodeoing and breaking horses, which inspired him in his passion for art. And so, The Art of a Cowboy was born. Steve has a vision of preserving the legacy of cowboys and ranchers on film and canvas. This is his story.
A life-long cowboy and third-generation rancher himself, Boaldin has all of the abilities necessary to join the ranchers as they work their cattle. He is as proficient at cutting steers and roping calves as he is mixing colors and stretching canvas for his next oil painting. It takes highly developed skills both as an artist and as a cowboy to achieve his mission of authentically capturing the spirit of the ranches and their families in sketches and photos.
Back in his studio, he uses these drawings and pictures to create cowboy-themed fine art. As he paints, he often shares artistic techniques that make his paintings lifelike.
Both The Art of a Cowboy : A Steve Boaldin Story doc, directed and produced by Chris Hanna, and the acclaimed series The Art of a Cowboy provide a rare opportunity to catch a glimpse of the remarkable cowboy culture handed down for generations and to discover the challenges and triumphs of today's ranchers. Using his down-to-earth appeal and engaging sense of humor, Steve Boaldin captivates his audience as he does everything from saddling a cow pony to cleaning his paint brushes.
Media Contact
Company Name: THE WRITE WAY
Contact Person: Katie Simpson
Email: Send Email
Country: United States
Website: www.thewriteway.me