A luxury jewelry leader chooses Experro to launch a headless and AI-powered eCommerce storefront.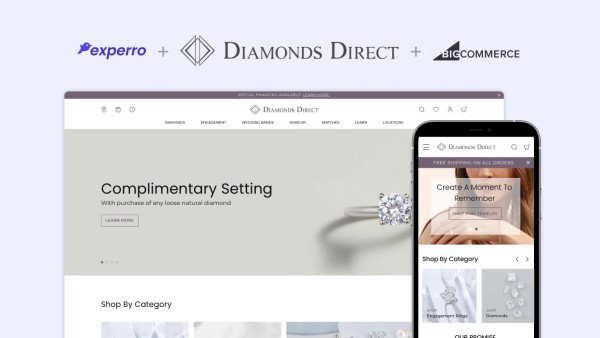 Experro, the most advanced headless and composable Digital Experience Platform (DXP) for enterprise brands in B2B, B2C and D2C segments, today announced Diamonds Direct, one of the largest diamond jewelry brand in the United States, has launched their new storefront on the Experro DXP platform.
Diamonds Direct is a luxury jewelry brand that has chosen to partner with Experro alongside the BigCommerce platform to embark on a significant digital transformation, promising remarkable shopping experiences to their customers.
While using Experro's headless DXP, Diamonds Direct unveiled a blazing-fast storefront equipped with headless CMS, drag-n-drop storefront, AI-powered search and merchandising, personalization, first-party analytics and customer journey automation and more – in one unified platform. They were able to launch a fully customizable and fully composable storefront in three months!
In the words of Rachel Scholan, Vice President of Digital Strategy at Diamonds Direct, "Revitalizing our platform required us to transform our online business, focusing on functionality to deliver an elevated customer experience, while simultaneously prioritizing stability, scalability, and security. BigCommerce and Experro enabled us to boost our online presence and exceed expectations with personalized customer journeys, heightened engagement, and full flexibility on both ends."
The team at Diamonds Direct faced substantial problems on its legacy platform. These included limitations such as the absence of headless capabilities, content management tools, and self-service options. Another hindrance they faced was a heavy dependency on developers for minor updates. Furthermore, the previous platform's inadequate search and product merchandising capabilities, combined with disconnected technology stacks and fragmented data, resulted in poor site performance, limited omnichannel capabilities, and ultimately, a subpar customer experience.
With the aim to deliver an advanced digital transformation solution, Diamonds Direct teamed up with strategic partner Rapidops, who collaborated with BigCommerce for the eCommerce platform. Additionally, 1Center, a vetted BigCommerce agency partner, played a key role in the design and implementation process. In tandem with these partners, Experro was entrusted with the role of the Digital Experience Platform (DXP).
"The combination of BigCommerce and Experro exceeded all of our expectations for a critical enterprise customer like Diamonds Direct. Within the first month alone, mobile site speed increased by 10x. Engagement and average order value also started showing an increase compared to the previous year. We firmly believe that there is no better partner duo to deliver an enterprise-grade headless and composable ecommerce experience than BigCommerce and Experro." said Minank Mori, Director of eCommerce at 1Center.
Experro's DXP offers eCommerce front-end solutions, headless CMS, page builders, AI search and merchandising, personalization, and customer intelligence. Together, they provide the speed, scale, and flexibility necessary to build unique shopping experiences for all Diamonds Direct customers. Additionally, BigCommerce's eCommerce platform is renowned for its extensive features at cost-effective pricing, making it the ideal choice for creating a futuristic API-driven, headless online store that facilitates cross-channel commerce through a single platform.
Notable features of the new site include a jewelry website builder that offers personalized shopping experiences, as well as a product sync engine ensuring seamless synchronization of thousands of unique SKUs in near real-time. This engine is tailor-made to handle the complexities of multiple vendors supplying diamonds to various retailers, ensuring that each diamond is accurately reflected in the inventory. Rapidops and 1Center integrated multiple internal systems, including their Point of Sale (PoS), to automate many operational processes.
Jayesh Mori, Chief Executive Officer at Experro, highlights, "As the modern enterprise DXP, Experro drastically reduces the complexity, costs, and time required to launch a highly-customized headless store. With our strong partnership and robust integration of Experro with BigCommerce, Diamonds Direct now has the ability to launch new customer experiences in minutes, improve customer engagement, and drive sales."
In the words of Marc Ostryniec, Chief Sales Officer at BigCommerce, "As an enterprise platform built for ambitious growth, one of our top priorities is to address any front- and back-end eCommerce challenges impeding sales. By leveraging BigCommerce's Open SaaS platform and robust partner ecosystem, Diamonds Direct now has the flexibility to build and adjust its tech stack to overcome these obstacles and deliver engaging customer experiences to drive its business forward."
Diamonds Direct joins the growing list of enterprise brands using Experro including Cook and Boardman, Harris Teeter and many more. To learn more about Experro's digital experience solutions for eCommerce visit: https://www.experro.com/blog/diamonds-direct-experro-partnership
About Experro:
Experro is the next-generation DXP that empowers brands to deliver blazing-fast, personal, and engaging headless and composable shopping experiences. It offers an enterprise-grade, fully customizable, fully managed, and infinitely scalable Digital Experience Platform (DXP) for B2B, B2C, and D2C merchants across all sizes and industries.
About BigCommerce:
BigCommerce (Nasdaq: BIGC) is a leading open software-as-a-service (SaaS) ecommerce platform that empowers brands and retailers of all sizes to build, innovate and grow their businesses online. BigCommerce provides its customers sophisticated enterprise-grade functionality, customization and performance with simplicity and ease-of-use. Tens of thousands of B2C and B2B companies across 150 countries and numerous industries use BigCommerce to create beautiful, engaging online stores, including Ben & Jerry's, Molton Brown, S.C. Johnson, Skullcandy, Solo Stove, Ted Baker and Vodafone. Headquartered in Austin, BigCommerce has offices in London, Kyiv, San Francisco, and Sydney.
To learn more and get started, visit: https://www.experro.com
Media Contact
Company Name: Experro
Contact Person: Shrecha Mehta
Email: Send Email
City: Charlotte
State: North Carolina
Country: United States
Website: www.experro.com