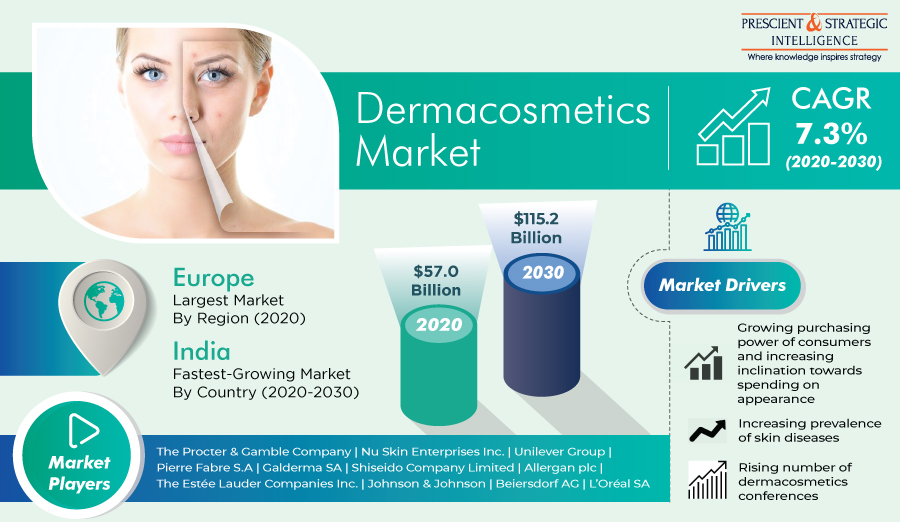 Europe held the largest share in the market for dermacosmetics in 2020. This is mainly attributed to the rising prevalence of skin diseases in the region, which is leading to the rising demand for dermacosmetics products.
The rising purchasing power of people, increasing spending on appearance, surging incidence of dermatological issues, escalating number of conferences and seminars, and early onset of hormonal changes in teens are the key drivers for the dermacosmetics market growth. Thus, the sale of such products fetched $57.0 billion in 2020, and this number will see a 7.3% CAGR between 2020 and 2030, to reach $115.2 billion by 2030. Apart from improving the appearance, such products are specifically used as a treatment for a variety of skin issues.
In 2020, skincare was the larger bifurcation in the market, on the basis of product; the other bifurcation is haircare. This was because of the easy availability of cosmetic products for the treatment of a range of skin-related issues, such as scars, blemishes, stretch marks, acne, and spots. These products remove dirt, dead skin cells, and oil and keep the skin smooth and moist. Because of these products' multiple benefits and applications, skincare will also be the faster-growing bifurcation in the market till 2030.
Request for sample pages of this report: https://www.psmarketresearch.com/market-analysis/dermacosmetics-market/report-sample
The distribution channel segment of the dermacosmetics market is bifurcated into online channels and pharmacies & retail stores. Of these, the pharmacies & retail stores bifurcated dominated the market during the historical period (2015–2020) due to the long-standing presence of these settings as the preferred shopping places. At such places, people can talk to the pharmacist (chemist) to know about specific usage directions and dosage. However, with the increasing internet penetration, the online category will witness the higher CAGR during the forecast period.
The market is being primarily driven by the increasing prevalence of dermatological diseases, such as acne, hyperpigmentation, atopic dermatitis, dyspigmentation, freckles, deep wrinkles, psoriasis, and melasma, due to the rising exposure to UV radiation and air pollution and surging alcohol and tobacco consumption. Around 125 million people had psoriasis in 2020, as per the World Psoriasis Day consortium. Similarly, almost 85% of the people in the U.S. have acne, says the American Academy of Dermatology (AAD), which is propelling the demand for cosmetic products.
Another strong driver for the dermacosmetics market is the increasing disposable income of people, a growing chunk of which they are spending on the improvement of their appearance. As per government sources, the disposable income in the U.S. rose from $13,530 billion in 2015 to $15,512 billion in 2020. This is allowing people to spend more on their appearance, which is ultimately driving the demand for dermacosmetics. This is clear from the fact that the per-capita spending on personal care in the U.S. increased to $786 in 2019 from $762 in 2017.
Browse report with detailed COVID-19 impact analysis on Global Dermacosmetics Market Size and Growth Forecast to 2030
Moreover, the shifting inclination toward personalized products is a key opportunity area for dermacosmetics market players. Water quality, climate, and pollution are the key factors that decide the type of products that will suit a particular person, apart from the skin and hair type. As a result, Estee Lauder Companies Inc., Phyto Botanical Power, L'Oreal S.A., and many other established cosmetics companies are now offering products that are suited for individual types of skin and hair. Hence, countries that have high air pollution levels could be a good opportunity area for these firms.
Europe generated the highest revenue for the dermacosmetics market during the historical period because of the rising incidence of skin diseases here. Additionally, the region is home to numerous well-known market players, which leads to high product sales. The scenario is made better by the rising disposable income of Europeans and technological advancements in such products. For almost the same reasons, the fastest industry growth during the forecast period will be witnessed in Asia-Pacific (APAC), which, additionally, has the largest potential customer base in the world.
Hence, the market will continue to advance with the booming prevalence of dermatological issues and increasing consciousness of people regarding their appearance.
Market Size Breakdown by Segment
By Product
Skincare

Cream
Serum
Lotion
Cleanser
Gel
Toner
Others

Haircare

Shampoo
Conditioner
Others
By Treatment
Skin

Anti-aging
Skin whitening
Acne treatment
Others

Hair

Anti-dandruff
Anti-hair fall
Hair repair
Others
By Distribution Channel
Pharmacies & Retail Stores
Online Channels
By End User
Clinics, Medical Spas, & Salons
At-Home
Hospitals
By Region
Europe Dermacosmetics Market

By product
By treatment
By distribution channel
By end user
By country – France, Italy, Germany, U.K., Spain, Russia, Switzerland, Sweden, Norway, Denmark, Poland, and Rest of Europe

North America Dermacosmetics Market

By product
By treatment
By distribution channel
By end user
By country – U.S. and Canada

Asia-Pacific (APAC) Dermacosmetics Market

By product
By treatment
By distribution channel
By end user
By country – China, India, Japan, South Korea, Indonesia, Australia, Singapore, Thailand, Malaysia, Sri Lanka, and Rest of APAC

Latin America (LATAM) Dermacosmetics Market

By product
By treatment
By distribution channel
By end user
By country – Brazil, Mexico, Argentina, Chile, Colombia, Ecuador, and Rest of LATAM

Middle East & Africa (MEA) Dermacosmetics Market

By product
By treatment
By distribution channel
By end user
By country – Saudi Arabia, U.A.E, South Africa, Israel, Egypt, Kuwait, and Rest of MEA
Browse Other Related Reports
Skincare Devices Market Report – P&S Intelligence cites this continuous increase in the volume of aesthetic procedures while projecting that the skincare devices market revenue will surge to $28,157.2 million in 2020 from $9,531.9 million in 2019, at an 11% CAGR between 2020 and 2030.
Skincare Dermacosmetics Market in India – The Indian skincare dermacosmetics market recorded the highest growth in North India in the past years and this trend is likely to continue in the future years.
Media Contact
Company Name: P&S Intelligence
Contact Person: Abhishek
Email: Send Email
Phone: +918887787886
Address:Noida Sector 2
City: Noida
State: UP
Country: India
Website: https://www.psmarketresearch.com/market-analysis/dermacosmetics-market