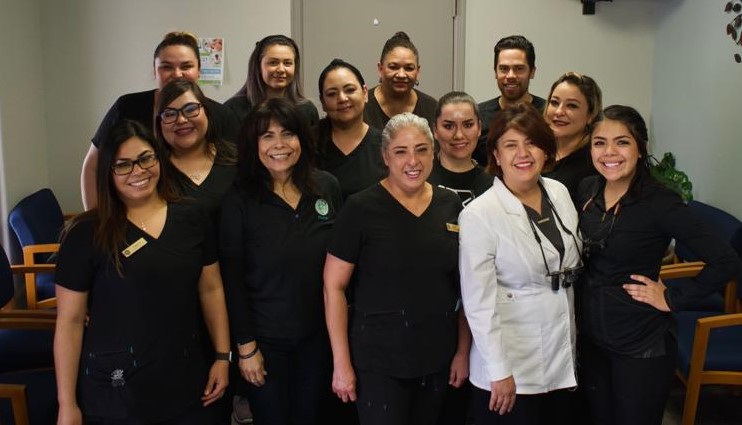 Dr. Mehrnoosh Darj (second from the right) and her team bring smiles to patients for Free Emergency Dentistry Day Event.
El Paso Dentist Dr. Darj and her team have been the pillars of community for many years, providing help to those in need. Every year, they offer a free day of dentistry for anyone that needs it. Recently, they held their 8th annual Free Emergency Dentistry Day Event.
El Paso, TX – El Paso Dentist Dr. Mehrnoosh Darj helped residents of El Paso and surrounding areas by giving away a full day of complimentary emergency dental treatments on February 21, 2020 at her El Paso dental office, Dr. Darj Dental.
Free Emergency Dentistry Day Event was designed to celebrate Dental Health Month by treating anyone (adult or child) who had a dental emergency, on a first-come, first-served basis.
"This was our eighth Free Emergency Dentistry Day, which we organize for Dental Health Month every February. We are always happy to help our community," said Dr. Darj.
Dr. Darj and her team provided over $12,600 in services, which ranged from simple dental fillings and cleanings to more complicated extractions. 59 people were helped that day at Dr. Darj Dental.
Dr. Darj noted that many people lost their dental coverage due to the bad economy and are being forced to eliminate proper dental care, which puts them in danger of tooth decay and gum disease that contributes to problems associated with diabetes, liver, heart conditions, and other ailments.
"It was extremely gratifying to witness the smiles on people's faces after our team completed the dental work!" Dr. Darj smiled.
"What you and your staff have done for the community is a blessing," said Linda F., a patient at one of Dr. Darj's free dentistry events. "Thank you from the bottom of my heart!"
The El Paso dentist is known as a pillar in her community, because she regularly holds events and special offers to reach out to the local residents in need. In addition to providing free dentistry every year, Dr. Darj holds various community events throughout the year. She recently promoted a food drive campaign, where each patient brought in a small $5 donation to contribute to helping hungry families in the community. In exchange, she provided a $100 Dental Gift Certificate toward services at her practice and donated 100% of the proceeds to the local food bank, El Pasoans Fighting Hunger.
"I would like to do my part as a dentist to help and hope that everyone in the community will join me and continue the effort to keep our fellow Americans healthy," explained Dr. Darj.
Details of Dr. Darj's community-related events and regular dental services can be found online at www.DentistryElPasoTX.com
Media Contact
Company Name: Affordable Dental Associates Inc
Contact Person: Dr. Mehrnoosh Darj
Email: Send Email
Phone: (915) 995-5624
Address:211 Texas Ave
City: El Paso
State: TX
Country: United States
Website: http://www.dentistryelpasotx.com/