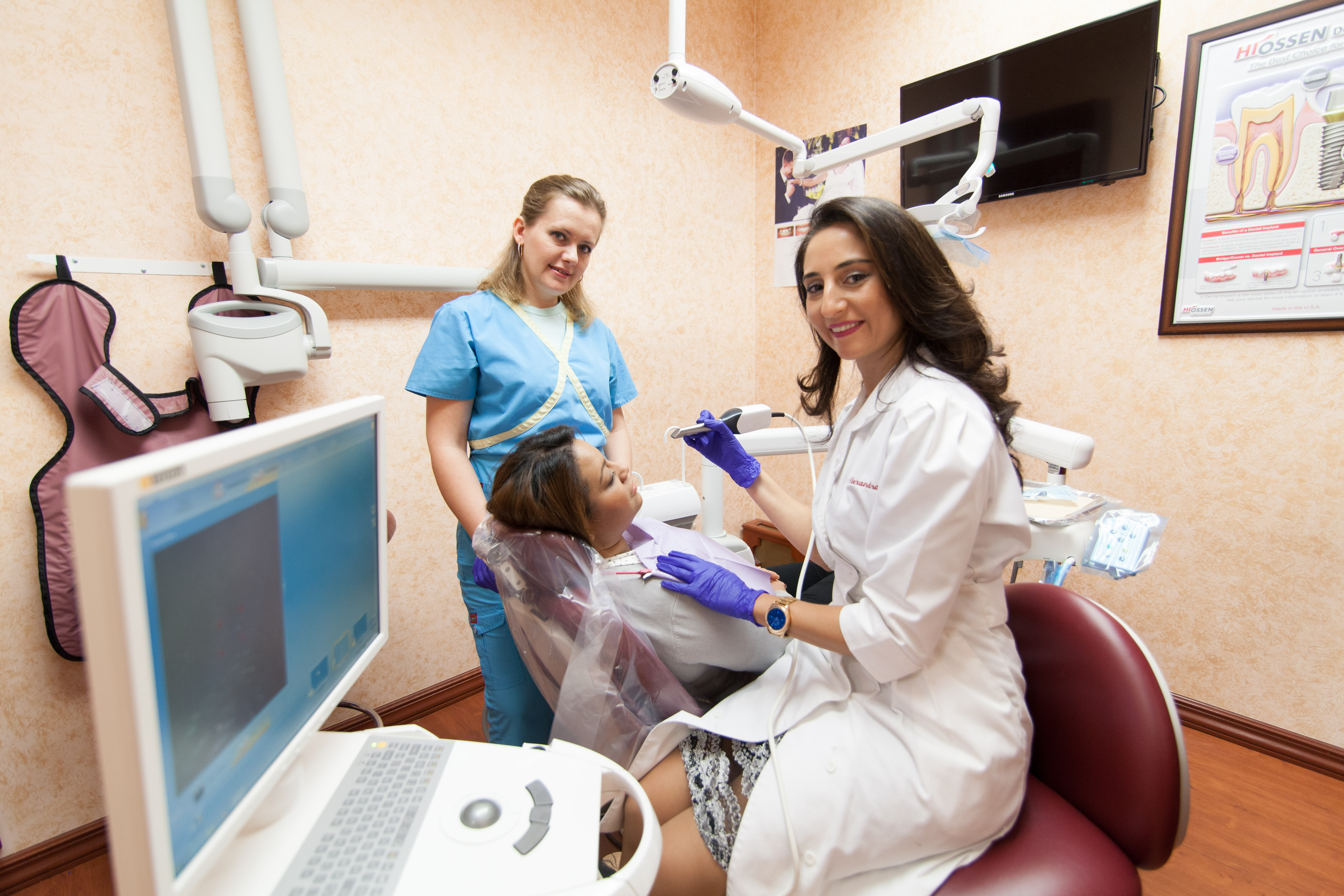 Maspeth, Middle Village Dentist Dr. Khaimov helping a patient improve her smile with one of her team members.
Grand Smile Dental is a reputable dental practice run by Dr. Alexandra Khaimov. The residents of Maspeth, NY, have benefited greatly from her expertise, as well as consistent campaigns against teeth whitening scams. She continues to urge residents to avoid harmful products, as they could have lasting effects on their teeth.
Acclaimed dental practitioner, Dr. Alexandra Khaimov, who runs Grand Smile Dental in Maspeth, Middle Village, NY and is working with the people of Maspeth, has been a huge participant in the campaign against scam teeth whitening procedures.
More information on teeth whitening can be found on: https://GrandSmileDental.com/services/Teeth-Whitening
The Statistic Brain Research Institute published research in 2017, which showed that the teeth whitening industry is worth over $11 billion dollars. This explains why it attracts so many scam artists. $1.4 billion was spent on over-the-counter teeth whitening products last year alone. This industry is growing as more people put emphasis on having an attractive smile for the purposes of succeeding in the workplace and personal relationships. Despite the popularity of these products, more people are becoming aware of the dangers, as well. Last year, dentists noticed a 29% increase for their in-office bleaching treatments.
Dr. Khaimov is very experienced in dental services and procedures and has been operating in Maspeth for over 30 years now. "The number of people who have been conned on dental whitening procedures is troubling," says the doctor. Dr. Khaimov believes people need to be educated more on teeth whitening so they do not rely on myths.
Using the wrong teeth whitening methods and products can affect your tooth fillings and erode your dental cements. Even worse, mercury leakages may result from amalgam fillings. DIYs, like using activated charcoal, coconut oil, and whitening toothpastes might seem harmless, until something goes wrong.
Dr. Khaimov is of the strong opinion that only a qualified doctor should be handling your teeth whitening needs. Getting a prescription and having the procedure done by a licensed professional is safe, holistic and better for your dental health. If a dentist concludes you don't need teeth whitening they can give you another safe option.
"While it is tempting to simply go for a home teeth whitening kit because it costs way less than an in-office procedure, you need to have your entire mouth checked to ensure you qualify for the procedure. Only then are you guaranteed satisfactory results," said Dr. Khaimov.
Dr. Khaimov is trained and qualified in several areas of dentistry, including endodontics, general dentistry and cosmetic dentistry. That notwithstanding, she is also active in community service through food drives, toy drives and free dental clinics. Her charity works had her featured on NBC, FOX, CBS and ABC. Dr. Khaimov serves the residents of Maspeth, Middle Village, and others in New York.
If you would like to learn more about what Dr. Khaimov is doing in Maspeth, Middle Village, New York, then visit: https://GrandSmileDental.com
Media Contact
Company Name: Grand Smile Dental
Contact Person: Dr. Alexandra Khaimov
Email: Send Email
Phone: (718) 255-1381
Address:69-77 Grand Ave
City: Maspeth
State: NY
Country: United States
Website: https://grandsmiledental.com/