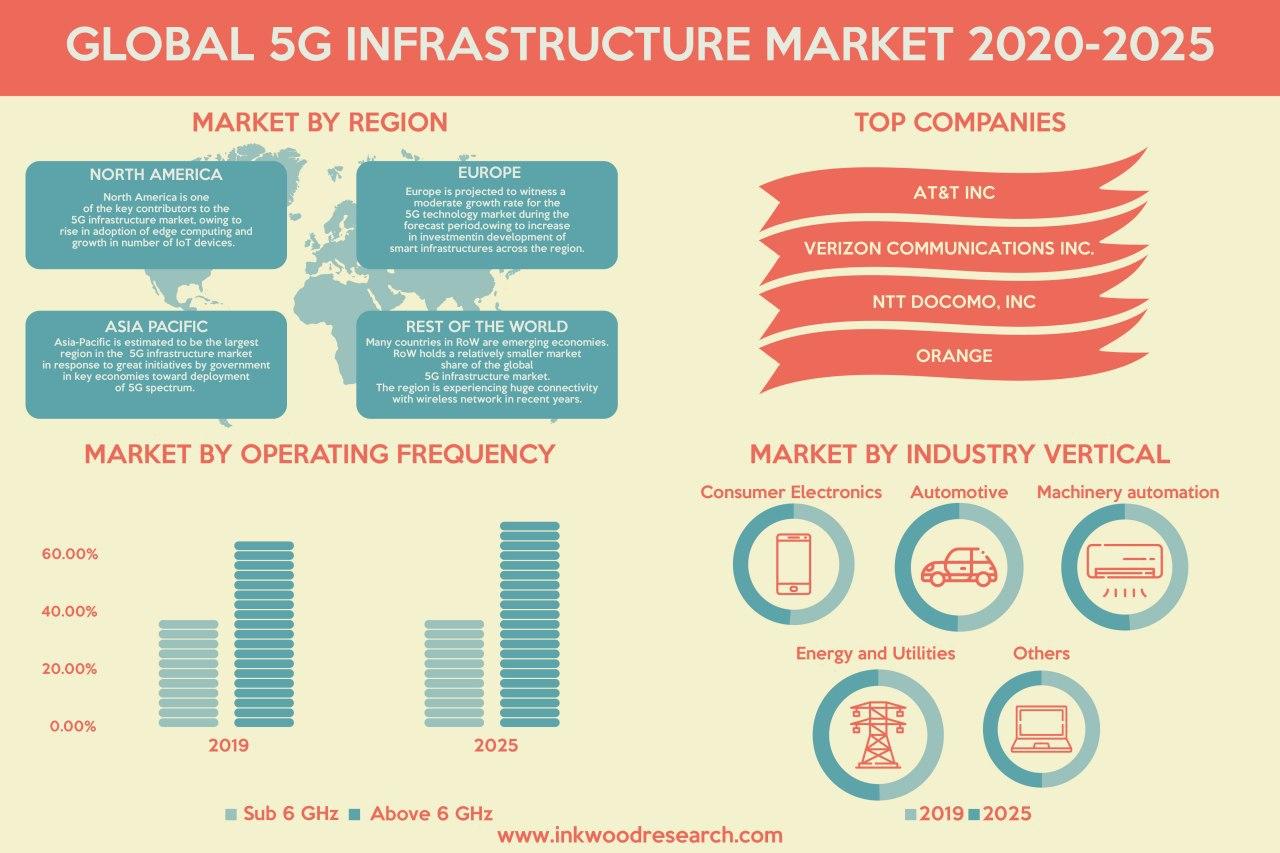 The global 5G infrastructure market is expected to reach $39382.46 million by 2025, growing at a CAGR of 63.55% during the forecast period.
According to a new market research report launched by Inkwood Research, the Global 5G Infrastructure Marketis expected to contribute a net revenue of around $39382.46 million by 2025, growing with a 63.55% of growth rate over the forecast period.
Browse 16 market data Tables and 40 figures spread over 174Pages, along with in-depth analysis on Global 5G Infrastructure Market by Communication Infrastructure, Industrial Verticals & by Geography
This insightful market research report by Inkwood Research focuses on market trends, leading players, supply chain trends, technological innovations, key developments, and future strategies. The report covers all the aspects of this comprehensive market, by assessing major geographies, and is a valuable asset for the existing players, new entrants, and future investors. The study presents a detailed market analysis, with inputs derived from industry professionals across the value chain.
Global 5G Infrastructure Market Scenario
5G, also referred to as fifth-generation cellular technology, provides enhanced mobile broadband services, along with reliable communication, by expanding mobile networks to assist a range of services and devices. This new network will provide an opportunity for innovations and connect industries to offer better performance, cost, and efficiency. It is a platform that will redefine entertainment, connectivity to the Internet, and communication.
The global 5G infrastructure market is growing at a rapid pace. Some of the prime factors attributing the market growth are escalating usage of the Internet, increasing demand for high internet speed, and rise in the use of content streaming and connected devices & wearables. However, the availability of devices with 5G compatibility, upgradation of physical layer of the network architecture, and small cell deployment are some of the critical reasons restraining the growth of the 5G infrastructure market globally.
The Global 5G Infrastructure Market report provides data tables and includes charts and graphs for visual analysis.
Request Free Sample Report for Global 5G Infrastructure Market by Communication Infrastructure, Industrial Verticals & by Geography: https://www.inkwoodresearch.com/reports/5g-infrastructure-market/#request-free-sample
Market Segmentation
Market by Industrial Verticals:
Energy and Utilities
Industrial
Automotive
Consumer Electronics
Others
Market by Communication Infrastructure:
Core Network
RAN
Transport Network
Report Highlights
– The report provides a detailed analysis of the current and future market trends, to identify the investment opportunities
– Market forecasts till 2025, using estimated market values as the base numbers
– Key market trends across the business segments, regions and countries
– Key developments and strategies observed in the market
– Market dynamics such as drivers, restraints, opportunities and other trends
– In-depth company profiles of key players and upcoming prominent players
– Growth prospects among the emerging nations through 2025
Companies Profiled
CISCO SYSTEMS INC
VODAFONE GROUP PLC
NOKIA
MEDIATEK INC
SAMSUNG ELECTRONICS CO LTD
ORANGE
INTEL CORPORATION
HUAWEI TECHNOLOGIES CO LTD
NTT DOCOMO INC
AT&T INC
VERIZON COMMUNICATIONS INC
QUALCOMM TECHNOLOGIES INC
Media Contact
Company Name: Inkwood Research
Contact Person: Clive Cooper
Email: Send Email
Phone: +1 857-302-4704
City: Boston
State: MA
Country: United States
Website: https://www.inkwoodresearch.com/