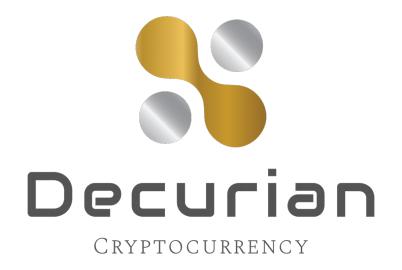 Amidst the ever-increasing popularity of the crypto-currencies, many newer blockchain technologies are making their way in to the crypto-market with each passing day. Every other crypto-token is aiming to solve a unique problem, thus providing its users a sense of achievement. While, initially, we saw many block-chain technologies which only focused on to become an online payment medium, a paradigm shift was witnessed in 2017, when more and more technologies came up with different agendas and motives.
An area which was left untapped till now was the gaming industry, which had an unleashed potential that could be addressed through the use of blockchain technology. This is exactly what Decurian had in mind i.e. to identify and serve the purpose of gaming industry, and it did exactly that. It basically offered the gamers an incentive to actually live their winning experience. The token will be used by gamers to challenge each other on a designated gaming website by the name of meagainstu.com.
Decurian spread like wild-fire, it was widely accepted to such an extent that it also baffled the team behind its development. Even they were not expecting this growth of the technology in such a minimal time. The gaming-challenge token has achieved in 3 months what had been planned and expected to be achieved in 2-3 years. That is a remarkable turn-around, and it looks like that the gaming industry was eagerly waiting for a technology that could add value to their gaming experience. It is a classic example of how an idea so simple has become an instant hit and an international success.
To put the icing on the cake, something which is more interesting regarding the development around Decurian is that it is all set to become the youngest crypto-unicorn in 2020. A crypto-unicorn is a term used for companies which are a success startup, with a valuation of over $1 Billion USD. Decurian completed its ICO on 1 February this year, with 18,200,000 tokens sold for $5 USD each. This ICO release, along with all the held back tokens will add up to more than $1 billion USD in current crypto-markets. Thus, that is the birth of another crypto-unicorn!
The market is filled with over-whelming news about Decurian. The crypto-exchanges are valuing Decurian token at over $11 to as much as $21, which is almost four times its ICO-release price. The analysts are positive about the development, the community is over-joyed by the use of the technology and the market is eagerly waiting for its official launch. The founder of Decurian, Michael Chodorowski, is still trying to cope with the jubilation and the amount of work-load the recent development has brought for him and his team. He said, "We still have a lot of work to do before the site meagainstu is up, but it surely feels good being a unicorn."
The team is working hard to roll out the official website in time to provide its users with the best experience possible. They are adamant to maintain the popularity of Decurian, and hold its value at a strong position along with aiming to transform it into a top 10 cryptocurrency. Chodorowski, jokingly recollected, that his granddaughter recently had a book titled "What do unicorns eat?", and now when he looks back to it, it surely feels like a sign to him.
The increasing popularity of Decurian amongst the gaming community has raised another appeal. On a talk that has been making rounds lately, that there should be a budget-friendly token as well, the team has listened to the concerns and has decided to roll out a spin-off by the name of Decurian ACE. Around 500,000,000 tokens will be released initially with a price-value of $1 each. This will expand the user-base of meagainstu.com, as it could be utilized by every player now, not just Decurian ECU holders. The team is planning to release the token by next month, and is expecting the same zeal and fervor by the gaming community as was seen for Decurian ECU.
Surely, covering the work-load that was planned for 2-3 years in a matter of mere 3 months is commendable. Micheal Chodorowski, sees this success both as a blessing and a poisoned chalice. He puts this thought beautifully as he said that "I expected this project to be like a pet salamander, instead I woke with Godzilla running around my office. We were completely not ready for this." That perfectly sums up his expectations and the journey he has been on so far. He also added, "I love the idea of Decurian as a challenge token, I now see that it is turning into a very different monster."
All this is just a teaser of what is yet to come. With an expected launch of meagainstu platform by April and an equally enthralling release of Decurian ACE around the corner, we can expect the un-expected to unfold in front of our eyes. With Decurian already joining the leagues of the crypto-currency unicorns, and a vibrant team driving the project towards an ultimate success, the project is inevitable to touch the dawn of the glory. Soon enough, Decurian will be a name on every tongue. Till then, keep an eye out for this unicorn!
Media Contact
Company Name: Avalerion Investments
Contact Person: Michael Chodorowski
Email: Send Email
Phone: +1-778-882-4602
State: British Columbia
Country: Canada
Website: https://ecucoins.com/