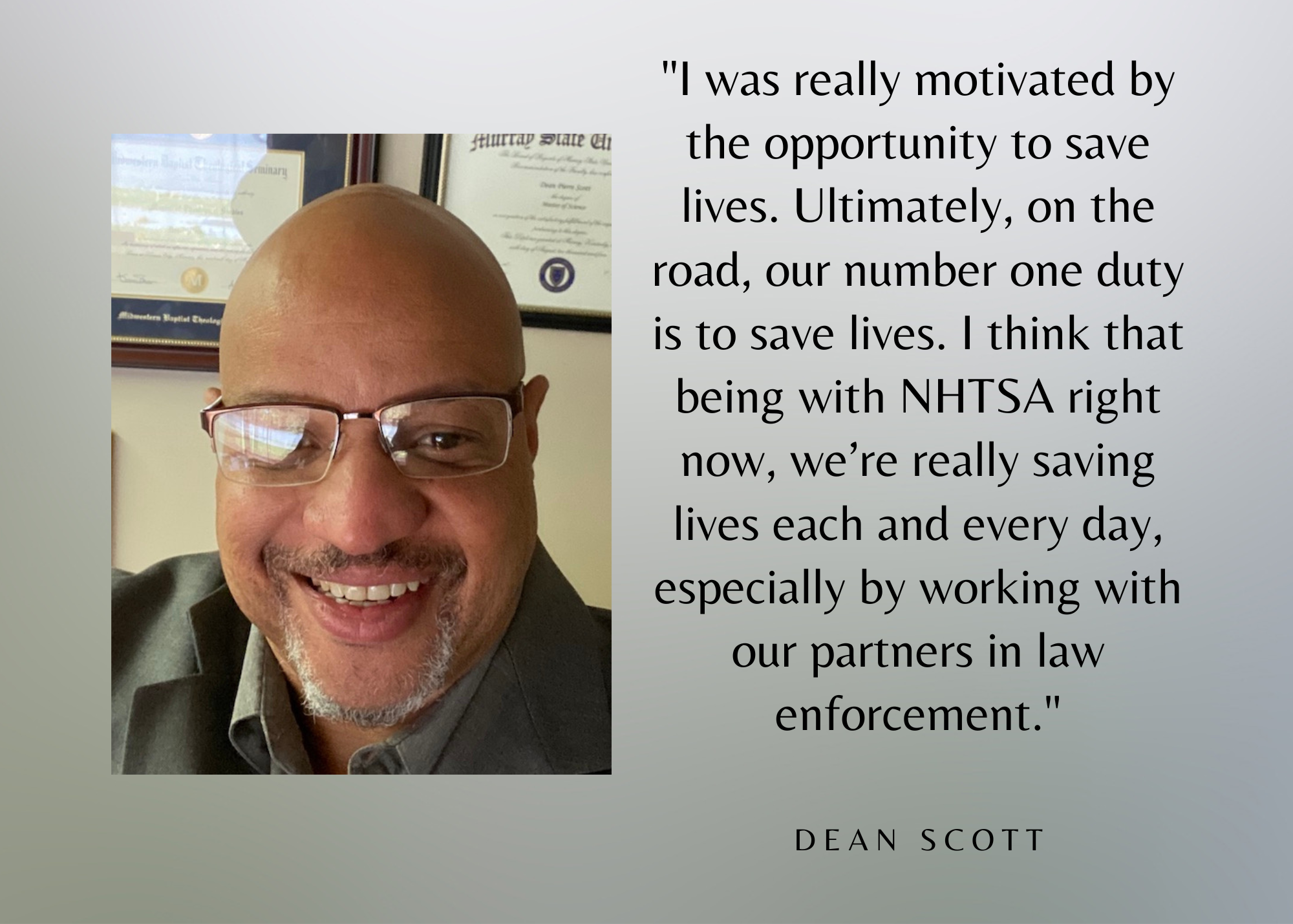 The veteran traffic safety official sat down to discuss his life, his career, and his professional philosophy.
Gladstone, Missouri – July 26, 2022 – It is with great enthusiasm that Dean Scott, former military policeman in the US Army and current official with the National Highway and Traffic Safety Administration (NHTSA), announces he is the subject of a new, in-depth interview. The interview, which was conducted by freelance journalist Stefan Junge on behalf of an online periodical aimed at business people and entrepreneurs, was published on July 7, 2022.
Early in the piece, Dean addresses a question about what inspired him to pursue a government career in traffic safety. "Having a military police background made it easy because we work with law enforcement in advancing our program objectives in NHTSA," he begins, elaborating, "It was an easy transition because cops talk to cops. With my history of being a cop, the agency felt like I could be a great asset to them, so they actively sought me out. I was flattered by it, but I was really motivated by the opportunity to save lives. Ultimately, on the road, even as a police officer, our number one duty is to save lives. I think that being with NHTSA right now, we're really saving lives each and every day, especially by working with our partners in law enforcement."
Further along in the interview, Dean Scott is asked to cite one strategy or skill that he feels is responsible for fostering success in his career, replying, "Learning to become a great public speaker. Sometimes a person who is a great public speaker can overcome a lack of knowledge in a given area, because a great speaker will typically gain that knowledge as they go along. Being a great speaker requires you to take speech classes and stand in front of an audience and take criticism. Make your speaking and presentation skills a priority in life and it will help you immensely in many different ways."
Anyone curious to read the full text of the interview will find it located here, while anyone interested in learning more about Dean Scott is encouraged to visit his professional website.
About Dean Scott:
Dean Scott grew up in Baltimore, Maryland. The youngest of seven brothers and one sister, he graduated from high school in 1987, having been singled out for excellence as the class valedictorian.
After high school, Dean enlisted in the US Army as a Military Police officer. He served in the Army for two decades, including a combat tour in Iraq and Humanitarian Service Mission in Goma, Zaire. Dean was awarded a Bronze Star for valor in combat in 2006. While in the military, he continued his education, receiving a Bachelor of Science Degree from Colorado State Pueblo in 1994, and later earning a Master's Degree in Management from Murray State University in 2004.
In 2008, Dean heard a spiritual call, becoming a full pastor in his own right the next year. Since then, he has served at the New Kingdom of Faith and Restoration Church in the Greater Northland of Kansas City, which provides food and other kinds of charitable relief for more than 100 families per month.
Dean Scott currently works for the National Highway and Traffic Safety Administration where he performs grant oversight of traffic safety programs and manages the financial disbursements and reimbursements of program grant funds. Dean received a Superior Achievement Award in 2022 for leadership in the NHTSA Program Management.
Media Contact
Contact Person: Dean Scott
Email: Send Email
Country: United States
Website: dean-scott.com