Atlanta, GA – Weddings are always a fun event of love and happiness. There is always so much to savor being part of the celebration of a couple's love – the sharing of vows, the big cake, the sparkling white dress, the food, family, old friends and much more. But for most singles at a wedding, one moment might seem to supersede every other one and that is the bouquet and garter toss. That part when the bride flings her bouquet over her head and the groom tosses the garter to those hoping they will be next to join them. This for long has been seen as a sign of good fortune, albeit to the one who catches the bouquet. A new twist is on the rise, Date Favor Internationals matchmaking service is connecting hearts together all around the country.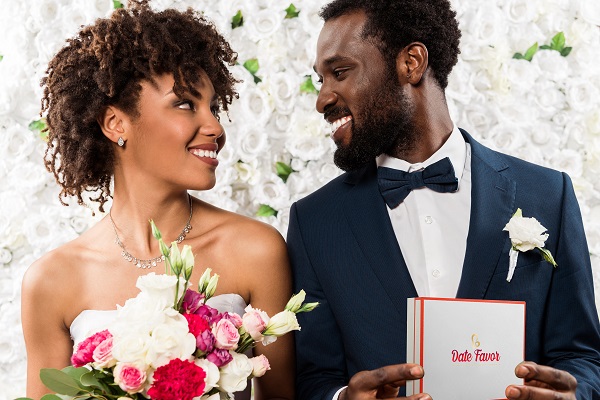 When the singles gather for the bouquet and garter toss, they can now expect to get far more than just fortune. The lucky recipients of the bouquet and garter will receive Date Favors. A gift box with a lovely gift and video inside. The exciting video will let the recipients know that they now have access to their very own personal matchmaker to assist them in finding love. The video gift boxes cover can be personalized and designed with an image of the bride and groom or predesigned boxes are also available. Date Favors can be given only to the bouquet and garter recipients or to all the singles present at the wedding should you chose to.
While most single men and women looking to marry and find love might see the bouquet and garter toss as an old silly wedding tradition and decide to opt-out. With the new twist from Date Favor International, the singles will have a real chance at finding love. It's time to make this old tradition a reality for those who desire. With the help of a personal matchmaker, you can be sure there will be a lot of singles gathered behind the bride and groom at the wedding. The bouquet and garter toss will be fun, new and exciting for all the singles as well as the other guests at the wedding. It surely will remain evergreen in their minds.
Wouldn't it be lovely if the next wedding attended was for someone you gifted a Date Favor at your wedding?
Visit www.DateFavor.com to order your Date Favors today!
Media Contact
Company Name: Date Favor International
Contact Person: Rachel Perkins
Email: Send Email
Phone: 678-318-1771
City: Atlanta
State: GA
Country: United States
Website: https://datefavor.com/