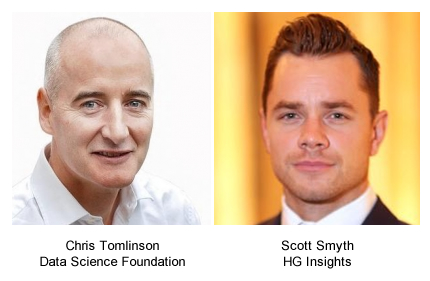 Data Science Foundation member HG Insights wows Salesforce community
Manchester, UK – 3 December, 2019 – Salesforce, the global leader in CRM, recently welcomed more than 170,000 registered attendees from all over the world, across every industry and line of business, to Dreamforce, the world's largest software conference. The Data Science Foundation was represented at the event held in multiple venues in San Francisco, by founding member HG Insights.
During the event, HG Insights, the global leader in technology intelligence, announced that over 40 leading technology vendors are actively using the HG Insights platform to successfully prioritize accounts and drive sales and marketing efforts for 2020 and beyond. The company held a 'by invitation only' meet and greet on the opening day of the conference where leading technology brands including OwnBackUp, LogicMonitor, Cisco, Oracle, Informatica and Hitachi were able to ask HG Insights' leadership team about the next phase in the development of the HG Insights platform.
With technology intelligence from HG Insights, businesses are bringing clarity and focus to their ABM programs by targeting and prioritizing the accounts that have the highest propensity to buy and which fit their Ideal Customer Profile. Platform users can now accelerate growth with HG Insights' world-class installed technology intelligence directly in Salesforce, the world's most popular CRM platform.
"Utilizing data-driven targeting and messaging enables our platform users to achieve more predictable outcomes and a higher return on investment from their ABM campaigns and initiatives," commented Scott Smyth, VP, Global Sales, HG Insights. "Our full suite of solutions allows businesses to integrate technology intelligence at any stage of a customer's journey. Many leading tech vendors have turned sales territory planning into a strategic advantage, using our platform to ensure their account executives target the prospects with the highest propensity to buy. By understanding the IT spend, install, and contract renewal activity of their prospects, they are on course to win more target accounts."
Chris Tomlinson, founder of the Data Science Foundation, said, "It's great to see the tremendous strides HG Insights have made in the field of data science, particularly technology intelligence. I have attended a couple of their client roundtable events and can confirm the high esteem in which their technology intelligence platform is held. We hope to continue our successful relationship with the company for many years to come."
Data Science Foundation
The Data Science Foundation is a professional body representing the interests of people working in the data science, AI and advanced analytics sector. The foundation encourages the socially and environmentally responsible use of data and artificial intelligence in all spheres towards better society. This is reflected in our Code of Conduct which all members must agree to before membership is granted.
Membership consists of data scientists, organizations that use data science in business operations, suppliers of data and analytics services as well as universities offering data science courses and their students. The Data Science Foundation is creating an active community of data scientists and provides online systems to collaborate and share research and best practice.
The foundation is a source of data science and artificial intelligence knowledge and expertise; a communications and publishing platform for data scientists, a source of information for the public and a resource for organizations wanting to make better use of their data. We have built a community of people with similar interests, allowing them to communicate and to share knowledge and ideas. We promote the benefits of using data science, provide support to businesses new to data driven decision making and offer data science consultancy services.
For more information, visit: https://datascience.foundation/
Media Contact
Company Name: Data Science Foundation
Contact Person: Chris Tomlinson
Email: Send Email
Phone: 0161 926 3641
Address:Atlantic Business Centre Atlantic Street
City: Manchester
Country: United Kingdom
Website: datascience.foundation/