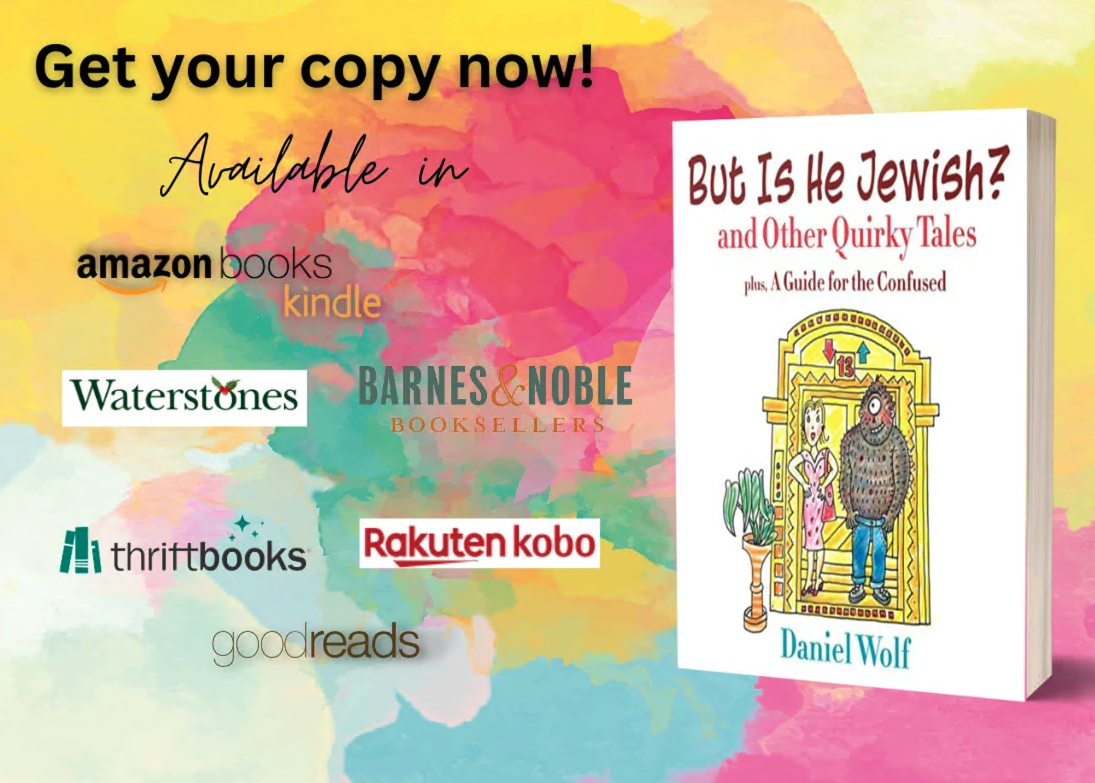 Divided into three sections, But Is He Jewish? presents a delightful reading experience based on Jewish themes but encompassing several universal topics
Daniel Wolf, an acclaimed author known for his wit and insightful storytelling, has released his latest book, titled "But Is He Jewish? and Other Quirky Tales." This captivating collection of stories offers readers a delightful reading experience that combines Jewish themes with universal topics. The book contains stories, mini-plays, and stand up comedy routines so readers can rest assured they are in for an enthralling ride when they pick up "But Is He Jewish?"
In this book, Daniel Wolf takes readers on a journey through a series of quirky and thought-provoking tales that explore the complexities of life, culture, and identity. With a unique blend of humor and heart, Wolf weaves together stories that resonate with readers from all walks of life. Divided into three sections, the first part is titled 'Quirky Tales,' and it is a collection of fifty short stories based on certain aspects of Jewish life and culture while dealing with universal themes such as love, mortality, courage, coming of age, and the importance of family.
The second section of the book, 'Mishegas' which is Yiddish for craziness includes stand-up comedy routines and the philosophical musings of a fictitious rabbi. In this section, readers will discover advice for daily living under 'A Guide for the Confused' and 'Eighty Questions to Ponder.' The author also provides a nonsensical poem titled 'Quit.'
In the final section of the book, Daniel Wolf takes readers on an exciting journey into humorous plays featuring animal actors. This section is titled 'Animals with Attitudes' and the plays are by animals taking up Jewish characteristics and speaking some Yiddish with translations provided. In all, But Is He Jewish? provides a delightful reading experience, as it addresses a variety of topics in a mostly humorous but always human manner.
The book is now available on Amazon in Kindle and Paperback versions. To get But Is He Jewish? and Other Quirky Tales, please visit https://www.amazon.com/But-Jewish-Other-Quirky-Tales/dp/1647496950/?_encoding=UTF8&pd_rd_w=GykF9&content-id=amzn1.sym.952cfb50-b01e-485f-be6e-00434541418b%3Aamzn1.symc.e5c80209-769f-4ade-a325-2eaec14b8e0e&pf_rd_p=952cfb50-b01e-485f-be6e-00434541418b&pf_rd_r=SNKR3SE8W5H3FGGVSDV5&pd_rd_wg=2KdlM&pd_rd_r=29981c81-c01d-4918-b4c7-c9ce872bc019&ref_=pd_gw_ci_mcx_mr_hp_atf_m.
Media Contact
Company Name: Wordsmith Multimedia Services
Contact Person: Allison Croft
Email: Send Email
Phone: +1 209 813 2531
Country: United States
Website: https://www.wordsmithmultmediaservices.com/