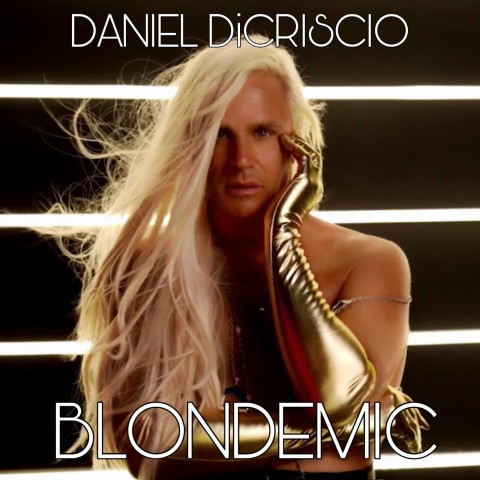 Multi-talented musical artist Daniel DiCriscio tells us "Your vaccination is your invitation to party" in his new EDM music video for BLONDEMIC.
The award-winning DiCriscio encourages people to go out and party again with his new music video BLONDEMIC and get back to being happy after what we've all been through in the past year and a half.
The video features DiCriscio driving through the streets of LA in a red convertible with his signature long blonde platinum hair blowing in the wind, to glamorous shots showcasing his distinct style, and a drenched wet rain shower scene meant to signify being reborn in the new world we're living in today.
DiCriscio says that he wanted to write a song that reflects what we've all been through since the beginning of the Covid-19 pandemic and how we need to regain our happiness once again. "I wrote this song during the pandemic and it was originally called "Pandemic" but one night I made a hasty change of title because of the negativity of that word and said to myself "BLONDEMIC", now that is fun!", states DiCriscio.
DiCriscio adds, "I'm a people person, I love people, and this isolation chamber we have been put in can absolutely have a detrimental effect on a lot of us as a whole. People need people. People need to smile. People need to feel human again."
DiCriscio's previous songs and music videos such as; "Take Me To The Other Side" (PWL Remix), "Only Time Will Tell", and "X Sex", have been featured on top charts and reviewed in Billboard Magazine. He has opened live for Grace Jones at Paramount Studios Hollywood and performed in nightclub scenes in Los Angeles to New York and abroad.
With numerous guest appearances on reality shows, TV specials, documentaries, and movies such as: "Da Ali G Show", "Todd TV", "Vamp Bikers Tres", "The Gossip Queens", "Cristina's Court", "The Geraldo Rivera Show", and "TMZ on TV", The award-winning DiCriscio, is also the Host and Executive Producer of the Amazon Prime series, "Trendsetting with Daniel DiCriscio".
BLONDEMIC is now available worldwide on all platforms including TIDAL, Vevo, and Apple Music.
Official BLONDEMIC merchandise is now available on Bonfire: https://www.bonfire.com/store/daniel-dicriscio-blondemic/
Daniel DiCriscio is repped by the Roger Paul Agency in New York City, NY.
Media Contact
Company Name: IMAGE Records International
Contact Person: Media Relations
Email: Send Email
Country: United States
Website: https://danieldicriscio.net/