Monroe, New York – Dainte Inc., creator of luxury home decor since 2002, is proud to showcase two brand new, never before seen indoor lighting collections: The Butterfly Collection and the Lily Collection.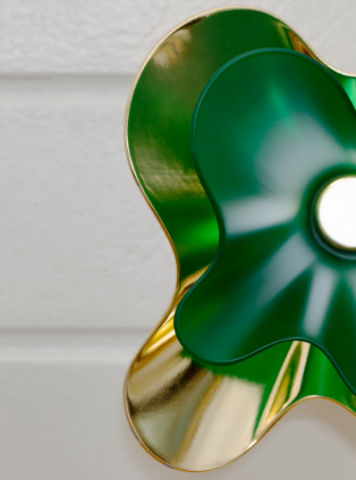 The Butterfly Collection is elegant, layered, and luxurious, made of textured brass and tinted glass. The collection has translated the lively butterfly into elegant sculptural lighting fixtures. The wings of butterflies are their most distinguishing feature and come in many different shapes, colors, textures, and patterns. Awed by the splendorous beauty of the butterfly, Dainte has shaped their elegant wings into luxurious lighting shades. The Butterfly Collection will enhance the energy of the environment, boasting their fanciful existence. This collection consists of 4 items – Pendant Lighting, Wall Sconces, Desk Light and Stand light.
The Lily Collection is minimal, modern, and textured. It embodies the lily flower's pure beauty and is made of textured brass. The collection illustrates minimalistic and elegant silhouettes. The entire lamp's body is modelled after the natural shape of the flower. Lily lighting fixtures exude elegance and add grace to any environment. This collection consists of 5 items – Pendant Lighting, Chandelier, Wall Sconce, Desk Light and Stand light.
"We are extremely proud and excited to bring these two exquisite collections to market," said Joseph Stern, owner and lead designer of Dainte Inc., "They truly embody our design philosophy, that design is so much more than the physical construction of a space or object. True design is a beautiful combination of storytelling, craftsmanship, and feeling."
Both collections are now available for pre-order with an expected delivery date of February 2021. Visit dainte.com for more details about new and existing collections.
ABOUT DAINTE INC.
Dainte has specialised in crystal designs since 2002. Combining expertise in crystal with other complementary materials, Dainte has stepped forward to present the world with a completely redefined interior design experience when it comes to balancing the elegant powers that harmonize lifestyle.
For more information and to request high resolution photos, please contact: Joseph Stern | jstern@dainte.com | 845 202 0042

Media Contact
Company Name: DAINTE INC.
Contact Person: Joseph Stern
Email: Send Email
Phone: 845 202 0042
Country: United States
Website: dainte.com