CDL expert and consultant launch book to help CDL drivers succeed. Through her book, newcomers and those already in a program will find useful information and details that will transform their career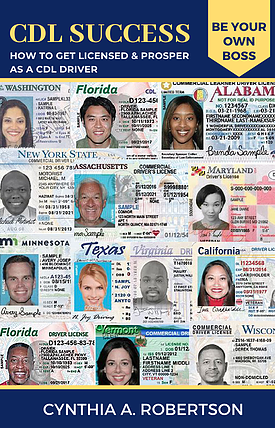 VIRGINIA – MARCH 12, 2020 – The transportation industry is worth $7.967 Billion. However, many new CDL trainees struggle with getting through their training programs; many quit and are saddled with insurmountable training debt. The lack of crucial, reliable, available information to make wise decisions, at the outset, is a major contributor to the industry's challenge of driver recruitment and retention.
Author and Certified Mentor & Career Advisor, Cynthia A. Robertson, has launched her book titled, CDL Success: How to Get Licensed and Prosper as a CDL Driver in an effort to address these issues in today's economic climate.
This book is a complete guide specifically for those who are curious about a CDL, those who are in a CDL training program, and CDL permit holders. It lays a solid foundation to help the reader prepare to tap into this astoundingly lucrative industry to become a big rig driver. Making the right decisions are closely connected to getting the best available information.
This book is easy to understand and includes detailed success steps to help the reader develop personalized, winning strategies for success. There is no better way to get genuine information than with such an exceptional, highly motivated, industry expert like Cynthia A. Robertson, who has a decade of experience in the transportation industry and is a million miles safe driver.
To learn more about the book, please visit her website: https://www.cdlsuccess.com/
About Cynthia A. Robertson
Author Cynthia A. Robertson is a retired FMCSA Licensed Broker, and former President of HAMPTON ROADS FREIGHT BROKERAGE, INC. She is a Certified Driver Mentor and Career Advisor for one of the United States' leading transportation companies. As a consultant, she gives leadership to a think-tank incubator for transportation solutions and provides strategic business development coaching. She is a prolific public speaker, a graduate of Strayer University, Washington, DC; a member of Who's Who In American Colleges and Universities; and a member of Alpha Chi National Honor Society.
For more information, see the media contact information below.
Media Contact
Company Name: Winning Solutions For CDL Drivers To Get Licensed And Prosper
Contact Person: Cynthia A. Robertson
Email: Send Email
Phone: 800 879-0119
Country: United States
Website: www.cdlsuccess.com