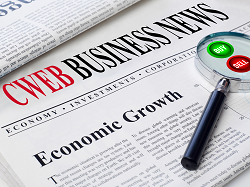 CWEB, the American multinational media news company, has published its latest roundup of trending business news for October 26.
CWEB, the American multinational media news company, has published its latest roundup of news for October 26, summarizing the important events and highlights from across industries and around the world.
The following are the main highlights as reported in the review:
Despite increased interest rates, continued inflation pressures, and a number of other domestic and foreign headwinds, the U.S. economy grew even faster than projected in the third quarter, driven by a robust consumer.
The United Auto Workers and Ford, the company's largest employer, have reached a tentative agreement to terminate the 41-day strike and bring back 16,600 striking workers within days while also increasing workers' wages by at least 25% by 2028.
Despite new upside risks to inflation from oil markets in the midst of the Israel-Hamas war, the European Central Bank stopped its series of interest rate hikes on Thursday.
Due to a lack of available homes and rising costs, the number of new homes sold in the United States reached a record high in September not seen since February 2022. From $430,300 in August to $418,800 in September, a decrease of -3% was seen in the median selling price.
Even though sales of the company's popular blood cancer medicine Revlimid dropped due to generic competition, Bristol Myers Squibb on Thursday reported quarterly adjusted earnings that were above expectations and produced revenue in line with estimates.
Snap announced last month that it would partner with Microsoft to incorporate advertising into its artificial intelligence chatbot, which it has called "My AI." Since its launch in April, Snap has seen over 200 million users send 20 billion messages to the bot.
When compared to the same period a year before, Meta's sales were up 23% and its profit was up more than 2X. Despite cutting expenses, Meta predicts its metaverse business will continue to lose money.
The contract to convert two 747s into the next generation of the presidential plane cost Boeing an additional $482 million in losses, the company announced on Wednesday. More than $1 billion has been lost on each plane for Boeing.
UPS has forecasted lower sales and thinner profit margins for the future after reporting significantly lower earnings for the third quarter. Instead of blaming its current labor troubles, however, it blamed a sluggish global economy. In the most recent fiscal quarter, UPS reported an adjusted net income of $1.3 billion, or $1.57 per share. That's a drop of 48% over the previous year.
Despite beating sales and profit projections, Comcast's third quarter was marred by a decline in NBCUniversal advertising revenue and a loss of high-speed broadband connections, making it the largest internet provider in the United States.
On Thursday, Mercedes-Benz shares dropped significantly as the German automaker reported a drop in earnings and revenue due to problems ranging from competition from electrical vehicles to supply chains.
Users of 23andMe's 'DNA Relatives' service have been notified of a data breach. The genetic testing company had its tool that lets people see how their family tree compared to others around the world compromised. After a hacker posted an online ad offering for sale millions of "pieces of data" stolen from the company, it began working with law authorities and forensic experts to determine the extent of the damage.
CEO Ari Emanuel has initiated a review to investigate strategic alternatives for Endeavour Group Holding, the parent company of the WME talent agency and other sporting properties. This could lead to a sale of the company.
TikTok has teamed up with a ticketing company to host its first ever concert. In an effort to compete with Spotify, Apple Music, Amazon Music, and the like, the social media behemoth released a paid music streaming service a few months ago. To mark its first foray into selling tickets to events, it has announced the "In The Mix" live music event.
Amazon's new European cloud service debuts as the data privacy debate in the EU heats up. Companies in highly regulated sectors and the public sector are the intended users of Europe's new independent cloud. It will be physically located in Europe, independently from the company's other cloud data centers in the United States.
Satya Nadella, CEO of Microsoft, is the third CEO of the software giant to acknowledge the company has made significant errors in its mobile offerings.
Amazon.com (AMZN), Mastercard (MA), Merck & Co. (MRK), Intel (INTC), Altria (MO), Chipotle Mexican Grill (CMG), Northrop Grumman (NOC), and UPS will all report earnings on Thursday, October 26.
Exxon Mobil (XOM), Chevron (CVX), AbbVie (ABBV), and Charter Communications (CHTR) are in the limelight for their earnings reports on Friday, October 27.
Stocks to watch with positive momentum and Buy Rating:
SNDL Group (SNDL), Groupon (GRPN), Chase Bank (JPM), Microsoft (MSFT), GOOGL, Apple (AAPL), Pay Pal (PYPL), Walmart (WMT), Amazon (AMZN), Facebook (META), Tesla (TSLA), Carnival Corporation (CCL), PepsiCo (PEP), Wells Fargo (WFC), Johnson & Johnson (JNJ), Philip Morris International (PM), SNAP INC (SNAP)
Read the full newsletter online: https://www.cweb.com/cweb-news-summarized-breaking-business-and-stock-newsletter-october-26-2023/
Post your free blog on CWEB at: https://www.cweb.com/add-a-free-blog
Check out the latest news and announcements at CWEB: https://www.cweb.com
About CWEB.com
CWEB is an American multinational media news company. CWEB is primarily involved in the news, media, blogs and entertainment industries, including free forums, classifieds and job postings. CWEB reports breaking news, celebrity, entertainment, sports, politics, finance, stock market and business news.
Facebook: https://www.facebook.com/cwebmedia
Instagram: https://www.instagram.com/cweb/
Twitter: https://twitter.com/cweb
YouTube: https://www.youtube.com/c/cwebmedia
TikTok: https://www.tiktok.com/@cwebnews
Media Contact
Company Name: CWEB
Contact Person: Rachel Cohen
Email: Send Email
Phone: (310) 990-0009
Address:PO BOX # 12404
City: Marina Del Rey
State: California 90295
Country: United States
Website: https://www.cweb.com/