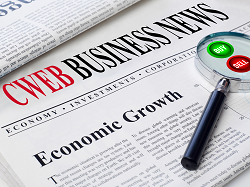 CWEB, the American multinational media news company, has published its latest roundup of trending business news for October 24.
CWEB, the American multinational media news company, has published its latest roundup of news for October 24, summarizing the important events and highlights from across industries and around the world.
The following are the main highlights as reported in the review:
On Tuesday, stocks rose as investors prepared for a deluge of earnings reports from tech titans and other prominent corporations, helped by a recovery in the benchmark 10-year Treasury yield. All three major indices (Dow Jones Industrial Average, S&P 500, and Nasdaq Composite) gained around 0.5 percent.
Nearly 30 percent of American car owners are currently 30 days or more behind on their payments. The reason for the increase is the increased cost of financing a new vehicle due to rising prices and interest rates.
As consumers shrugged off price increases for Coca-Cola and other products, the company posted quarterly earnings and revenue Tuesday that were beyond analysts' estimates. Earnings were $11.91 billion, compared to the predicted $11.44 billion.
Tucker Carlson, formerly of Fox News, has inked his first advertising deal with his new media firm. According to PublicSq. CEO Michael Seifert, the deal with the conservative-friendly shopping app was reached on Friday and is worth at least $1 million.
For $53 billion, Chevron will buy Hess. It's the second industry-altering merger to be announced this month, following Exxon Mobil's $60 billion acquisition of Pioneer. This demonstrates that both Exxon and Chevron, the two largest oil companies in the United States, are continuing to place large bets on fossil fuels.
The positive mood surrounding a bitcoin exchange-traded fund and a flight to safety caused a surge in short liquidations, pushing the price of bitcoin temporarily above $35,000 for the first time since May 2022.
Verizon increased its yearly free cash flow prediction on Tuesday as the company gained more customers than projected in the third quarter thanks to advertising and the company's high-speed 5G network in the United States.
Revenue and profit for Spotify's (SPOT) fiscal third quarter came in higher than expected on Tuesday, as the music streaming company looks to increase profitability by cutting back on podcasting investments and charging more for its premium features.
Strong demand for jet engine parts and services, as well as improved performance in its renewable sector, led General Electric to increase its full-year profit projection on Tuesday, marking the third time this year that the company has done so.
Over a trillion dollars in annual sales from corporations urge governments to abandon fossil fuels. About 131 firms, including Nestle and Unilever, have written a letter to world leaders ahead of the forthcoming U.N. climate summit, pushing them to increase their clean energy promises.
As high rates and prices hamper the real estate market, two lawsuits have been filed against broker fees. In an effort to alter the home-buying process in the United States, antitrust class-action lawsuits have been filed against the top brokers and the National Association of Realtors (NAR).
Microsoft (MSFT), Alphabet (GOOG), Visa (V), Coca-Cola (KO), Texas Instruments (TXN), and General Electric (GE) will all report earnings on Tuesday, October 24.
Earnings reports from Meta Platforms (META), T-Mobile US (TMUS), Thermo Fisher Scientific (TMO), Boeing (BA), and General Dynamics (GD) are highlighted for Wednesday, October 25.
Amazon.com (AMZN), Mastercard (MA), Merck & Co. (MRK), Intel (INTC), Altria (MO), Chipotle Mexican Grill (CMG), Northrop Grumman (NOC), and UPS will all report earnings on Thursday, October 26.
Exxon Mobil (XOM), Chevron (CVX), AbbVie (ABBV), and Charter Communications (CHTR) are in the limelight for their earnings reports on Friday, October 27.
Stocks to watch with positive momentum and Buy Rating:
SNDL Group (SNDL), Groupon (GRPN), Chase Bank (JPM), Microsoft (MSFT), GOOGL, Apple (AAPL), Pay Pal (PYPL), Walmart (WMT), Amazon (AMZN), Facebook (META), Tesla (TSLA), Carnival Corporation (CCL), PepsiCo (PEP), Wells Fargo (WFC), Johnson & Johnson (JNJ), Philip Morris International (PM)
Read the full newsletter online: https://www.cweb.com/cweb-news-summarized-breaking-business-and-stock-newsletter-october-24-2023/
Post your free blog on CWEB at: https://www.cweb.com/add-a-free-blog
Check out the latest news and announcements at CWEB: https://www.cweb.com
About CWEB.com
CWEB is an American multinational media news company. CWEB is primarily involved in the news, media, blogs and entertainment industries, including free forums, classifieds and job postings. CWEB reports breaking news, celebrity, entertainment, sports, politics, finance, stock market and business news.
Facebook: https://www.facebook.com/cwebmedia
Instagram: https://www.instagram.com/cweb/
Twitter: https://twitter.com/cweb
YouTube: https://www.youtube.com/c/cwebmedia
TikTok: https://www.tiktok.com/@cwebnews
Media Contact
Company Name: CWEB
Contact Person: Rachel Cohen
Email: Send Email
Phone: (310) 990-0009
Address:PO BOX # 12404
City: Marina Del Rey
State: California 90295
Country: United States
Website: https://www.cweb.com/