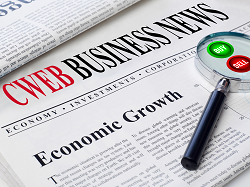 CWEB, the American multinational media news company, has published its latest roundup of trending business news for October 23.
CWEB, the American multinational media news company, has published its latest roundup of news for October 23, summarizing the important events and highlights from across industries and around the world.
The following are the main highlights as reported in the review:
As investors came to terms with the fact that interest rates will remain higher for longer, stocks dipped on Monday morning after the benchmark 10-year Treasury yield briefly went above 5%. At the opening bell on Monday, the Dow Jones Industrial Average (DJI), the S&P 500 (GSPC), and the Nasdaq Composite (IXIC) all dropped by roughly 0.5%.
Investors' focus next week will be on major earnings reports from the technology industry. This week is packed with major corporate earnings releases, including those from Microsoft (MSFT), Alphabet (GOOGL), Meta (META), and Amazon (AMZN), as well as Coca-Cola (KO) and Exxon (XOM).
The current budget shortfall in the United States is the greatest since the COVID era. The federal government's deficit in fiscal year 2023 was $1.695 trillion, up 23% year over year. The decline in receipts, the increase in expenditures for entitlement programs, and the increase in interest expenses on government debt caused the deficit.
The IRS is going after tax cheats for $160 MILLION: One previous CEO, according to the authorities, attempted to write off the cost of building his own tennis court and pool house as a "business expense."
Macy's (M) CEO Jeff Gennette, Prada (RDSY) CEO Andrea Guerra, Abercrombie & Fitch (ANF) CEO Fran Horowitz, Saks (SKS) CEO Marc Metrick, and Neiman Marcus Group (NMR) CEO Geoffroy Van Raemdonck are just a few of the high-profile speakers at the Women's Wear Daily Apparel & Retail CEO Summit.
This week, following earnings, Tesla's stock fell, breaking below a key technical mark. High borrowing rates are stifling affordability for new purchasers, according to Elon Musk, who led the charge to highlight slowing revenue growth and pressure on profits.
This week, Lululemon surpassed Activision Blizzard to take Activision Blizzard's spot atop the S&P 500. Despite the fact that this usually causes the stock price to spike sharply at first, research shows that being included in an index has "no permanent effect" on a stock's market value.
According to those in the know, the Walt Disney Co.'s India operations are being sold to Reliance Industries Ltd., which is controlled by Asia's richest tycoon Mukesh Ambani.
On Monday, the Swiss pharmaceutical and healthcare firm Roche announced that it would pay $7.1 billion to purchase Telavant Holdings. According to a press statement from Roche, Telavant is developing a "promising new therapy" for patients with Crohn's disease. Telavant specializes in producing medications for people suffering from inflammatory and fibrotic disorders.
Despite Economy Minister Sergio Massa's better-than-expected performance in Sunday's presidential elections, Argentine assets declined as investors feared Massa would not win.
Along with electric vehicle manufacturer Lucid Motors Inc., Hyundai Motor Co. has signed a contract with Saudi Arabia's sovereign wealth fund to build a more than $500 million car assembly factory in the oil-rich kingdom.
Elon Musk has announced that Twitter would be introducing two new pricing tiers, with the caveat that ad-free access will cost extra. The tech tycoon announced the impending release of two new X Premium pricing tiers in a blog post. "One is cheaper with all features but no reduction in ads and the other is more expensive but has no ads," Musk tweeted.
Earnings this week:
On Monday, October 23, Packaging Corporation of America (PKG) and Brown & Brown (BRO) will release their quarterly financial results.
Microsoft (MSFT), Alphabet (GOOG), Visa (V), Coca-Cola (KO), Texas Instruments (TXN), and General Electric (GE) will all report earnings on Tuesday, October 24.
Earnings reports from Meta Platforms (META), T-Mobile US (TMUS), Thermo Fisher Scientific (TMO), Boeing (BA), and General Dynamics (GD) are highlighted for Wednesday, October 25.
Amazon.com (AMZN), Mastercard (MA), Merck & Co. (MRK), Intel (INTC), Altria (MO), Chipotle Mexican Grill (CMG), Northrop Grumman (NOC), and UPS will all report earnings on Thursday, October 26.
Exxon Mobil (XOM), Chevron (CVX), AbbVie (ABBV), and Charter Communications (CHTR) are in the limelight for their earnings reports on Friday, October 27.
Stocks to watch with positive momentum and Buy Rating:
SNDL Group (SNDL), Groupon (GRPN), Chase Bank (JPM), Microsoft (MSFT), GOOGL, Apple (AAPL), Pay Pal (PYPL), Walmart (WMT), Amazon (AMZN), Facebook (META), Tesla (TSLA), Carnival Corporation (CCL), PepsiCo (PEP), Wells Fargo (WFC), Johnson & Johnson (JNJ), Philip Morris International (PM)
Read the full newsletter online: https://www.cweb.com/cweb-news-summarized-breaking-business-and-stock-newsletter-october-23-2023/
Post your free blog on CWEB at: https://www.cweb.com/add-a-free-blog
Check out the latest news and announcements at CWEB: https://www.cweb.com
About CWEB.com
CWEB is an American multinational media news company. CWEB is primarily involved in the news, media, blogs and entertainment industries, including free forums, classifieds and job postings. CWEB reports breaking news, celebrity, entertainment, sports, politics, finance, stock market and business news.
Facebook: https://www.facebook.com/cwebmedia
Instagram: https://www.instagram.com/cweb/
Twitter: https://twitter.com/cweb
YouTube: https://www.youtube.com/c/cwebmedia
TikTok: https://www.tiktok.com/@cwebnews
Media Contact
Company Name: CWEB
Contact Person: Rachel Cohen
Email: Send Email
Phone: (310) 990-0009
Address:PO BOX # 12404
City: Marina Del Rey
State: California 90295
Country: United States
Website: https://www.cweb.com/