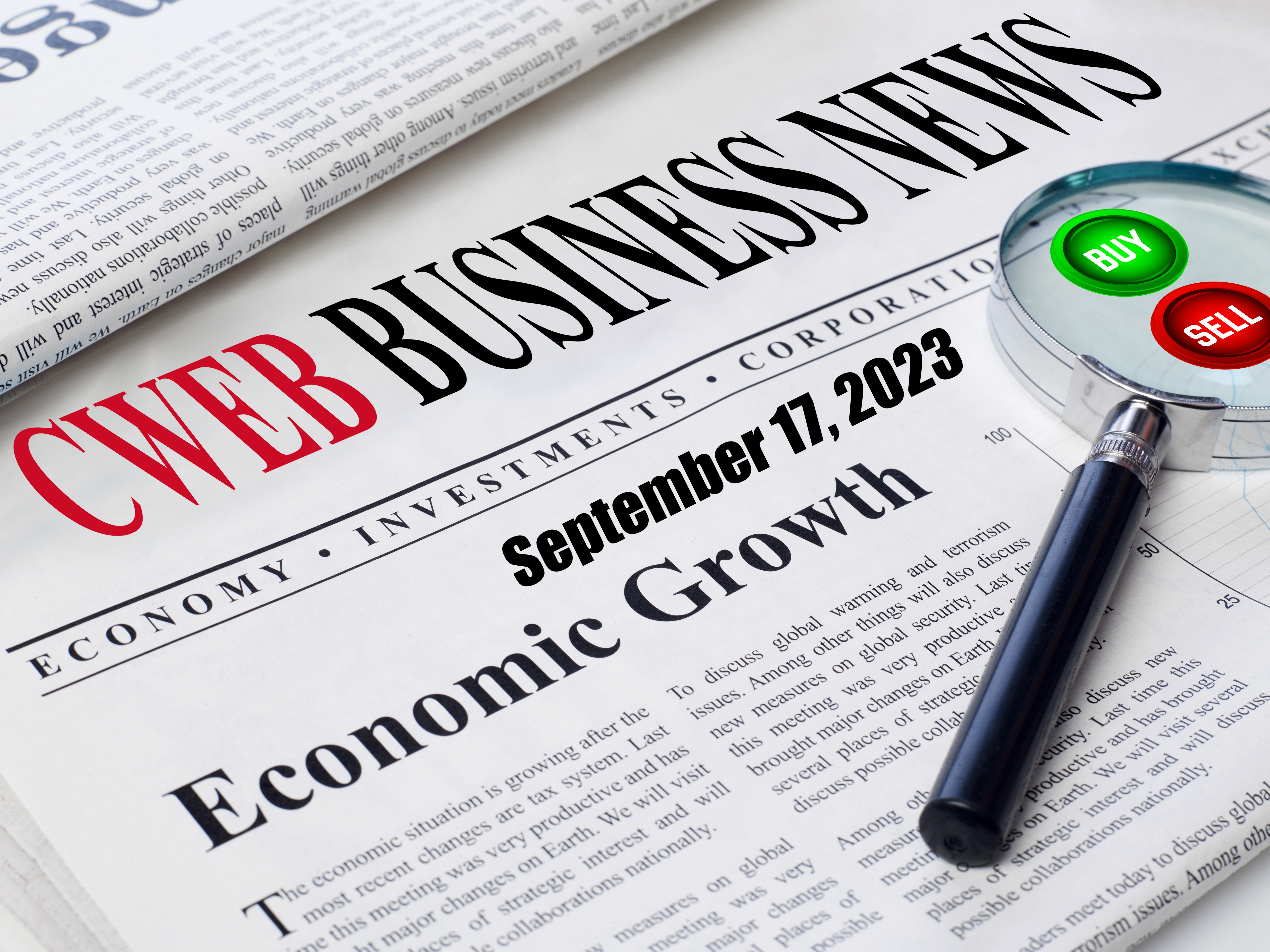 CWEB, the American multinational media news company, has published its latest roundup of trending business news for October 17.
CWEB, the American multinational media news company, has published its latest roundup of news for October 17, summarizing the important events and highlights from across industries and around the world.
The following are the main highlights as reported in the review:
In spite of rising interest rates and concerns about the state of the economy, retail sales in September came in significantly higher than anticipated due to the surprisingly robust performance of customers. According to the advance report that the Commerce Department provided on Tuesday, retail sales increased by 0.7% on the month, which is significantly more than the 0.3% increase that was estimated by Dow Jones.
As builders battle with a market that is dominated by high mortgage rates and expenses for financing, builder confidence in the market for single-family homes dipped to the lowest level since January. This marks the lowest level since January.
Tuesday was a negative day for European markets as positive data regarding US retail sales drove up bond yields and added weight to the argument that the Federal Reserve should maintain higher interest rates for a longer period of time. Investors were also keeping an eye on the most recent diplomatic efforts to stem the bloodshed between Israel and Hamas.
As LVMH shares continue to fall, Jeff Bezos has surpassed Bernard Arnault to become the second richest person in the world.
With their new "game streaming" service, Netflix hopes to compete with consoles like PlayStation and Xbox. The streaming behemoth plans to expand its games streaming beta to the United States with the intention of eventually rolling it out internationally as it seeks to extract additional income from its existing clientele. The functionality enables users to play games that are streamed from the internet on devices such as a computer or a television.
LinkedIn is cutting more positions as it reduces its spending on research and development. While the company is in the process of implementing new AI-powered tools across its operations, it is also laying off personnel in its research and development department spanning engineering, product, talent, and finance.
You've probably seen Maersk's enormous shipping containers, and the company recently announced that it will equip 330 of its ships with internet provided by SpaceX's Starlink service. Starlink has successfully launched over 5,000 satellites for a variety of different sectors.
When taking into account the effects of inflation, the Wall Street Journal reports that the average starting pay for recent college graduates is $56,000. This figure has remained the same since 2008, despite the passage of time. It is also a significant amount lower than starting pay in the technology or financial industries.
According to information made public by the FBI on Monday, the incidence of motor vehicle thefts climbed by more than 8% across the country, resulting in the theft of almost one million automobiles with a combined value of more than $20 billion in 2017.
In its first earnings report since spinning off its consumer health business, Johnson & Johnson increased its profit prediction for the year 2023. With the company's fortunes now connected more closely to sales of blockbusters like its arthritis medicine Stelara, Johnson & Johnson's fortunes are now more directly tied to sales of blockbusters.
Rolls-Royce Holdings Plc aims to eliminate as many as 2,500 employees throughout the globe and will streamline operations. This will be the company's most significant round of employment layoffs yet under the leadership of Chief Executive Officer Tufan Erginbilgic.
Earnings this week:
Johnson & Johnson (JNJ), Bank of America (BAC), Lockheed Martin (LMT), and Goldman Sachs (GS) will all report earnings on Tuesday, October 17.
Tesla (TSLA), Procter & Gamble (PG), Abbott Laboratories (ABT), Netflix (NFL), and Morgan Stanley (MS) will all be in the spotlight on Wednesday, October 18 as they release their quarterly financial results.
Philip Morris International (PM), Union Pacific (UNP), AT&T (T), CSX (CSX), Taiwan Semiconductor Manufacturing (TSM), and American Airlines Group (AAL) will all report earnings on Thursday, October 19.
American Express (AXP) and Schlumberger (SLB) are in the spotlight for their earnings reports on Friday, October 20.
Stocks to watch with positive momentum and Buy Rating:
SNDL Group (SNDL), Groupon (GRPN), Chase Bank (JPM), Microsoft (MSFT), GOOGL, Apple (AAPL), Pay Pal (PYPL), Walmart (WMT), Amazon (AMZN), Facebook (META), Tesla (TSLA), Carnival Corporation (CCL), PepsiCo (PEP), Wells Fargo (WFC), Johnson & Johnson (JNJ), Philip Morris International (PM)
Read the full newsletter online: https://www.cweb.com/cweb-news-summarized-breaking-business-and-stock-newsletter-october-17-2023/
Post your free blog on CWEB at: https://www.cweb.com/add-a-free-blog
Check out the latest news and announcements at CWEB: https://www.cweb.com
About CWEB.com
CWEB is an American multinational media news company. CWEB is primarily involved in the news, media, blogs and entertainment industries, including free forums, classifieds and job postings. CWEB reports breaking news, celebrity, entertainment, sports, politics, finance, stock market and business news.
Facebook: https://www.facebook.com/cwebmedia
Instagram: https://www.instagram.com/cweb/
Twitter: https://twitter.com/cweb
YouTube: https://www.youtube.com/c/cwebmedia
TikTok: https://www.tiktok.com/@cwebnews
Media Contact
Company Name: CWEB
Contact Person: Rachel Cohen
Email: Send Email
Phone: (310) 990-0009
Address:PO BOX # 12404
City: Marina Del Rey
State: California 90295
Country: United States
Website: https://www.cweb.com/