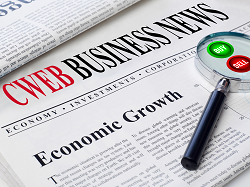 CWEB, the American multinational media news company, has published its latest roundup of trending business news and Financial News Today for November 9.
CWEB, the American multinational media news company, has published its latest roundup of Financial News Today and news for November 9, summarizing the important events and highlights from across industries and around the world.
CWEB publishes financial news today from across various industries, including stock markets, real estate, technology and manufacturing. Additionally: sports, science, health, entertainment, food and travel, latest developments, sports in the United States, healthcare, transportation, retail and quality control, web, and internet, telecom, medical, fashion, general information, automotive, specialty, consumer, and more.
The following are the main highlights as reported in the review:
The widely monitored Dow Jones Industrial increased on Thursday morning as markets processed the Labour Department's initial round of jobless claims. In today's stock market, Nvidia stock is breaking out past a buy point.
Wednesday saw the S&P 500 and Nasdaq barely maintain their recent uptrend, while investors processed yet another round of company earnings that were scheduled to be released on the economic calendar.
After authors and studios came to an agreement in late September to end a strike between the two parties, the actors' strike came to an end. The walkouts had sparked strikes by members of the United Auto Workers union and workers in the hospitality industry in Las Vegas, among other labor actions around the country.
Black Friday deals at Walmart are now live. Shop and save. Save up to 70%. Walmart is offering thousands of holiday bargains to officially usher in Black Friday 2023. Walmart, like other big-box stores, didn't wait to start the celebration, so you don't have to wait to start taking advantage of some fantastic discounts on apparel, tech, jewelry, gaming, and home products.
On Wednesday, Google (GOOG, GOOGL) revealed that it is extending support for four new languages and bringing its generative AI-powered search platform, Search Generative Experience (SGE), to over 100 nations and territories.
Now that Eli Lilly's (LLY) GLP-1 receptor agonist Zepbound (tirzepatide) has received FDA approval for use as a weight reduction medication, Novo Nordisk's (NVO) Wegovy will have a serious competitor in the US obesity medication market.
Warner Bros. Discovery's $0.17 per share loss was wider than anticipated, but its $9.98 billion in revenue was in line with forecasts. Results were hampered by its low subscriber base and diminishing advertising income.
Roblox exceeded analysts' projections of $0.51 and $830 million with a $0.45 per share loss and $839 million in revenue. Its average daily active user count and hours spent increased 20% YoY, as did its revenues (also known as bookings).
The New York Times surpassed expectations for profitability and revenue thanks to a rebound in the advertising market and an increase in subscriptions for its more expensive bundles. It reached 9.7 million members last quarter with 210,000 new digital-only users. revenue for the third quarter of $598.3 million, compared to a consensus of $589.4 million. "We are pleased with our third quarter results, which underscore the strength of our strategy to become the essential subscription for every curious, English-speaking person seeking to understand and engage with the world," stated Meredith Kopit Levien, president and chief executive officer of The New York Times Company. We continue to see strong performance from our multi-product bundle, which combines a top news source with industry-leading offerings in games, food, sports, and shopping advice. We anticipate that the bundle will strengthen our resilience and get us closer to developing into a bigger, more successful business."
On Wednesday, Amazon revealed that its One Medical health care service is now available to Prime members at a discounted rate of $9 per month or $99 per year. The agreement follows Amazon's earlier this year completion of its roughly $4 billion acquisition of the leading health care provider in the United States.
On $1.41 billion in revenue, AMC Entertainment recorded a $0.09 per share net loss for the third quarter. Analysts had projected a loss of $0.25 per share on revenues of $1.26 billion.
The Japanese electronics behemoth, Sony, revealed on Thursday that its operating profit for the second quarter of its fiscal year had decreased by 29% due to difficulties in its imaging sensor and chip sector.
Thursday: First claims of unemployment. Expected profits for Yeti, Oatly, Canopy Growth, and Aurora Cannabis.
US nonfarm payrolls and the unemployment rate on Friday. Expected earnings from Tyson Foods
Stocks to watch with positive momentum and Buy Rating:
Groupon (GRPN), Chase Bank (JPM), Microsoft (MSFT), GOOGL, Apple (AAPL), Pay Pal (PYPL), Walmart (WMT), Amazon (AMZN), Carnival Corporation (CCL), PepsiCo (PEP), Wells Fargo (WFC), Johnson & Johnson (JNJ), Philip Morris International (PM)SNAP INC (SNAP), Exxon Mobil (XOM), Chevron (CVX), EBAY.
Read the full newsletter online: https://www.cweb.com/cweb-news-summarized-breaking-business-and-financial-newsletter-for-november-9-2023/
Post your free blog on CWEB at: https://www.cweb.com/add-a-free-blog
Check out the latest news and announcements at CWEB: https://www.cweb.com
About CWEB.com
CWEB is an American multinational media news company. CWEB is primarily involved in the news, media, blogs and entertainment industries, including free forums, classifieds and job postings. CWEB reports breaking news, celebrity, entertainment, sports, politics, finance, stock market and business news.
Facebook: https://www.facebook.com/cwebmedia
Instagram: https://www.instagram.com/cweb/
Twitter: https://twitter.com/cweb
YouTube: https://www.youtube.com/c/cwebmedia
TikTok: https://www.tiktok.com/@cwebnews
Media Contact
Company Name: CWEB
Contact Person: Rachel Cohen
Email: Send Email
Phone: (310) 990-0009
Address:PO BOX # 12404
City: Marina Del Rey
State: California 90295
Country: United States
Website: https://www.cweb.com/