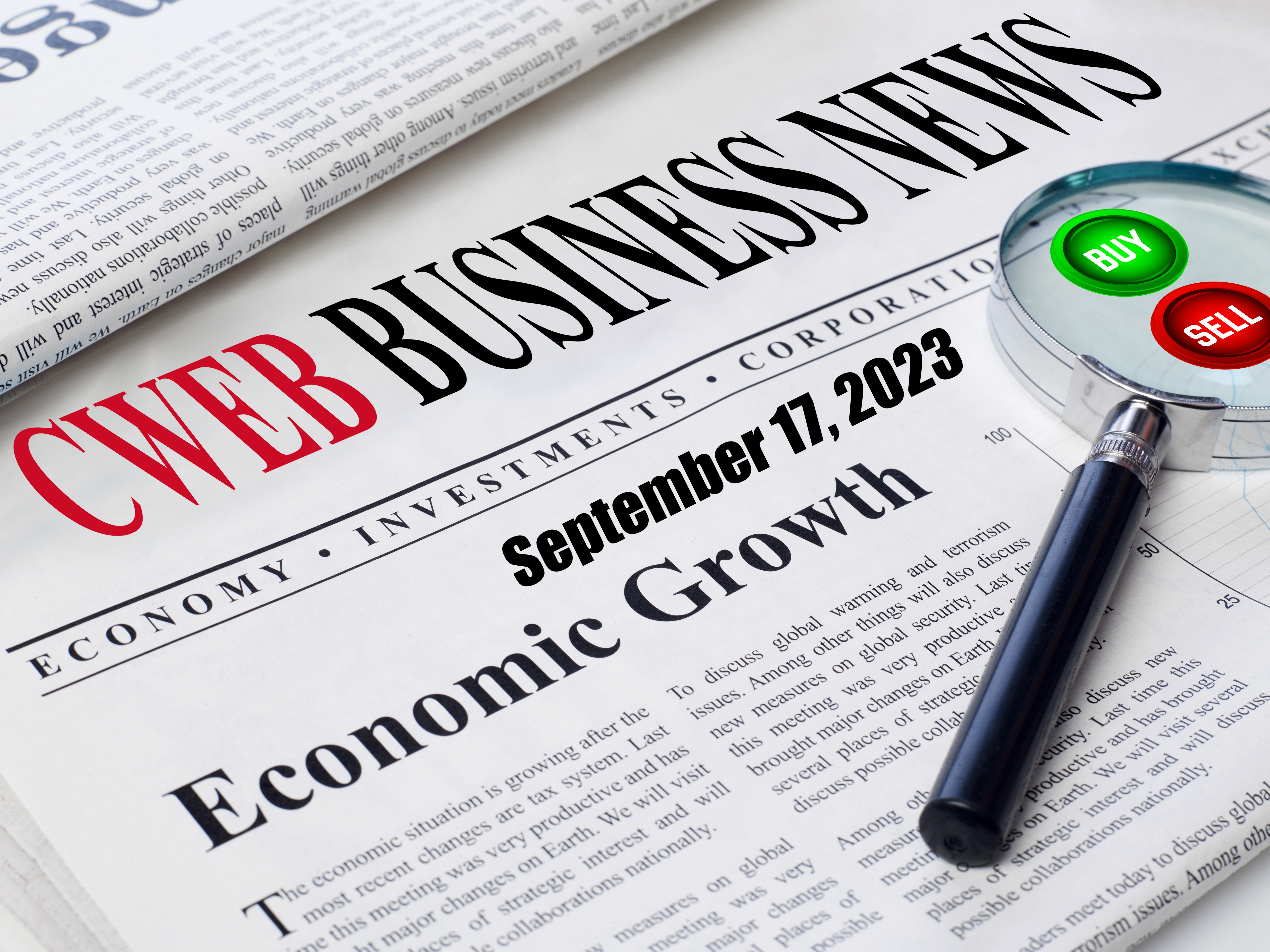 CWEB has published its latest newsletter for September 28, summarizing the latest news from across industries and around the world
CWEB, the American multinational media news company, has published its latest newsletter for September 28, summarizing the latest news from across industries and around the world.
CWEB reports on the latest news, media, blogs and entertainment industries. The following are the main highlights as reported:
The stock market is vulnerable to a government shutdown. Both the White House and Wall Street believed the economy could weather a temporary shutdown, but warned that the dangers would increase the longer the disruption lasted.
The current level of mortgage interest rates is unprecedented since the year 2000. This has led to mortgage applications reaching levels not seen in nearly 27 years. The Mortgage Bankers Association's seasonally adjusted index showed a 1.3% decrease in the number of mortgage applications from the previous week. The volume was down 25.5% from the same week a year ago.
Despite a better open on Wednesday, U.S. stock markets are still recovering from a poor Tuesday as September waddles into its last trading days. Over 1% was lost across all three major indices. Worst day for the Dow since March. Everything fell off, and that was just how the day went.
Americans are barely scraping by after a lengthy era of rising inflation and increased interest rates. New research from LendingClub shows that, as of August, 60% of individuals reported living paycheck to paycheck.
Target is closing nine stores across four states due to rising thefts and organized retail crime that threaten the safety of employees and customers. Three stores in the Bay Area of California, three stores in Portland, Oregon, two stores in Seattle, and one store in New York City are shutting on October 21. Target has stated that even after the store closures, it will still have a total of 150 locations.
Due to the potential of engine compartment fires, Hyundai and Kia are recalling almost 3.4 million vehicles in the United States and advising owners to park them outside. Several vehicles, notably the Hyundai Santa Fe and Kia Sorrento SUVs, manufactured between the years 2010 and 2019 are being recalled.
Both the top and bottom lines of Costco Wholesale's (COST) earnings report for the fourth quarter of 2018 were better than expected. Over the coming decade, the firm also intends to increase its presence in the domestic and global markets.
Spotify's new 'Jam' feature is a social networking addition. The music streaming service just added a new social listening function that allows for collaborative playlist creation at parties with numerous users. With Spotify Jam, up to 32 users may join in on a live listening session, contribute songs to a common queue, and receive personalized recommendations based on the group's musical likes.
Despite a successful launch in July, Meta's real-time messaging software Threads has been struggling to gain new users. According to Insider Intelligence's first Threads projection, issued on Tuesday, the Twitter clone is now ranked towards the bottom of the most popular social media networks, ahead of only Tumblr as assessed by the number of users in the United States.
Indonesia has said that it will prohibit all e-commerce on social media platforms like TikTok. President Joko Widodo has stated that MSMEs are seeing a sales loss because of the increased availability of imported goods thanks to online platforms like Facebook and Instagram.
Uber Eats and fast-moving-goods specialist Getir have teamed together to provide grocery delivery service in the United Kingdom. The partnership, which will increase the selection of foods available to Uber Eats customers, will soon expand to other European countries where the companies operate, including Germany and the Netherlands.
Paychex (PAYX), Micron Technology (MU), and Jefferies Financial Group (JEF) will all be in the spotlight on earnings day, Wednesday, September 27.
Thursday, September 28th, earnings reports from Accenture (ACN), Nike (NKE), CarMax (KMX), and Jabil (JBL) will be highlighted.
Focus on Carnival (CCL) earnings for Friday September 29.
Stocks to watch with positive momentum and Buy Rating:
Sundial (SNDL), Tesla (TSLA), Groupon (GRPN), Chase Bank (JPM), Microsoft (MSFT), GOOGL, eBay, Apple (AAPL), Pay Pal (PYPL), UBS, Walmart (WMT), Amazon (AMZN), Facebook (META), FED EX (FDX), UPS (UPS)
Read the newsletter online: https://www.cweb.com/cweb-summarized-business-newsletter-september-27-2023/
Check out the latest news and announcements at CWEB: https://www.cweb.com
About CWEB.com
CWEB is an American multinational media news company. CWEB is primarily involved in the news, media, blogs and entertainment industries, including free forums, classifieds and job postings. CWEB reports breaking news, celebrity, entertainment, sports, politics, finance, stock market and business news.
Facebook: https://www.facebook.com/cwebmedia
Instagram: https://www.instagram.com/cweb/
Twitter: https://twitter.com/cweb
YouTube: https://www.youtube.com/c/cwebmedia
TikTok: https://www.tiktok.com/@cwebnews
Media Contact
Company Name: CWEB
Contact Person: Rachel Cohen
Email: Send Email
Phone: (310) 990-0009
Address:PO BOX # 12404
City: Marina Del Rey
State: California 90295
Country: United States
Website: https://www.cweb.com/