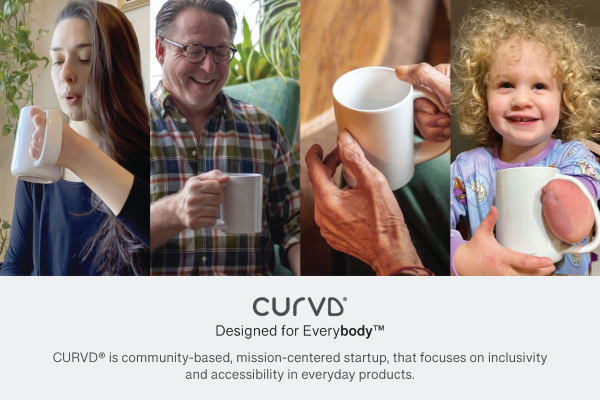 CURVD has announced the release of a human-friendly mug that allows people living with disabilities to have a stable grip. The mug, which is packaged in an environmentally friendly all-paper material, comes in a familiar-looking design that is both dishwasher and microwave safe, and also 10% lighter than the average 15 oz mug.
The promotional mug is designed with a handle curved at an angle that allows it to rest on the hand without tilting. It transfers weight to the muscles rather than the finger joints and possesses a low center of gravity, shifted towards the handle, that minimizes the torque.
The handle also features a wide opening for those missing fingers or who have severe lower dexterity, as well as a wide cross-section to provide a firm grip and create feelings of safety and friendliness.
The company says its patented design empowers businesses to improve their customer relations by embracing a solution that accommodates the needs of under-served groups.
CURVD describes itself as a community-based mission-centered startup focussed on inclusiveness and accessibility in everyday products. It imagines a world where everyone has access to products and services, regardless of their capabilities. And strives to make that possible, starting with its human-friendly patented mug design.
"When we founded Blue Heart Hero, we were developing 3D printable assistive devices for people with limb differences or disabilities. We decided to reimagine the design of everyday products. We chose mugs because everyone deserves to enjoy their drink at any business or home, regardless of their capabilities. We realized that the diner-style mugs or gift-shop mugs are the most common, familiar, standard mug that you can find at almost every shop. We designed the CURVD mug, to reinvent it. A design that follows the natural grip of a hand, a wide and open handle for a tight grip, and a slope on the handle to allow those with disabilities to have a stable grip."
Founded in 2019 by Amin Hasani and Jed Tango, the company has promised to add more drinkware and everyday products to its inclusive collection.
For more information, please contact below.
Media Contact
Company Name: CURVD
Contact Person: Amin Hasani
Email: Send Email
Country: United States
Website: http://www.curvd.com