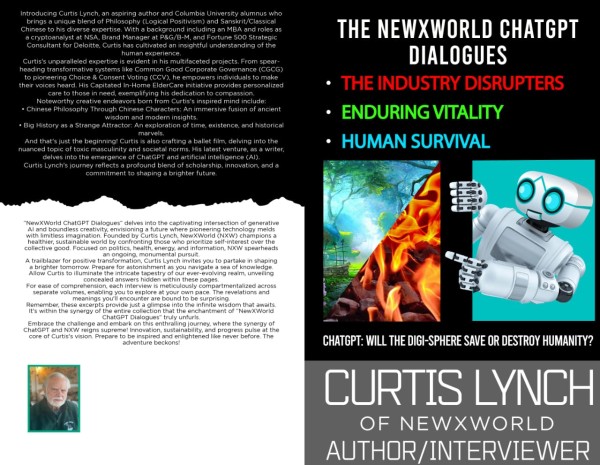 Get ready to be captivated by Curtis Lynch's groundbreaking concept and fact-filled book, "The NewXWorld ChatGPT Dialogues: Will the Digi-Sphere Save or Destroy Humanity?" This book takes you beyond conventional literature to embark on a thought-provoking exploration.
Lynch's work includes the transcript of the dialogue between NewXWorld and ChatGPT. NewXWorld presents conjectures (Q) and ChatGPT responses (A). The goal is to understand AI and the digital sphere to the point where the question, "Will the Digi-sphere save or destroy humanity" becomes meaningful.
The version of ChatGPT utilized was an early release. Lynch intentionally refrained from upgrades to provide a stable benchmark for understanding its capabilities. He retained an unaltered transcript of queries and ChatGPT's responses, creating an historical record.
Lynch's work explores ChatGPT's performance in various dimensions:
1. Intelligence: ChatGPT, in its early form, demonstrated the ability to mimic human responses, albeit with a unique linguistic style. These dialogues offer insights into how ChatGPT generates thoughts.
2. Processing Power: As processing power diminished towards the end, a noticeable decline in response quality occurred, emphasizing the importance of efficient processing capabilities in AI.
3. Response Authenticity: It is crucial to note that ChatGPT's responses are generative and not always factual. Their correlation with reality depends on the training data, and accuracy improves with updated data.
The dialogues span widely disparate domains of knowledge, exploring topics that have the potential to become bestsellers:
• "The Industry Disrupters" introduces the concept of platforms to integrate various forms of information. The Digi-Sphere integrates new technologies, greatly increasing the capabilities of individuals.
• "Enduring Vitality" describes the Digi-Sphere's evolution into supporting the common good and promoting the sustainability of human society.
• "Human Survival" examines the Digi-Sphere's autonomous decision-making, reproduction, and ability to challenge humans and the biosphere.
The most revolutionary aspect of these dialogues, however, is the interaction between NewXWorld Conjectures (Q) and ChatGPT responses (A), which gives birth to a new paradigm of knowledge: Emergent Genius. This signifies a step towards higher consciousness and enlightenment, symbolized by the concept of the Noos-sphere, or the mind-sphere, offering the hope of salvation.
Curtis Lynch's diverse background and extensive experience include:
– Advanced studies in logical positivism at Columbia University
– Proficiency in Sanskrit and Classical Chinese languages
– MBA education
– Cryptanalyst role at the NSA
– Product management experience at P&G
– Pioneering innovative statistical methods, such as Prime Prospect Probability
– Leadership as Head Strategic Consultant at Deloitte
– Chairman of a town planning commission
– Expertise in super-resonant energy storage
– A unique venture into ballet and film, exploring the limbic system
Despite this remarkable journey, Curtis remains refreshingly humble in his approach to life and his work.
"The NewXWorld ChatGPT Dialogues" encapsulates the essence of Curtis Lynch's visionary work, showcasing its pioneering exploration of AI, human creativity, and the potential for a new era of knowledge.
The NewXWorld ChatGPT Dialogues:
Will the Digi-Sphere Save or Destroy Humanity?" is available on Amazon. For more information, please also visit https://chatgptdialogues.net/.
Media Contact
Company Name: The Book Marketing Pros.
Contact Person: Curtis Lynch
Email: Send Email
Country: United States
Website: https://chatgptdialogues.net/