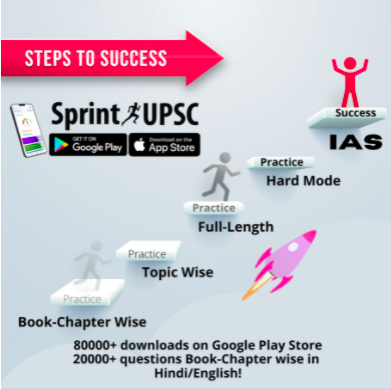 SprintUPSC is an engaging and analytics-driven test platform with high-quality content for UPSC aspirants. With over 19000+ questions covering 230+ topics and 35+ UPSC Standard books (including NCERTs), SprintUPSC is the only practice platform you need for clearing UPSC Prelims.
With the UPSC Prelims 2021 just around the corner (10-Oct-2021) and the notification schedule for UPSC 2022 already out, the UPSC aspirants are in full throttle with their preparations. While the 2021 aspirants are nearing the culmination of their UPSC Prelims exam journey and looking to give those final touches to up-mark their performance to do all it takes to clear the exam in this attempt, many UPSC 2022/23 candidates are searching for answers to questions like "How do I get started with the UPSC Preparation?"; "How will I cover the mammoth syllabus?"; "Do I self-study or join a coaching?" etc.
SprintUPSC, a product of Chandigarh based EdTech startup DeepLearn Solutions Pvt. Ltd., brings relief in the form of answers to all the queries of cracking the code of clearing the UPSC Prelims exam then be it UPSC 2021 or 2022 or even 2023. Not only have they brought practising right to the fingertips of aspirants in the form of SprintUPSC App (available for both Android and IOS on their respective app stores) as well as a web platform, but they have done so in a very unique way to suit the UPSC exam preparation journey no matter at which stage an aspirant is.
SprintUPSC believes and recommends a one-stop solution for all the pains of aspirants, no matter at which stage of the preparation journey they are – PRACTICE. No matter how vast or varied the knowledge requirement of an exam be, all of it can be overcome by Practice. This is the key to clear the UPSC exam, or for that matter, any other exam.
The next code to remember is "REGULARITY". Students tend to focus only on learning, but without practice, they tend to forget most of what they learnt. The best way to remain regular in practice is to practice what one has studied when one studies it. This will tell the aspirant how much grasp they have gained on the subject matter. Practising through regular tests gives them the much-needed insight into the weak and strong areas, which remain out of sight without this thorough analysis.
However, even if UPSC aspirants want to practice regularly – until now, all they had was a set of 20-30 mock tests and some previous years papers. So, how can the candidates practice the book chapters or topics that they have learnt today?
Well, that's exactly where SprintUPSC platform comes into the picture. Solving the problem for UPSC aspirants, DeepLearn Solutions came up with an app of a massive bi-lingual (Hindi/English) question bank covering all the most important UPSC syllabus books including NCERTs book-chapter and topic wise, along with previous years papers, daily challenges, the leaderboard for all India ranking, high-end performance analytics (overall and for each subject) for a UPSC/IAS aspirant to see where they stand with respect to their performance and while tracking they can see if their graphs are going the way they should be or they need to put in more efforts and in which areas so as to perform better – all this and so much more in one place.
Ever since its launch, SprintUPSC has gained a lot of traction in the UPSC community by revolutionising the way aspirants used to practice and bringing them to this new and better way wherein they can practice whatever they have studied, whenever they have studied, rather than waiting for the whole syllabus to get over and then pick up mock tests.
SprintUPSC, from the very beginning, has also been providing a helping hand to those in need. Candidates with valid EWS certificates are offered special discounts so that they too can make the best use of this opportunity to practice and improve their performance and do well in the exam.
Media Contact
Company Name: DeepLearn Solutions
Contact Person: Media Relations
Email: Send Email
Phone: +91-6280-150-239
City: Chandigarh
Country: India
Website: https://sprintupsc.com/