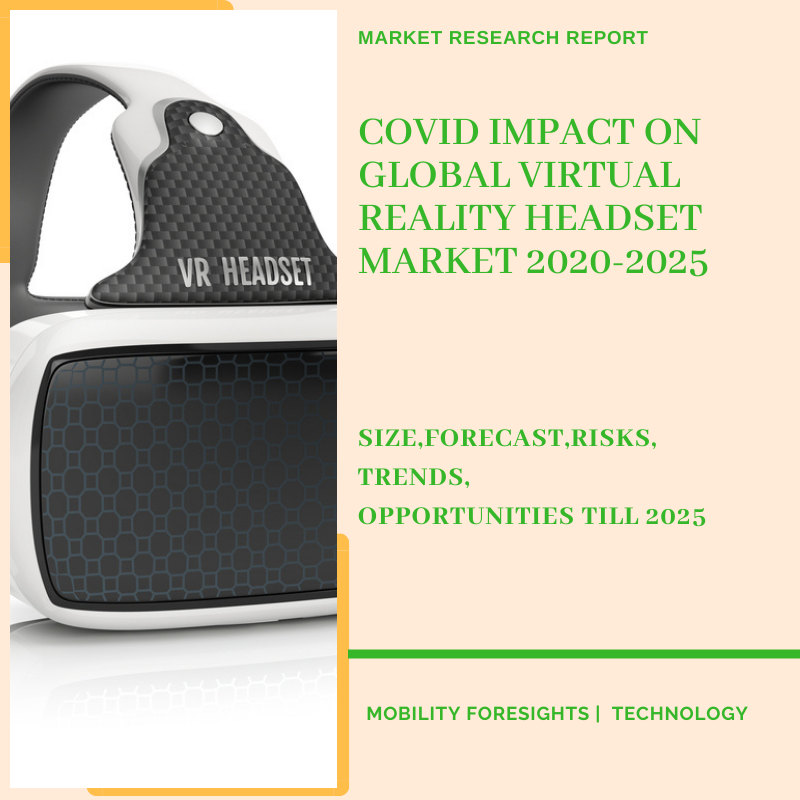 Growing innovations in the quality, size, and build of display, headset, etc is also expected to lead to low cost of production and thus more affordable headsets which will lead to more sales
It emerged as a way of remote training, collaboration, entertainment, and keeping in touch with the loved ones. COVID is also expected to impact the healthcare sector positively with the increase in patience and doctors preferring remote diagnosis.

The Market is also set to grow post COVID era where the new normal would be of more employees working from home and attending meetings and conferences at home, which would be made into a better experience with VR headset technology.

While the headsets have been widely popular and saw a major investment by Facebook in Oculus since 2012, the pick up has been slow due various reasons. One of those are Headset's design, cost and implementation of the technology, compatible with games or applications, etc.

One of the restraints that the market would have to face is the restraints of the size and compatibility of these headsets with a wide variety of add-on machines and affordability by a large part of the population.
Download sample- https://mobilityforesights.com/product/virtual-reality-headset-market/
On one hand the market for the production of VR was negatively affected during the pandemic due to production stoppage and transport, just like any other market.

On the other hand, the absence of travelers, tourism boards, hotels and destinations have turned to virtual reality (VR) to attract the attention of travelers and make them feel comfortable to travel back safely after the pandemic.

The market share of any company depends on various factors, like the build of the product, quality, offerings (quality motion tracking, high-resolution screens, and the best graphics possible, etc.) and overall cost.
Download sample- https://mobilityforesights.com/product/virtual-reality-headset-market/
COMPANIES PROFILED
The Oculus

Facebook

Google

Microsoft

Valve

HTC
THIS GLOBAL VIRTUAL REALITY HEADSET MARKET REPORT WILL ANSWER FOLLOWING QUESTIONS
Virtual Reality Headset Market size and Forecast, by region, by application
Average B-2-B price for Virtual Reality Headset Market, by region, per user
Technology trends and related opportunity for new Virtual Reality Headset Market tech suppliers
Market share of leading vendors, by region,
Coronavirus impact on Virtual Reality Headset Market earnings
Media Contact
Company Name: Mobility Foresights
Contact Person: Kunal Roy
Email: Send Email
Phone: +1-315-675-4056
Address:HAL 2nd stage 204,56/2
City: Bangalore
State: Karnataka
Country: India
Website: https://mobilityforesights.com/