Video Link: https://www.youtube.com/embed/JmjAEMxS6LE
With the prolonged coronavirus outbreak, the management of items exposed outdoors has become stricter. In addition to washing hands, people can use a cleaner to wipe the surface of bag or phone. In doing so, people have questions about washing clothes. Will the clothes worn outside have coronavirus? Can the coronavirus be washed away with laundry? Would there be a better way?
According to a study by the National Institutes of Health (NIH), the coronavirus can survive up to 3 days on plastic surfaces and up to 3 hours in the air. Experts say they can't be vigilant because there's also no evidence that the virus can't live on fabric.
Professor Jae-yun Jeong of the Department of Organic and Nano Engineering at Hanyang University suggests a smarter way to prepare for Corona at home at current situation where you have to pay extra attention.
According to the guidelines of the Centers for Disease Control and Prevention (CDC), coronavirus can be sufficiently removed with usual soap or detergent. However, you can't just wash the clothes every time you take them off. Professor Jae-yun Jung is not satisfied with the laundry that has been halted from 'sterilization' so far and is redefining laundry by developing a NanoShield K99 fiber antibacterial agent that adds 'antibacterial' to the laundry.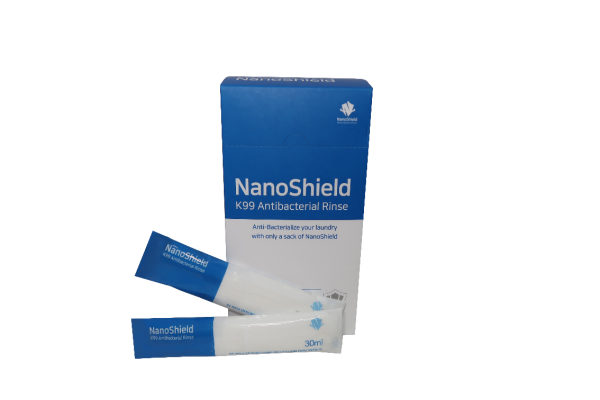 In order to properly understand "fibrotic antibacterial agents," people need to know the difference between "sterilization" and "antibacterial". 'Sterilization' means applying physical and chemical stimulation to microorganisms and sterilizing them within a short time. On the other hand, 'antibacterial' means that it inhibits the growth of bacteria by preventing the growth of bacteria. Washing with detergent will sterilize clothing, but if the sterilized clothing is exposed to bacteria or harmful environments again, viruses, bacteria, and fungi can multiply in the fabric of the garment, causing problems. However, the antibacterial-treated fiber does not have such a problem because the environment where it is difficult for bacteria to live is created in advance.
NanoShield K99 Antibacterial Rinse can be said to be a product that can protect itself, beyond simple innovation, because 'antibacterial' is needed rather than 'sterilization' in situations where people do not know when, where, and how infection will occur.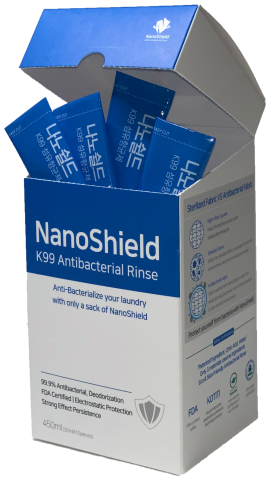 NanoShield K99 Antibacterial Rinse exerts 99.9% antibacterial and deodorant effect through chemical bonding between the patented component and fiber. Since products that are harmless to the environment and the human body are given top priority, only three types of 'patented ingredients', 'citric acid' and 'water' were added to the NanoShield. In addition to the antibacterial and deodorizing effect of 99.9%, the antibacterial effect that lasts even after washing more than 10 times, and the antistatic effect have passed the strict tests of KOTITI and FITI and have been certified. In addition, it has been certified by INTERTEK and EPA as well as FDA and has opened a new level of "textile antibacterial agent" as a safe and honest eco-friendly, non-irritating laundry aid.
As now the protection from harmful environments is more necessary than ever before, NanoShield K99 Antibacterial Rinse, which has antibacterial and deodorant power, as well as safety and durability, relieves the worry of taking harmful bacteria at home. It is a product that gives a hope to see the day without Covid-19 come earlier.
Media Contact
Company Name: ColorChemi
Contact Person: Jung Jae Yun
Email: Send Email
Phone: +82 10 2456 6905
Country: South Korea
Website: https://www.gobizkorea.com/user/goods/frontGoodsDetail.do?goods_no=GS2020090296359&ctgryCode=S0800200160000&upperCode=M0800200000000&goodsNms=Nano-Shield-K99-Antibacterial-Laundry-Rinse&skwanSn=&speclKwanId=SPCCD0000624