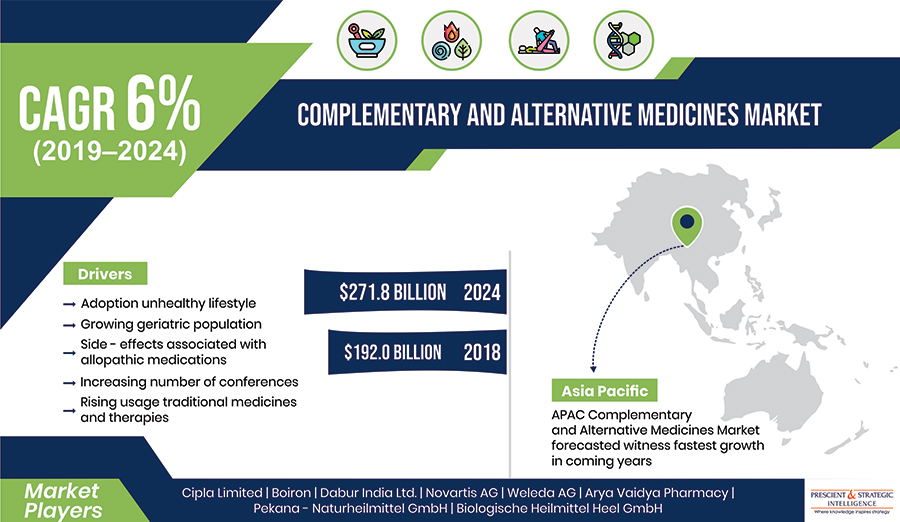 Complementary and alternative medicines (CAM) market is expected to reach $271.8 billion by 2024 by P&S Intelligence.
Due to globalization and urbanization, the lifestyle of people across the world has changed drastically. At the present time, a large number of people are suffering from medical conditions such as stress, obesity, hypertension, and insomnia. For instance, as per the Our World in Data, in 2017, 3.4% and 3.8% people across the globe were suffering from anxiety and depression, respectively. Apart from this, the prevalence of chronic diseases is on the rise as well; for example, the number of people suffering from diabetes grew from 108 million in 1980 to 422 million in 2014, according to the World Health Organization (WHO). The symptoms of these medical conditions can be managed by alternative therapies and medicines, including meditation, yoga, and tai chi, which is why the demand for complementary and alternative medicines (CAM) is rising.
The remedies or treatments that are used in place of conventional medical treatments, such as chemotherapy, surgery, allopathic medicines, and radiation therapy, are called CAM. Some examples of CAM are chiropractic, acupuncture, traditional medicine (herbal and ayurvedic), yoga, reiki, and homeopathy. As per a research conducted by P&S Intelligence, in 2018, the global complementary and alternative medicines market reached a value of $192.0 billion and is predicted to register a 6.0% CAGR in the near future. The various types of CAM are mind-body intervention-based, nature-based, energy-based, and manipulative body-based. Among all these, the largest demand was created for nature-based CAM during 2014–2018. This was attributed to the increased requirement for organic and natural medications, which have less side-effects as compared to allopathic drugs. Ayurveda, mud therapy, and homeopathy are primary types of nature-based CAM.
Download report sample at: https://www.psmarketresearch.com/market-analysis/complementary-and-alternative-medicines-market/report-sample
The usage of traditional medicines and therapies have increased significantly. As per the WHO, about 80% of people rely on traditional medicines for managing several diseases, such as cough, gastrointestinal disorders, cold, and insomnia. Moreover, countries including India, China, and Japan have been relying on Ayurveda, which is based on herbal products, for a long time now as it is known to provide cure for different diseases. Various countries even have their independent set of traditional medicines for treating a wide range of illnesses. For example, China has a well-established system for qigong, cupping, and acupuncture, and these remedies are used for treating pain and managing overall health. Due to the popularity of such remedies many western countries, for instance Argentina, are also focusing on adopting these alternative medicines and therapies.
One of the key reasons for the growing demand for CAM is the side-effects associated with allopathic medications. Several incidents of side-effects, such as diarrhea, vomiting, internal bleeding, dizziness, seizure, and insomnia, have been reported by patients taking allopathic medicines. For instance, aspirin, one of the most common drugs, is believed to cause side-effects including vomiting, heartburn, and seizures. These side-effects can happen because of various reasons, such as drug-food interaction and drug-drug interaction. Attributed to these factors, the consumers have started adopting alternative therapies and medicines, as they help in the management of several diseases without any major side-effects.
Pre-Purchase inquiry at: https://www.psmarketresearch.com/send-enquiry?enquiry-url=complementary-and-alternative-medicines-market
Browse Another Published Report by P&S Intelligence
Chronic Pain Treatment Market
The global chronic pain treatment market reached a value of $69.3 billion in 2017 and is expected to advance at a 6.4% CAGR during the forecast period (2019–2024). The market is registering growth due to the surging geriatric population, rising prevalence of chronic health conditions, and increasing government support for chronic pain management. The pain that persists in a patient beyond a period of three months is referred to as chronic pain. Chronic pain may limit mobility and reduce stamina, flexibility, and strength in patients.
https://www.psmarketresearch.com/market-analysis/chronic-pain-treatment-market
Private Healthcare Insurance Industry
In the U.S., the healthcare insurance industry has mixture of private and public companies. Some of the major private companies operating in the U.S. private healthcare insurance industry include UnitedHealth Group Incorporated, Anthem Inc., Humana Inc., Health Care Service Corporation, Centene Corporation, Aetna Inc., WellCare Health Plans Inc., Kaiser Permanente, GuideWell Mutual Holding Corporation, and Molina Healthcare Inc. UnitedHealth Group Incorporated and Anthem Inc. are on top positions in the U.S. private healthcare insurance industry, offering a range of healthcare insurance plans for all age groups.
https://www.psmarketresearch.com/market-analysis/healthcare-insurance-industry
Media Contact
Company Name: P&S Intelligence
Contact Person: Abhishek
Email: Send Email
Phone: +1-347-960-6455
Address:Noida Sector 2
City: Noida
State: UP
Country: India
Website: https://www.psmarketresearch.com/market-analysis/complementary-and-alternative-medicines-market