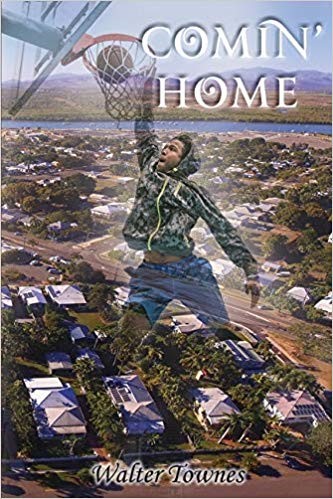 St. James, NY – December 18, 2019 – Written by Walter Townes, Comin' Home is a book that narrates part of the young man's dream of playing at the next level. The main character in the book is a Newark-homegrown boy by the name of Willie Joe Cunningham, who has all the odds stacked against him, from race riots to drug and alcohol abuse fraught community. The story unfolds on whether Willie Joe manages to clinch the position of a professional basketball player, pay it forward to his Newark community, and ultimately have it all.
Comin' Home is a book targeted at teenagers and adults. Townes had written the book by the observation and notes that were gathered for more than two decades as a basketball player, a coach, and a father. The initial plan was to flesh out the notes into a screenplay, but then it became a full-fledged novel.
"Though not from Newark, I lived in South Orange and grew to love the city. Its grittiness and ability to overcome so many obstacles are something else. I used the character as Coach after two of my heroes Rev. John T. Meehan, who helped me in my darkest times and my Uncle, the legendary great city HS as well as the college Basketball player, Leroy Watkins," Townes says. "The Newark backdrop and history are true as I researched from those who lived there before the incorporation of both in Comin' Home," Townes adds.
Townes is heavily influenced by James Baldwin, Martin Luther King, Malcolm X, JFK Hall of Famers Lou Carnesecca Pete Carill, pro basketball players Armond Hill, Bernard King, Cleo Hill and others in the authoring of Comin' Home. Comin' Home provides a real look inside what a young man from a low-income area goes through to scratch out a good life for himself and those he loves. The book praises Newark as a city that gets bad press yet produces so much talent.
The book also narrates the demands to give back to the area one comes from. A college basketball coach for over twenty-five years, Walter Townes quotes Comin' Home as "To be a Negro in this country and to be relatively conscious is to be in a rage almost all the time." "Know from whence you came. If you know whence you came, there are absolutely no limitations to where you can go."
For more information, visit the Amazon book link https://www.amazon.com/Comin-Home-Walter-Townes/dp/1733360301/ref=tmm_pap_swatch_0?_encoding=UTF8&qid=1567196877&sr=1-1
About the author
Walter Townes came to The Knox School with a reputation for developing and recruiting players for college basketball programs. Five years later, his dream has become a reality: Knox has become a full-fledged, prep basketball program.
Townes has coached at all levels ranging from Big East at St. John's University under the legendary Hall of Famer Lou Carnesecca to esteemed academic institutions such as Dartmouth and Columbia University. Additionally, Townes was Head Coach at both Clarkson University and Drew University and coached as an assistant at Rutgers University and College of the Holy Cross.
Coach Townes has coached and also recruited numerous players who have gone on to the NBA and to Europe to play professionally.
Website: http://waltertownes.com/
Social Media Accounts:
Facebook: https://www.facebook.com/Walter-Townes-115446299864404/
Twitter: https://twitter.com/authorwtownes
Tumblr: https://authorwaltertownes.tumblr.com/
About Toplink Publishing
Toplink Publishing offers highly scalable platforms that are growing quickly, positioned to become the global leader in accessible and strategic publishing and marketing solutions. For new book/books to publish or publicize one's published work, contact by calling 1-888-375-9818.
Media Contact
Company Name: Toplink Publishing
Contact Person: Walter Townes
Email: Send Email
Phone: 888-375-9818
City: Kelly
State: North Carolina
Country: United States
Website: https://www.toplinkpublishing.com/