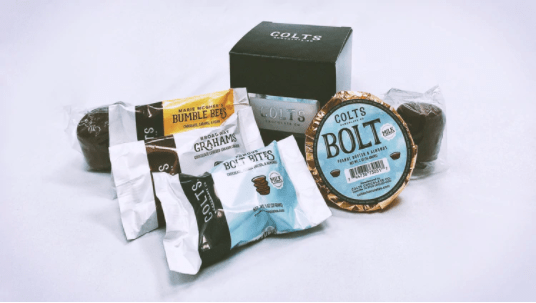 The sofi™ Award (from the Specialty Food Association) winning Colts Bolt is a delightful combination of all natural peanut butter and whole roasted almonds, covered in milk or dark chocolate.
All Colts Chocolate Company products were developed by award winning chocolatier, Mackenzie Colt, and have been featured on a variety of syndicated television shows. Today, we continue the Colts' tradition by using only the finest quality ingredients and still crafting each item by hand.
The Colts Chocolate Company is proud to announce their partnership with Mr. Checkout. Colts is located in Nashville, Tennessee, and has been offering their delicious chocolates and decadent desserts for over 35 years.
The following items will be available as part of this new agreement:
The Colts Bolts, milk or dark chocolate with a custom blended all natural peanut butter mixture and freshly roasted whole almond. The Bolt is Colt's signature, most popular item and won an international food award.
The Bolt Bites, a bite-sized version of the highly popular Bolt. The Bolt Bite begins with creamy all natural peanut butter whipped to a mousse-like texture, topped with a single whole roasted almond then enrobed in either pure milk or dark chocolate.
The Bumble Bee is Colts' version of a turtle chocolate. It contains layers of buttery salted caramel and crisp premium pecans covered in either milk or dark chocolate.
Colts Chocolates was founded 1984 by Mackenzie Colt. After six years of performing on the television show Hee Haw, Ms. Colt put her hand to the creation of amazing desserts and chocolates. Her sweet treats soon became highly coveted by friends, family, musicians, and celebrities.
After being located in the downtown area of Nashville for nearly 30 years, Colts moved to the Inglewood neighborhood of East Nashville during the Fall of 2019. Also, during this time, a complete rebrand was finished bringing together the company's storied past with its bright future. Colts moves into the company's next chapter, firmly rooted in their historical past.
Today, Colts Chocolate Company remains a crafted-by-hand chocolatier and is Nashville's oldest specialty chocolate shop. It is still a staple in the Music City and Southeastern region. Colts continues to carry on their storied traditions, while always looking for new ways to bring joy.
Media Contact
Company Name: Colts Chocolate Company
Contact Person: Kate Blocher
Email: Send Email
Phone: 615-251-0100
Country: United States
Website: https://mrcheckout.net/coltschocolates/