Colsia's recently developed insertion and removal device for contact lenses is a cutting-edge digital solution aimed at enhancing the safety and efficiency of contact lens usage
130 million people use contact lenses as some kind of vision correction. While the contact lens market is mature and is forecasted to grow in the coming years, managing the number of people who discontinue contact lens usage has been an ongoing battle for the industry. Several studies have been conducted on the percentage of people who discontinue the use of contact lenses, with reported average dropout rates ranging from 12% to as high as 40%.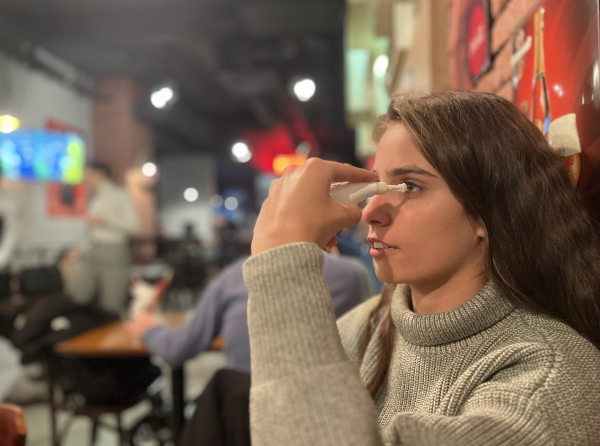 A survey of 16 practices in Quebec, Canada by the University of Waterloo reported an average dropout rate between 26% and 40%, while Ohio State University's study on 730 patients reported a 24% dropout rate. Another study conducted in 2017 found that 26% of new contact lens users switch back to glasses within the first year, with half quitting lenses in the first two months. Across all studies, discomfort with contact lens usage was consistently reported as the top reason for dropout, ranging from 41.9% to 52.9%.
Health risks are another great challenge in contact lens usage. The CDC found that one in three contact lens users gets an eye infection that requires a doctor's visit, and one in 500 users gets a serious eye disease called keratitis which can lead to blindness. These problems are related to how people insert and remove their contact lenses, and they cost the US healthcare system $175 million every year.
There have been a couple of smart contact lenses developed but only a few have provided insertion and removal devices which means the problems faced with contact lens usage are far from being solved. However, the narrative is changing. Colsia, a MedTech startup has launched a smart contact lens insertion and removal device that is geared toward providing safe, simple, and smart contact lens usage.
The newly launched device by MedTech features an ergonomic design that mimics the process of inserting and removing lenses with fingers but eliminates the need for the user to touch their eyes or the lenses with their fingers, thus ensuring maximum safety. The device is battery-powered and uses a medical-grade silicone suction cup that is the only part of the device that comes into contact with the lenses or eyes. The shape and vacuum hold provide steady handling of the lenses throughout the entire process, ensuring efficient and safe use.
Speaking about the new device, Mr. Ivica Djordjevic, CEO and co-founder of Colsia, had this to say, "In the era of technological advancement, we have come to realize that a significant number of individuals still rely on outdated methods, compromising their well-being without access to adequate support. At Colsia, we face similar challenges daily, and so we have taken the initiative to offer a solution. We are thrilled to announce that we have user-tested our device, with team members already using it at home, and soon, we hope to extend its benefits to the world."
The device is equipped with IoT technology, which allows it to communicate with a mobile application assistant. This feature allows users to track their lens usage and receive notifications about their status. For example, the application will inform the user when new lenses need to be ordered and can be set to automatically purchase new lenses just in time before the current ones need to be replaced. This smart feature makes the device a convenient and user-friendly option for anyone using contact lenses.
"To extend our innovation to the global stage, we would be launching a Kickstarter campaign pretty soon," continued Mr. Ivica. "The funds from the Kickstarter campaign will help us in the production and distribution of the device, ensuring more people around the world use contact lenses safely."
For more information, please visit https://colsia.com/ or connect with the company's CEO on LinkedIn via https://www.linkedin.com/in/djordjevicivica/.
Media Contact
Company Name: Colsia
Contact Person: Ivica Djordjevic
Email: Send Email
Phone: +381 67 7227 47 67
Country: Serbia
Website: https://colsia.com/