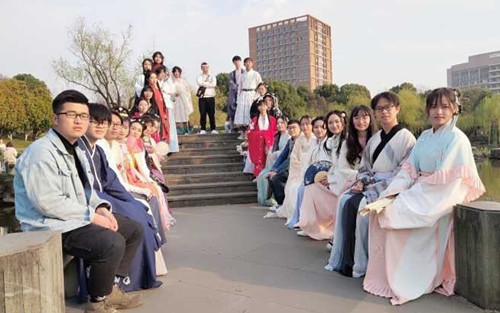 Xie Xinyue, a student from the School of Public Administration at the Zhejiang University of Finances and Economics, has become a star among her classmates after she founded a company that produces and sells Chinese-style headgear.
During the annual Lantern Festival, many customers bought accessories and headgear from Xie's company, which is called Hangzhou Wanqing Culture and Communication Co.
When asked why she decided to set up the company, Xie explained that she has been interested in hanfu, a type of traditional Chinese clothing since she was a child.
Driven by this interest, she joined a club during her high school years to learn the techniques of making traditional Chinese hairpins. Xie later set up the company with the support of friends who share the same interest.
Xie hopes that her business can help promote traditional Chinese culture and allow more people to see the charm of it.
Once, after learning that Yongkang city in Zhejiang was known for forging gold and silver the traditional way, she partnered with local handicraftsmen to improve the aesthetic value of her accessories. This project eventually created over 300 jobs for villagers in Jiangyao village, Shizhu town, Yongkang.
Employees at Xie's company are mainly members of a hanfu club at Xie's university. Some are skilled workers from outside the school.
The time required to create her accessories vary. A skilled worker can create a simple item in three hours or less. But the more complex creations could take up to five hours and even days.
Xie said that customers can also order tailor-made products from her company.
People interested in handmade accessories can now only buy them online. Xie revealed that she is also planning to open a department store.
Media Contact
Company Name: The Information Office of Hangzhou Municipal Government
Contact Person: Cai Jingwen
Email: Send Email
Phone: 0510-68559077
Country: China
Website: http://www.ehangzhou.gov.cn/