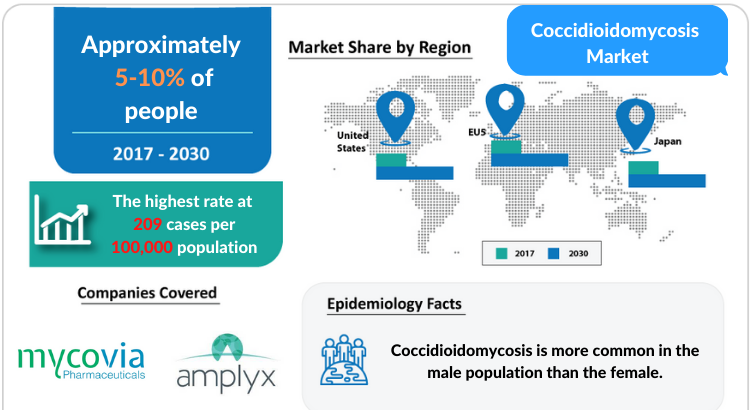 The Coccidioidomycosis market report provides current treatment practices, emerging drugs, Coccidioidomycosis market share of the individual therapies, current and forecasted Coccidioidomycosis market Size from 2017 to 2030 segmented by seven major markets. The Report also covers current Coccidioidomycosis treatment practice/algorithm, market drivers, market barriers and unmet medical needs to curate best of the opportunities and assesses the underlying potential of the market.
Coccidioidomycosis Overview
Coccidioidomycosis (also known as Valley Fever) is an infection usually caused by inhaling the spores ("seeds") of either Coccidioides immitis or Coccidioides posadasii fungi. These spores are found in the soil in certain geographic areas (called endemic) and get into the air when the soil is disturbed. Coccidioidomycosis cannot be passed from person to person.
Request free sample copy- https://www.delveinsight.com/sample-request/coccidioidomycosis-market
List of regions covered in the report
The United States
EU5 (Germany, France, Italy, Spain, and the United Kingdom)
Japan
List of companies involved in the report
Leadiant Biosciences
Janssen Pharmaceuticals
And many others
Coccidioidomycosis Classifications
There are three forms of Coccidioidomycosis i.e. acute pulmonary coccidioidomycosis, chronic pulmonary coccidioidomycosis, and disseminated coccidioidomycosis. Disseminated coccidioidomycosis, is the most severe form of the disease and occurs in about 1% of all cases, usually in people who have a poor immune system or pregnant women. This form can spread to the nervous system, bones, joints or skin.
Coccidioidomycosis Symptoms
The symptoms of Coccidioidomycosis include
fatigue (tiredness),
cough,
fever,
shortness of breath,
headache,
night sweats,
muscle aches or joint pain,
rash on upper body or legs,
and many others
Coccidioidomycosis Diagnosis
Coccidioidomycosis can be easily diagnosed by collecting a sample of the patient's sputum (phlegm), blood or other fluid to find out if the fungus is present. If there is difficulty getting a diagnosis from the sputum or blood, a biopsy of lung tissue or spinal fluid may be needed.
Coccidioidomycosis Treatment Market
Antifungal medication is typically given to people who are at higher risk for developing severe Valley fever. The treatment is usually 3 to 6 months of fluconazole or another type of antifungal medication. There are no over-the-counter medications to treat Valley fever. Medication therapy with fluconazole or itraconazole (for moderate cases) or posaconazole or amphotericin B (for severe cases) is standard. This treatment can go on for months or years, and in some patients, lifelong suppression will be necessary.
Coccidioidomycosis Market Insights
The dynamics of the Coccidioidomycosis market is evolving day by day along with various types of treatment options. Management of patients diagnosed with coccidioidomycosis depends on the extent of infection and assessing host factors that predispose to disease severity. People who develop symptoms from Coccidioidomycosis do not require any treatment because symptoms are mild and go away in a few days to few weeks. If symptoms last for more than six weeks which are severe then treatment is required. Currently, the treatment paradigm for Coccidioidomycosis includes anti-fungal drugs or intravenous formulations.
Coccidioidomycosis Market Drugs
There are certain FDA-approved drugs as well as off-label drugs available to treat patients with coccidioidomycosis.
Coccidioidomycosis Market Forecast
Coccidioidomycosis encompasses a spectrum of illnesses ranging from primary uncomplicated respiratory tract infection that resolves spontaneously to progressive pulmonary or disseminated infection. Therefore, the market of Coccidioidomycosis is solely dependent on the severity of the disease. For many people, the symptoms of Valley fever will go away within a few months without any treatment. The treatment is mainly devoted in reducing the symptoms or prevent the infection from getting worse.
Coccidioidomycosis Market Report Scope
The report covers the descriptive overview of Coccidioidomycosis, explaining its causes, signs and symptoms, pathophysiology, diagnosis, and currently available therapies
Comprehensive insight has been provided into the Coccidioidomycosis epidemiology and treatment in the 7MM
Additionally, an all-inclusive account of both the current and emerging therapies for Coccidioidomycosis are provided, along with the assessment of new therapies, which will have an impact on the current treatment landscape
A detailed review of the Coccidioidomycosis market; historical and forecasted is included in the report, covering drug outreach in the 7MM
The report provides an edge while developing business strategies, by understanding trends shaping and driving the global Coccidioidomycosis market
Request free sample copy- https://www.delveinsight.com/sample-request/coccidioidomycosis-market
Table of Content
1. Key Insights
2. Executive Summary of Coccidioidomycosis
3. Competitive Intelligence Analysis for Coccidioidomycosis
4. Coccidioidomycosis: Market Overview at a Glance
5. Coccidioidomycosis: Disease Background and Overview
6. Patient Journey
7. Coccidioidomycosis Epidemiology and Patient Population
8. Treatment Algorithm, Current Treatment, and Medical Practices
9. Unmet Needs
10. Key Endpoints of Coccidioidomycosis Treatment
11. Marketed Products
12. Emerging Therapies
13. Coccidioidomycosis: Seven Major Market Analysis
14. Attribute analysis
15. 7MM: Market Outlook
16. Access and Reimbursement Overview of Coccidioidomycosis
17. KOL Views
18. Market Drivers
19. Market Barriers
20. Appendix
21. DelveInsight Capabilities
22. Disclaimer
23. About DelveInsight
Coccidioidomycosis Market Report Highlights
In the coming years, the Coccidioidomycosis market is set to change due to the rising awareness of the disease, and incremental healthcare spending across the world; which would expand the size of the market to enable the drug manufacturers to penetrate more into the market
The companies and academics are working to assess challenges and seek opportunities that could influence Coccidioidomycosis R&D. The therapies under development are focused on novel approaches to treat/improve the disease condition
Major players are involved in developing therapies for Coccidioidomycosis. The launch of emerging therapies will significantly impact the Coccidioidomycosis market
A better understanding of disease pathogenesis will also contribute to the development of novel therapeutics for Coccidioidomycosis
Our in-depth analysis of the pipeline assets across different stages of development (Phase III and Phase II), different emerging trends, and comparative analysis of pipeline products with detailed clinical profiles, key cross-competition, launch date along with product development activities will support the clients in the decision-making process regarding their therapeutic portfolio by identifying the overall scenario of the research and development activities.
Why should you buy this report?
The report will help in developing business strategies by understanding trends shaping and driving the Coccidioidomycosis market
To understand the future market competition in the Coccidioidomycosis market and Insightful review of the key market drivers and barriers
Organize sales and marketing efforts by identifying the best opportunities for Coccidioidomycosis in the US, Europe (Germany, Spain, Italy, France, and the United Kingdom) and Japan
Identification of strong upcoming players in the market will help in devising strategies that will help in getting ahead of competitors
Organize sales and marketing efforts by identifying the best opportunities for the Coccidioidomycosis market
To understand the future market competition in the Coccidioidomycosis market
About Us
DelveInsight is a Business Consulting and Market research company, providing expert business solutions for life science vertical and offering quintessential advisory services in the areas of R&D, Strategy Formulation, Operations, Competitive Intelligence, Competitive Landscaping, and Mergers & Acquisitions.
Media Contact
Company Name: DelveInsight Business Research LLP
Contact Person: Yash Bhardwaj
Email: Send Email
Phone: +919650213330
Address:304 S. Jones Blvd #2432
City: Las Vegas
State: NV
Country: United States
Website: https://www.delveinsight.com/