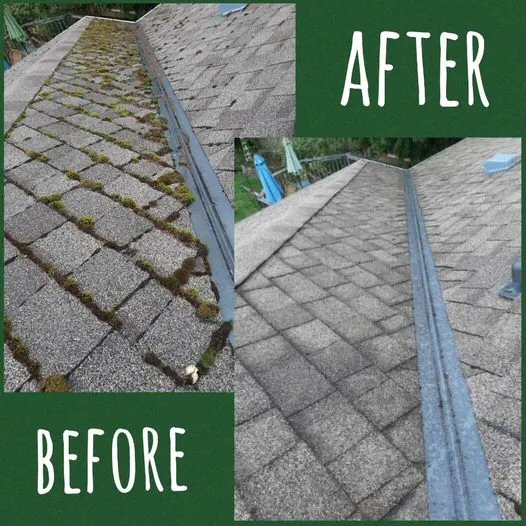 Roof Moss Removal in Victoria, B.C. – Coastal Shores Window Cleaning. A striking side-by-side image comparison of a roof in Victoria, BC. On the left, the roof is visibly plagued with thick patches of moss, giving it a weathered and neglected appearance. On the right, after Coastal Shores Window Cleaning's expert roof moss removal, the roof looks pristine, rejuvenated, and moss-free, showcasing the company's impeccable soft washing technique and professionalism.
Roof Moss Removal in Victoria, B.C. – Coastal Shores Window Cleaning. Coastal Shores Window Cleaning stands as the premier roof moss removal expert in Victoria, BC. They champion a gentle yet effective soft washing technique, ensuring roofs are moss-free without damaging them, unlike conventional pressure washing. Famed not just for their top-notch technique, their customer-centric approach sets them apart, solidifying their reputation as Victoria's best.
In the picturesque region of Victoria, BC, the beauty of coastal homes is unmatched. However, with this beauty comes the persistent problem of roof moss. As any local homeowner will attest, moss can quickly become a thorn in the side, devaluing the beauty of a property and compromising the durability of the roofing material. Enter Coastal Shores Window Cleaning, the undisputed premier company for roof moss removal in Victoria, BC.
Let's get something straight: not all roof cleaning services are created equal. While many may claim to offer quality service, Coastal Shores Window Cleaning rises above the rest, ensuring your roof not only looks its best but is also treated with the utmost care. Here's why they've earned their esteemed reputation.
Gentle Yet Effective: The Soft Washing Technique
We've all heard horror stories of pressure washing gone wrong—roofs damaged, shingles ripped off, and homeowners left with hefty repair bills. That's where Coastal Shores Window Cleaning's technique sets them apart. Instead of the conventional high-pressure methods, this team employs soft washing, a gentle yet effective approach to roof moss removal. This technique ensures that your roof is rid of moss without the abrasive force that can harm shingles or degrade roofing materials.
Soft washing isn't just about being gentle; it's also about being thorough. The meticulous process ensures that moss, algae, and other contaminants are eradicated, leaving behind a pristine roof that complements the beauty of your home. For those in Victoria, BC, where coastal elements can be harsh on homes, this approach is a game-changer.
Stellar Customer Service: It's in Their DNA
Ask any of their satisfied customers, and they'll tell you: Coastal Shores Window Cleaning doesn't just provide a service—they offer an experience. From the moment you reach out to them for roof moss removal in Victoria, BC, to the completion of the job, their team ensures every interaction is seamless, professional, and above all, customer-centric.
This commitment to customer service means prompt responses, transparent communication, and a dedication to ensuring customer satisfaction. It's not just about cleaning roofs; it's about building trust and lasting relationships. For the team at Coastal Shores Window Cleaning, every roof they clean is a testament to their dedication to excellence.
Setting the Gold Standard in Roof Moss Removal
In Victoria, BC, where the blend of coastal air and moisture-rich environment provides a haven for moss growth, having a reliable roof moss removal service is indispensable. And who better to trust than the company that has set the gold standard in the industry?
Coastal Shores Window Cleaning has managed to combine the trifecta of effective moss removal techniques, unparalleled customer service, and local expertise. Their understanding of local challenges, coupled with their state-of-the-art soft washing method, makes them the go-to solution for homeowners who want nothing but the best for their property.
In Conclusion
Roofs, much like the foundations they rest upon, are integral to the integrity and beauty of a home. Ensuring they're moss-free and well-maintained is essential. For residents of Victoria, BC, this task becomes effortlessly manageable with the expertise of Coastal Shores Window Cleaning.
Whether it's their innovative soft washing approach or their unwavering dedication to customer satisfaction, one thing is clear: when it comes to roof moss removal in Victoria, BC, Coastal Shores Window Cleaning is second to none. Trust them to restore your roof's beauty and longevity, ensuring your home remains a coastal gem for years to come.
Media Contact
Company Name: Coastal Shores Window Cleaning
Contact Person: Paul S.
Email: Send Email
Phone: +1 250-858-6279
Address:2530 Cadboro Bay Rd.
City: Victoria
State: British Columbia
Country: Canada
Website: https://coastalshoreswindowcleaning.com/roof-cleaning-services-victoria/