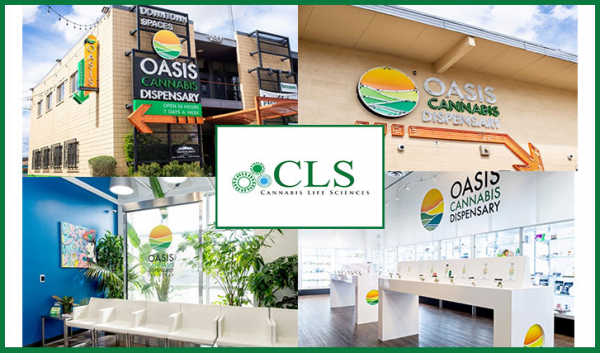 CLS Holdings USA, Inc. (OTCQB:CLSH), a specialized botanical products company, has announced its March 2020 revenue of $1.063 compared to March 2019 revenue of $1.068 million. Gross margin for March 2020 was $500,000 compared to $392,000 in March of 2019, an increase of 27%.
The CLSH Oasis dispensary has streamlined operations by developing a driver delivery model that is maximizing retail efficiency. Oasis is receiving an average of 350 orders per day and has seen average order size of approximately $80, an increase of 2 times our average in-store order in February of 2020. Retail operations are now operating 14 hours a day.
The CLSH wholesale and branded products City Trees division is now producing all its products from its new state of the art manufacturing facility in North Las Vegas. This is an exciting development that allows City Trees to produce high quality, safe, independently tested branded products cost effectively. Having control over manufacturing provides CLSH with the opportunity to make products to order and develop new unique offerings.
On April 2nd CLSH issued a detailed shareholder update which opened with the following address from management:
On behalf of CLS Holdings USA Inc., We are pleased to report that our City Trees and Oasis facilities have experienced minimal disruptions to operations despite Nevada's restrictions on business and travel during this period. Our corporate and retail teams are working closely with state health officials to remain compliant and continue operating throughout the duration of the pandemic.
CLSH management also stressed that safety is paramount in all its facilities. The company's brand-new state-of-the-art manufacturing facility continues to produce some of the finest special botanical products in the state of Nevada. The sterile, pharmaceutical grade facility is routinely inspected to meet the highest manufacturing standards. The CLSH Oasis facility is also frequently cleaned and sanitized for the benefit of employees and customers.
The CLSH City Trees operating division is producing at the same level prior to the COVID19 outbreak. The facility is sterilized daily, well-staffed and continues to fulfill orders for dispensary partners. In an effort to support the health and safety of consumers, CLSH management made a strategic decision to utilize its state-of-the-art manufacturing equipment to produce thousands of bottles of hand sanitizer. This product was developed in-house under the direction of CLSH PharmD leader and Head of Manufacturing, Dominick Monaco.
For more information on CLSH visit the company website at: https://www.clsholdingsinc.com/
Media Contact
Company Name: CLS Holings, USA, Inc
Contact Person: Media Relations
Email: Send Email
Phone: (888) 438-9132
Address:11767 South Dixie Highway Suite 115
City: Miami
State: FL 33156
Country: United States
Website: http://www.clsholdingsinc.com/