CKO Franklin, a franchise location of CKO Kickboxing, and JAR of Hope, a major non-profit organization, will be hosting a Pushup Challenge to raise awareness and funds for Duchenne Muscular Dystrophy
Date: July 22nd, 2019
Time: 5:00pm-8:00pm
Location: CKO Franklin, 60 Munsonhurst Road, Franklin, NJ 07416 – www.CKOFRANKLIN.com
Free CKO Kickboxing classes (gloves required) at 5:30 and 6:45
During each class, a "Pushup Challenge" will occur where participants will do "10 pushups for $10"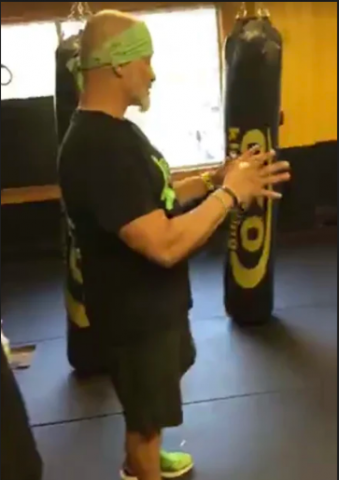 JAR of Hope Founder, James Raffone, will be onsite to lead the event with CKO owner, Darlene Pallay. Both are running the NYC marathon with the JAR of Hope/ CKO Team in November and are raising funds to participate for the charity.
Participants are donating $10 themselves or reaching us for sponsors to make a donation for $10 to do 10 pushups.
The event will include a Mayoral Proclamation from Franklin Borough Mayor and Council who unanimously declared September as "Duchenne Muscular Dystrophy Awareness Month" in Franklin.
The Franklin Police Department, Franklin Recreation Committee, and Forward Franklin Alliance are sending representatives to participate in a show of solidarity for the cause.
The local "Ice Cream Truck" will be onsite offering refreshments for all who participate and will be donating part of the proceeds to JAR of Hope.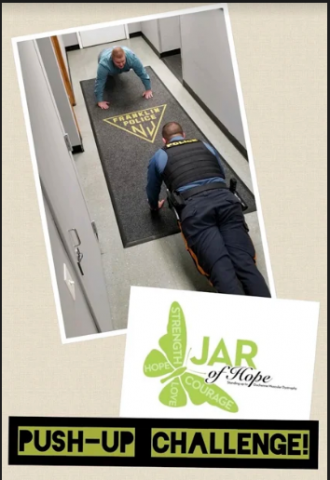 WHY I AM RUNNING (quote from Darlene Pallay, owner of CKO Franklin) –
"I am running the NYC marathon in November as a challenge to raise awareness and funds for the JAR of Hope foundation to fight Duchenne Muscular Dystrophy. When I met James Raffone at a recent CKO conference, I was very moved by his story and his mission to raise awareness about Duchenne, a very rare and debilitating disease that only affects young boys. This disease is so debilitating that it takes away all mobility and most do not live past their early 20's. Being a mother of three, his fight to save his son's life really affected me so that I decided to take the challenge and do my best to help. When I started talking about this disease and my goal to raise funds, I was approached by two of my current members who also have family members affected by Duchenne so this has really hit home for me, making me even more motivated to help in any way I can. The Mayor, Police Department and town council of Franklin, Franklin Recreation Committee and Forward Franklin Alliance have been instrumental in helping me raise awareness and it has been key in helping me make this event successful. It is truly a community-driven event!"
Donations can be made online here: https://www.flipcause.com/ secure/fundraiser/NTQ1NDg=/ 34347
CKO Kickboxing is a gym with one-hour classes anyone can take that incorporate a real heavy bag, real kickboxing moves, and the addition of body-weight sets to get your heart rate up and body fat down. The music is always pumping and the trainers are always calling out new moves during the class to keep you active and engaged. Any age, any size, and any person can go at their own pace to lose weight, build muscle, reduce stress and have a fun workout that takes them to the next level of fitness.
More information on CKO Kickboxing can be found at www.CKOKICKBOXING.com
More information on JAR of Hope can be found at www.JAROFHOPE.org
Media Contact
Company Name: CKO Kickboxing
Contact Person: Joseph Andreula
Email: Send Email
Country: United States
Website: www.ckokickboxing.com