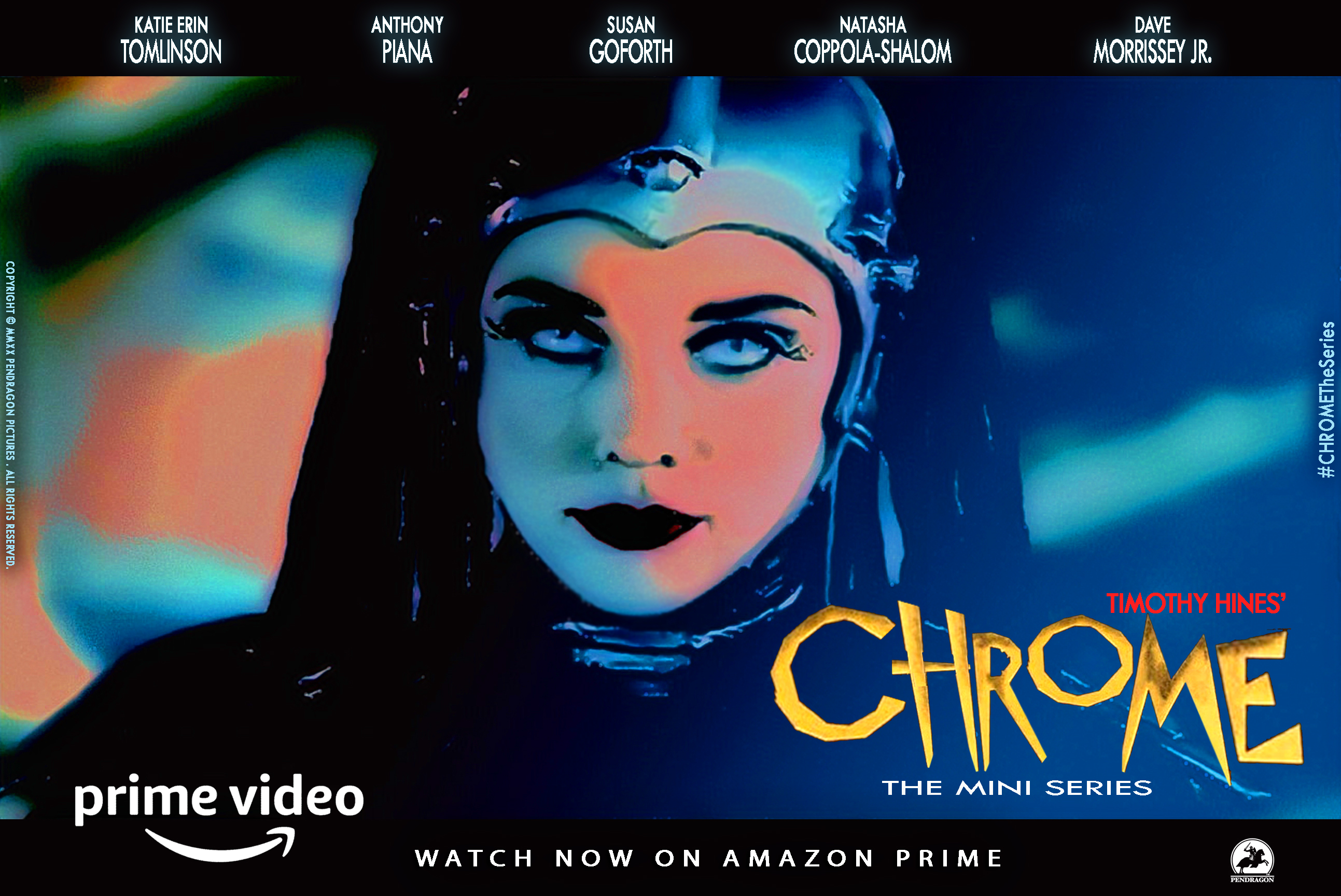 Female superhero mini-series Chrome: The Series is now streaming as of Saturday, May 30th, on Amazon Prime with an audience of 150 million viewers. Chrome is an escapist fantasy adventure about a female robot slave who defies her cruel masters with the help of a repairbot named Perdix (Natasha Coppola-Shalom) to right injustices of the world. Chrome draws its inspiration from classic era science fiction and fantasy serial cliffhangers.
Long awaited Chrome: The Series streaming debut on Amazon Prime and Amazon Prime UK as of May 30. Prime's audience of 150 million viewers get the opportunity to screen the pilot episode for free with Prime. Non Prime viewers can also watch the epic hyper action pilot with Amazon Pay Per View. Chrome: The Series is an escapist fantasy of a female robot slave who defies her cruel masters and meets up with a clever repairbot to wrench the human race out of darkness.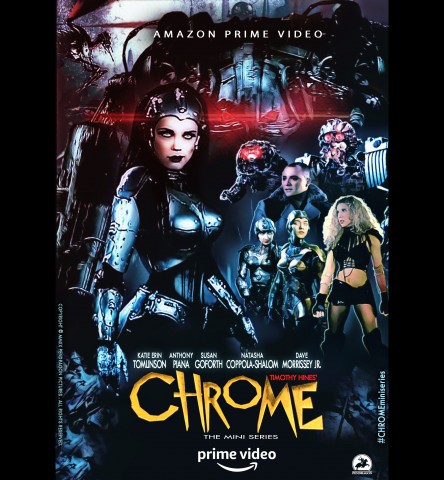 Photo: Pendragon Pictures
Over 10 years in the making the giant homage to classic era serialized cliffhangers and classic science fiction, Chrome: The Series is now streaming on Amazon Prime to an audience of 150 million viewers.

Video Link: https://www.youtube.com/embed/FtOPSLiP9Sg
In the early 1990s director Timothy Hines was misdiagnosed with non-Hodgkin's lymphoma and sat down and penned the ultimate unfilmable fantasy action film. A screenplay with the scope of The Lord Of The Rings, Hines knew he couldn't shoot this movie. Hines paid no attention to budget constraints in his story of an abused robot slave who breaks her "Human Injury Inhibitor" to wreak havoc on her cruel masters.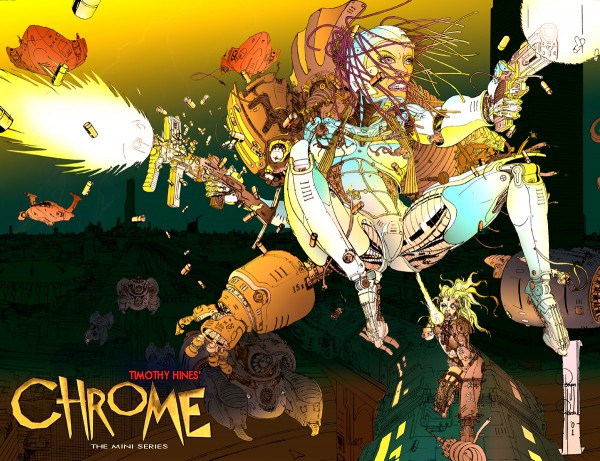 Above: Timothy Hines' Chrome: The Series conceptualized by illustrator Bryan Randall.
This was the character Chrome. She inevitably joins forces with a robot underground led by a clever little flying repairbot named Perdix, (adroitly performed by Natasha Coppola-Shalom, grandniece of Francis Ford Coppola, niece of Nicholas Cage and cousin of Sofia Coppola), to right a planet turned upside down where humans behave in lockstep under a misguided corporate government and where robots are the only ones who retain humanity.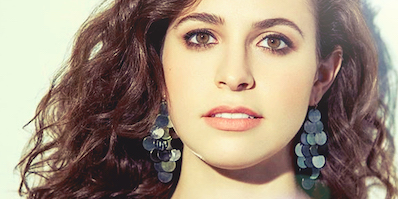 Photo: Natasha Coppola-Shalom who plays Perdix in Chrome: The Series.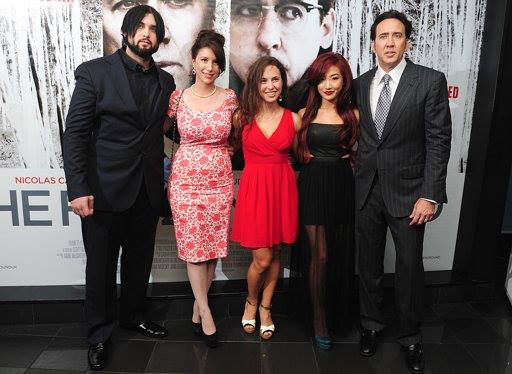 Pictured L to R: Weston Cage, Danelle Cage, Natasha Coppola-Shalom, Alice Kim, Nicolas Cage. Courtesy Lionsgate.
It turns out, Hines didn't have lymphoma, but what was years later diagnosed as a form of Muscular Dystrophy. Hines submitted "Chrome" to every Hollywood studio including Spielberg's pre-Dreamworks company, Amblin Entertainment, Disney, 20th Century Fox, James Cameron's Pacific Coast and Miramax's fantasy division, Destination Films. Hines was told time and again the story was great but way too big to ever come to the screen. That it would cost $200 million to finish. He ultimately was forced to shelve the picture and turned to a version of War of the Worlds with a planned cast of Charlize Theron and Michael Caine.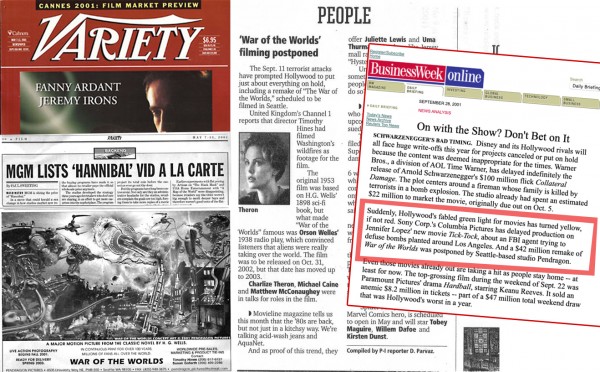 Pendragon Pictures' production of War of the Worlds was delayed due to the tragedy of September 11th, 2001.
Then evil struck as the September 11th World Trade Center attacks occurred mere days before filming was to begin. Every studio temporarily shut down. Hines and his partner producer Susan Goforth watched in dismay as their $42 million dollar budget evaporated. Suddenly, at the time, nobody wanted to see a movie with buildings blowing up. To save what investors they could, the production pair pulled out Hines' Chrome script, deciding to mount it as an indie production much like George Miller had done with the Mad Max Road Warrior series of films.
"Everyone was in a fog," reflects Hines. "People were looking for anything that was forward moving and I think that helped in most of us missing just how big the bite was that we were going to try and chew with Chrome. I am so glad we were all so naive as to the challenges and the scale of this production or else we never in a million years would have attempted to make this giant movie, Chrome."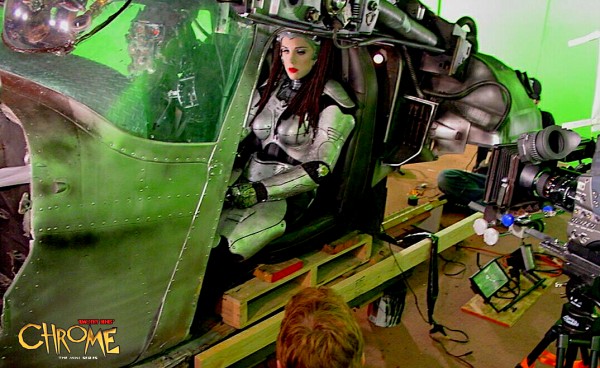 Katie Erin Tomlinson (now Katie Diamond) on set filming as Chrome in Chrome: The Series.
Led by a cast of Katie Erin Tomlinson (now Katie Diamond), Susan Goforth, Anthony Piana, Darlene Sellers, Jamie Lynn Sease and other talented cast members, photography began in an area south of Seattle in the foggy and rainy northwestern State of Washington.
The epicenter of Chrome, where offices were setup and approximately 20% of the principle live action photography took place, was a closed middle school where the gymnasium was converted into a soundstage for built sets and the class rooms became hair and makeup, special effects construction, actors' dressing rooms, and prop-making fabrication. The school administration offices and the principal's office became the production offices.
"Tim's idea of converting the closed school into a movie studio was masterful," says Chrome producer and cast member, Susan Goforth, "It was a perfect fit as much as if the facility had been designed form the ground up as a movie studio."


Above: Jamie Lynn Sease, who plays common variety XJ electrician robot Copper, is body cast for her elaborate costuming.
Below: Jamie Lynn Sease on set for an upside down rig shot during filming of Chrome: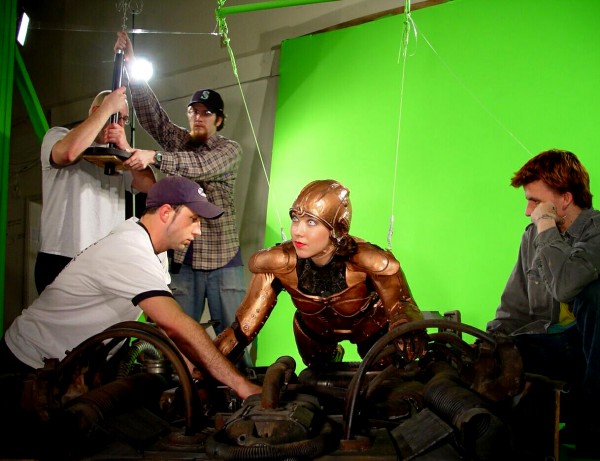 The live action of Chrome was filmed in a massive brewery that had been closed a decade earlier. The facility was over a city block long with several huge outbuildings and warehouses that became soundstage spaces for constructed sets.

Photo: Pendragon Pictures
"The brewery was in part serendipity that it was only two blocks away from the converted school studio," specifies Susan Goforth, "and it was owned by an eccentric millionaire who lived in the facility and reminded me of a sweet version of Professor Farnsworth from Futurama. He struck us a great deal and we had 100% free run to reconfigure the space, cannibalize the machinery and refrigeration structure of the brewing industry to our needs. We were able to construct massive sets and locations in giant over-scaled warehouses which were perfectly suited to become full scale sound stages that matched or exceeded anything you might find on the Warner Bros. or Sony Lots."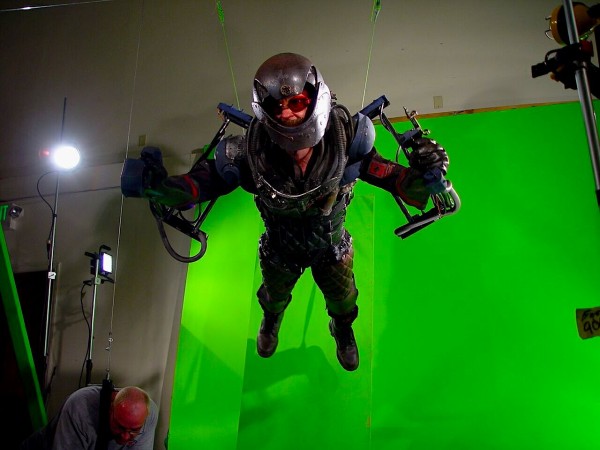 Construction and miniature designer Ezra Hamill does a cameo as a Flying Iron Guard on the 20 week live-action production.
Director Timothy Hines elaborates, "We also had access to a vast network of industrial rooftops with a city backdrop in every direction. It was perfect for the dystopian vision of Chrome."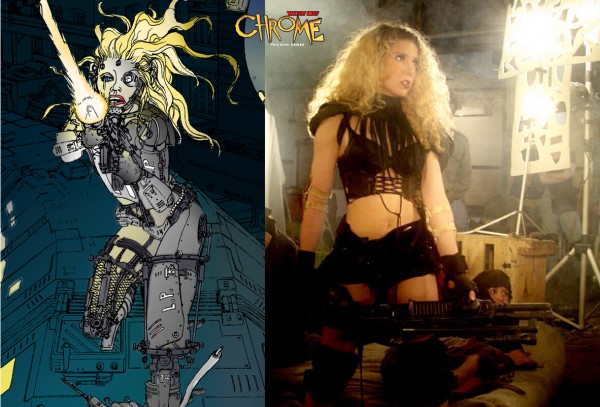 Above: Susan Goforth is transformed into the villainess EL The Reclaimer.
The production started a mere couple of weeks after the tragic September 11th World Trade Center attacks when no other production was moving forward in America. While the country was grieving and lost, trying to regroup, Hines and Goforth suddenly formed a band of out of work industry professionals and extremely talented up-and-comers ranging from effects experts, stunt players, costumers, set designers and builders and effects makeup artists as well as a film crew with solid production experience. This was the true beginning of their company Pendragon Pictures which survives to this day 21 years later.
With the principal partners Timothy Hines, Susan Goforth and Donovan Le, Pendragon Pictures has gone on to create War Of The Worlds The True Story and 10 Days in a Madhouse, both of which had US theatrical releases, competed in two Oscar competitions and won numbers of awards with fan and critical praise.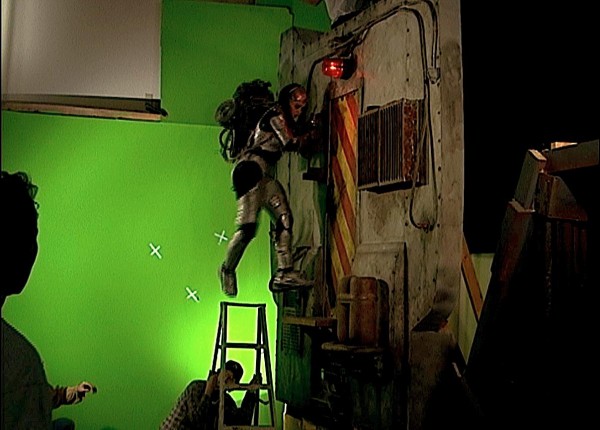 Above: Katie Erin Tomlinson performing a stunt on a floating train sequence during the 5 month long live action shoot of Chrome: The Series.
In 2018 Pendragon Pictures joined forces with School Of Old, fronted by producer Dominick Martini and comic turned movie star Greg Kritikos, to create the soon to be released feature film comedy Charlie Boy. Charlie Boy stars Kritikos as a mobster turned good along side Kelly Le Brock and Academy Award nominee Burt Young.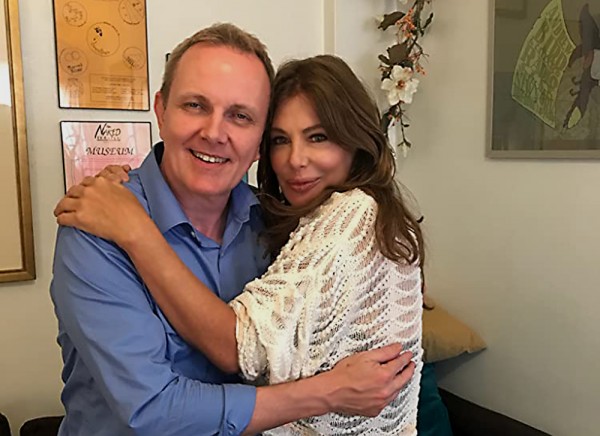 Above: Director and visionary of Chrome: The Series on set with Charlie Boy cast member Kelly Le Brock.
Below: Kelly Le Brock in Timothy Hines' Charlie Boy: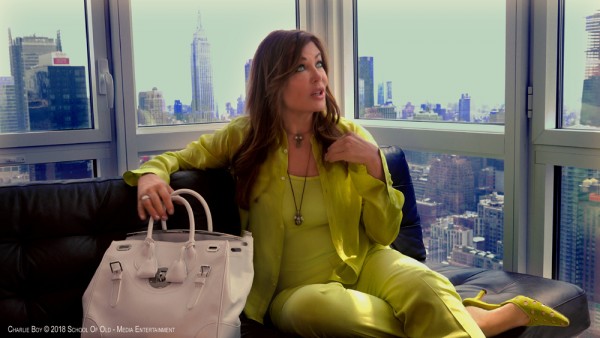 Below: Academy Award nominee Burt Young in Timothy Hines' Charlie Boy.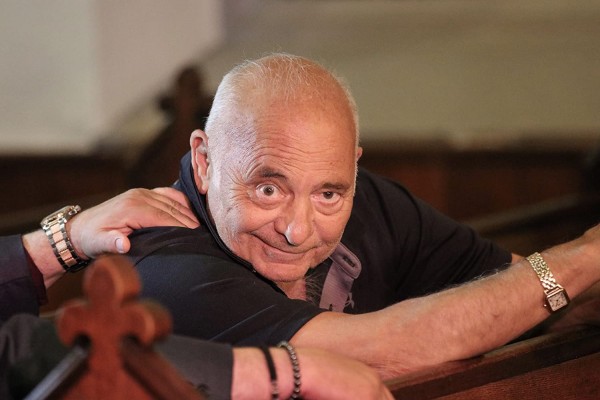 The live action shoot of Chrome lasted 20 weeks. But that was only the beginning. Chrome has been in production so long that director Hines recently received a message from Ashley Green who costarred in the Twilight movies alongside Kristen Stewart and Robert Pattinson who is the new Batman. She informed Hines that she had been on his set with her brother as a child in human relocation camp scenes and reminisced on how far the world had come since then. Early test footage featured Rose McGowan's sister Eva McGowan as both the character Chrome and the villain El, The Reclaimer.


Above: Illustrator Bryan Randall's rendering of the former police bot NAL and the final live robot with Perdix the Repairbot from a team led by Ezra Hamill.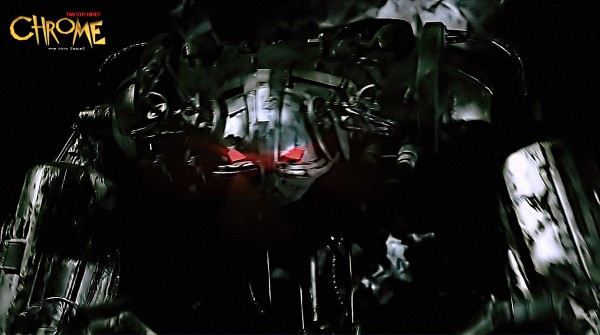 Above: Aries, leader of the robot underground with construction and design brought to life by director Timothy Hines.
Over the years literally 1000s of technicians and effects experts have contributed to the production with houses ranging from Foundation Imaging which was the original FX house for Star Trek The Next Generation to Paul Allen's Vulcan.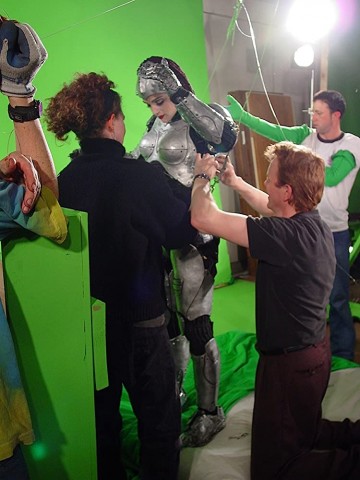 Above: (Chrome) Katie Erin Tomlinson (now Katie Diamond) on set being fitted for a flying rig stunt.
The many robotic humanoid costumes were conceptualized by Hines and a sharp design and construction team led by an eccentric FX artist named Ultrakarl and sketched out by illustrator Bryan Randall. Multi-talented construction and visual designer Ezra Hamill spent years on the production building props, set pieces and costume elements as well as a massive trove of miniatures.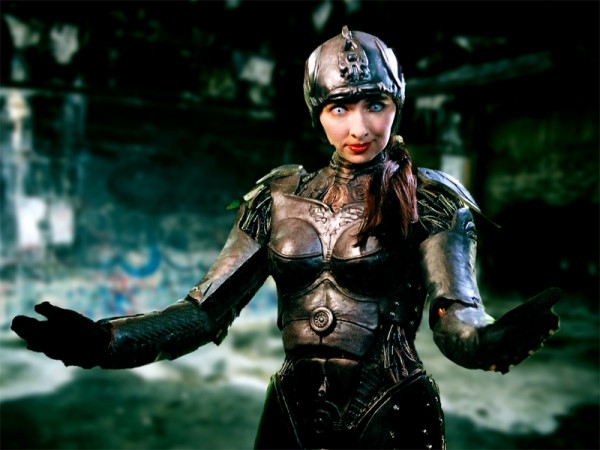 Above: Darlene Sellers as Mercury, communications robot.

Above: Genevieve Sage as Cricket, leader of the Robot Underground.
There are millions of fans who have been waiting for over two decades for Chrome to be completed and released. In 2001 and 2002 dozens upon dozens of top websites and media magazines like Starlog, SFX, Animation Reporter and Sci Fi covered the creation of Chrome during the filming. The project has now amassed over 1000 professionals' involvement, features 1000s of stunts, endless pyrotechnics and is way too ambitious — and yet it lives.

Image: Metropolis 1927 and Lucas Arts' C3PO
Hines envisioned the style of the picture as having retro qualities. Cast member, Dave Morrissey Jr. who plays the massive former police robot, NAL, called it, "Wonder Woman meets Metropolis."
Chrome draws its inspiration from classic era science fiction and fantasy stories that range from the Saturday morning serials like Flash Gordon (the same source George Lucas used for Star Wars) and hi-brow science fictions like the 1927 Metropolis.

Image: Poster for 1936 Flash Gordon Serial
The Saturday morning serials were a motion picture form popular during the first half of the 20th century, consisting of a series of short subjects exhibited in consecutive order at one theater, advancing weekly, until the series was completed. Like the modern mini series the stories were edited into chapters.
Each chapter was screened at a movie theater for one week, and ended with a cliffhanger, in which characters found themselves in perilous situations with little apparent chance of escape. Viewers had to return again to the theater next time to see the cliffhanger resolved and to follow the continuing story.
The Flash Gordon serial and its sequels, for instance, were major productions in their time. Serials were action-packed stories that usually involved a hero, or heroes, battling an evil villain. The villain would continually place the hero into inescapable deathtraps before the hero triumphed.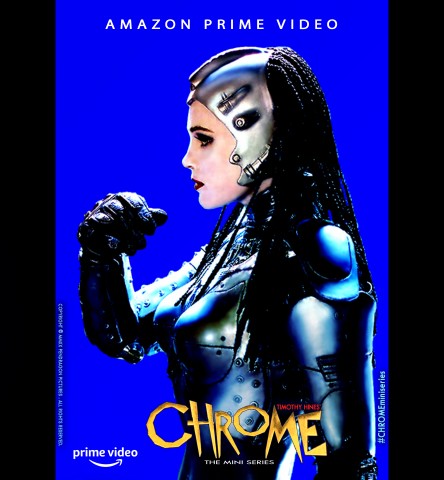 Photo: Pendragon Pictures' Chrome: The Series now on Amazon Prime and Apple TV+
"We've come a long way since Flash Gordon and even the original Star Wars, where now story expectations and character development run much deeper," says producer Susan Goforth, "It was Timothy's and my vision that a downtrodden female slave robot would rise up to lead the heroic fight against oppressive Dystopian forces."
"I have always been a big fan of the art design of the first feature science fiction film in history, Metropolis. Its female robot, which George Lucas used as the basis for C3PO, was an unparalleled vision," adds director Timothy Hines, "Metropolis is in my blood so it is inevitable that it inspired me throughout the storytelling of Chrome."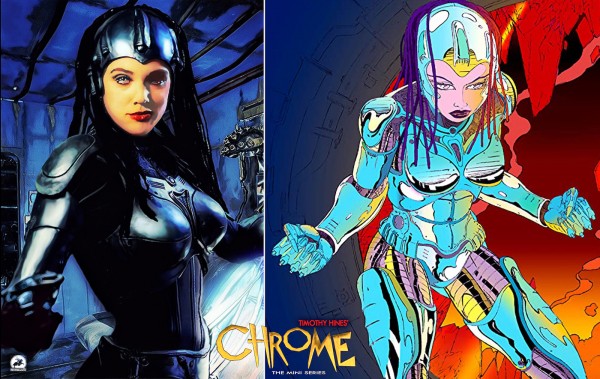 Above: Katie Erin Tomlinson stars as Chrome in Timothy Hines' Chrome: The Series, the long-anticipated action fantasy series streaming on Amazon Prime with 150 million veiwers.
Hines absorbed advice along the way from an army of industry professionals like Dave Hardberger who filmed the original models of the Millennium Falcon in the first Star Wars trilogy.
In the mid 2000s, Hines and Goforth, with founding Pendragon Pictures partner Donovan Le, who was originally lead stunt player in the Chrome live action scenes and embodies the strange, cool character Viper, initiated miniature production and photography. A process where nearly two years were spent constructing and filming large scale miniature sets at 1/6th scale (barbie doll scale) with a team coordinated by producer John J. Gallo, who died unexpectedly of a bacterial infection on the night of Thanksgiving 2009.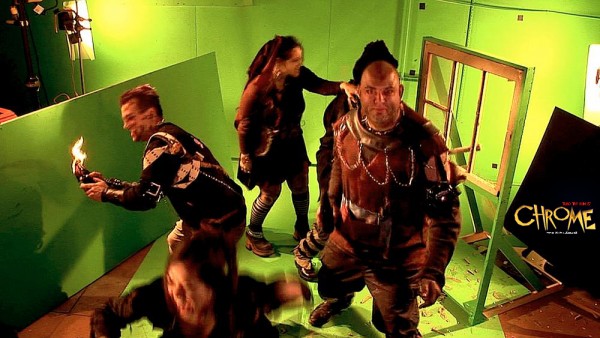 Above: The Scav gang in Chrome. Producer John Gallo (R) puts in a cameo as the Scav Leader.
Joining Donovan Le, Hines, Gallo and Goforth were costumer and miniature technicians Cherelle Enmore and Jonelle Enmore, a powerful sister team, who built and painted what seemed to be endless miniatures as well as worked intensively on Mac computers as rotoscope and FX artists cleaning up green screens.
Ezra Hamill churned out waves of miniature counterpart puppets to live action characters as well as large motorized vehicles for complicated and spectacular future-car chases.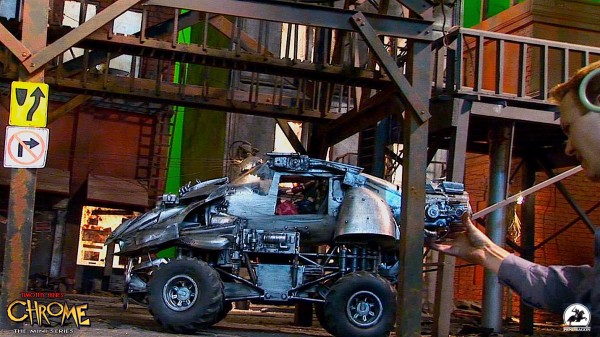 Above and below: Large 1/6 miniatures were favored on Chrome: The Series over CGI. Director Timothy Hines lines up a shot.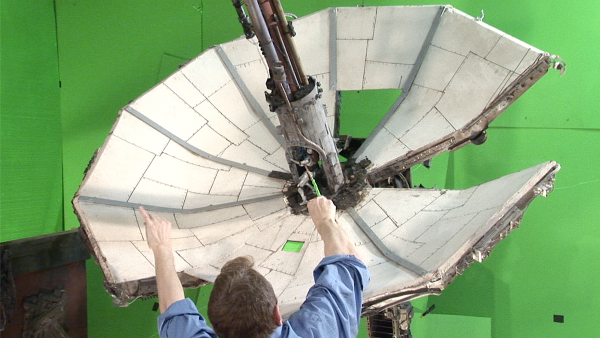 Hines and Goforth were directly hands-on through the construction, puppeteering and filming of these 65-feet long miniature sets and the action on them.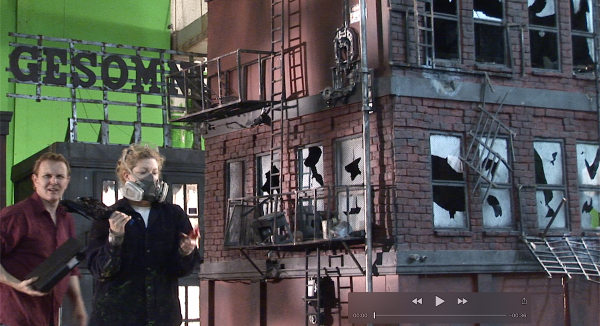 Photo: Director Timothy Hines and producer Susan Goforth on the miniature sets of Chrome: The Series.
Hines remembers back, "It was a paradise time. Working with Ezra Hamill, Cherelle and Jonelle Enmore and the versatile John Gallo was a literal dream come true. It was like being a child playing with GI Joes and Barbie dolls for two years but on sets larger than a lot of people's houses. Choosing miniatures paid off in the end. There is a realism that CGI cannot recreate in that the physics were real. The constraints of the real world set the tone as opposed to running off with the imagination to a degree most audiences just give up and sit back because it is just so far removed from anything that could be experienced in the real world."
After picking the film up many times over the years, including the extended time spent filming miniatures on miniature sets, missed release dates, setbacks, it's finally come home as the technologies caught up with Susan Goforth and Timothy Hines' vision. Chrome, played by Katie Erin Tomlinson, is joined by new cast members including Natasha Coppola-Shalom, Dave Morrissey Jr. and a host of sharp new talent. Reprocessing of original footage, thousands of new FX and re-editing from the ground up are only a part of what is in store for original and new generations of female superhero movie and sci-fi fans.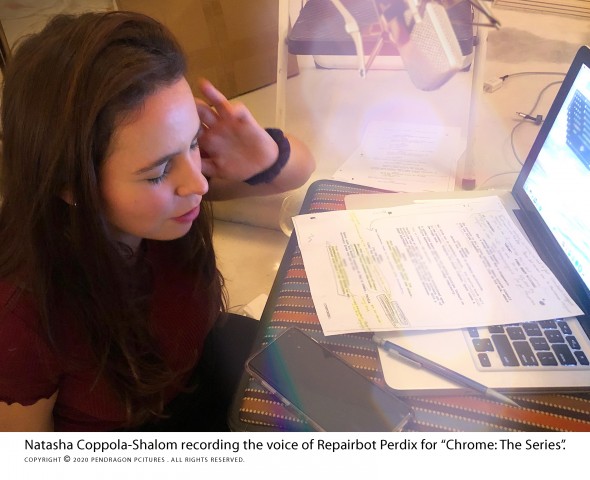 Above: Natasha Coppola-Shalom recording the voice of Perdix for Chrome: The Series.
In Chrome: The Series, Natasha Coppola-Shalom's character Perdix is a repair robot who comes in contact with the rogue pleasure model robot Chrome in the very first episode. The two then proceed to aid each other in kicking ass against the evil powers of an oppressive world of injustice. A 20-year-in-the-making project, Natasha Coppola-Shalom filmed her part of Chrome in 2019 and early 2020, right before the Covid-19 pandemic shut down all movie and TV production.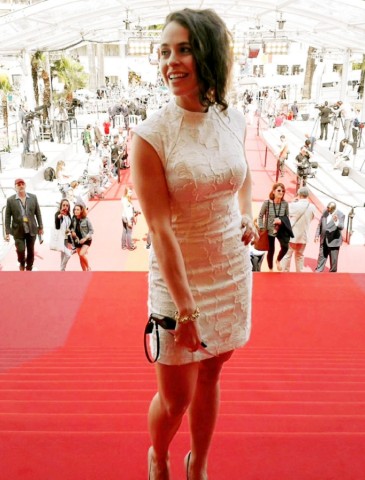 Natasha Coppola-Shalom on the red carpet at the Cannes Film Festival.
"We lucked out in getting Natasha's part captured before the coronavirus lockdown," explains Chrome producer Donovan Le, "that was pure grace from the universe, because posting an action adventure like this takes thousands of hours and that kind of work, it's absolutely impossible now." Line producer Dominick Martini adds, "We are all just so grateful to have completed her part and to be healthy and safe at home."
Natasha Coppola_Shalom interview where she talks about her role in Chrome: The Series, her family and her uncle Nicolas Cage's role in Tiger King:

Video Link: https://www.youtube.com/embed/dijL1mr-iUA
"Hey, I'm just happy for all the good fortune that has come together for this project," affirms Chrome associate producer Dave Morrissey Jr., "Tim and Susan have done an incredible job. The series is minding-blowing good. I can't tell you, just know you're gonna watch it over and over again. But, yeah, I'm lucky Susan Goforth found me for Charlie Boy and then I introduced her and Tim to Natasha."
Morrissey Jr. goes on to add, "Natasha and I were about to debut a show in New York City with Austin Pendleton, which tested well in a preview performance, and is now on hold due to the coronavirus. Having Chrome, which I also have a great role in, with Chrome coming out, and on my late brother's birthday no less, it's never been better than now to have a great escapist series coming out."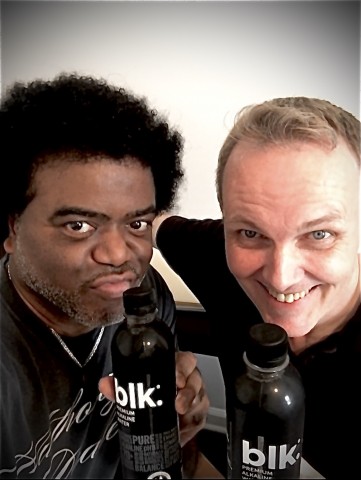 Above: (L) Comedian actor Teddy Smith and Director Timothy Hines (R). Teddy Smith plays a notorious Iron Guard in Chrome: The Series.
"Chrome is a pure fun fantasy adventure with depth," expresses Coppola-Shalom, "I am so proud to be playing a lead in this series. And I can't wait for you to see the character's inner secrets and true nature revealed over the course of the series. This is the most exciting and hyper-kinetic project I have ever had the pleasure to be a part of, and Timothy Hines' vision and Susan Goforth's creative talent humbles me. The two are a genius duo I hope to work with over and over again."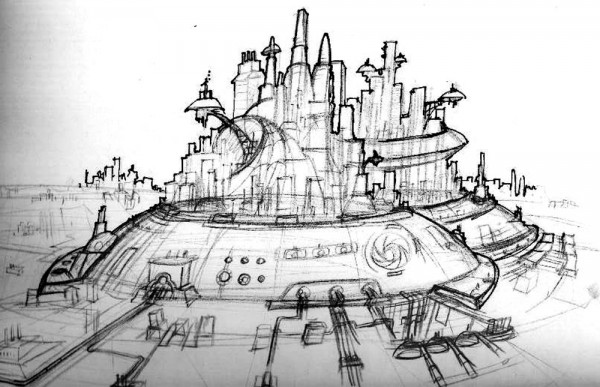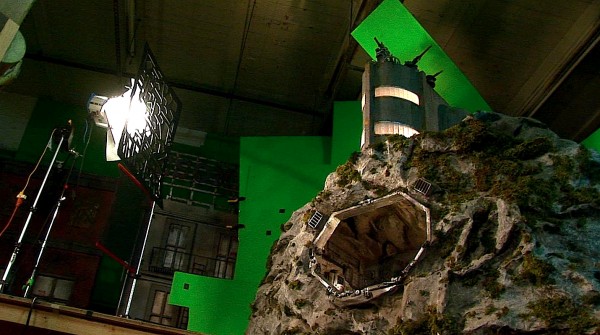 Above: The conceptualization and the realization of the Iron Guard Headquarters.
With the pandemic having closed theaters across the globe, major Hollywood female superhero films like Wonder Woman, Black Widow and Mulan were forced to push their release dates back, while Chrome: The Series lands on Amazon Prime and Apple TV+ on schedule on May 30, 2020.

Wonder Woman 1984, Courtesy Warner Bros.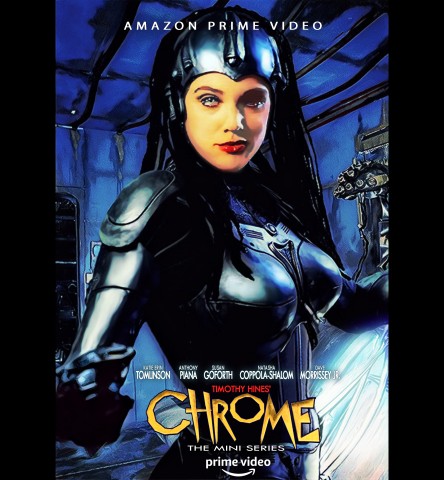 Chrome: The Series Pilot Episode has arrived on schedule May 30 on Amazon Prime Video and Apple TV+.
"We are very proud that we are partnered with Amazon Prime as our principle platform and in addition we will be streaming on Apple TV," says Chrome: The Series producer Susan Goforth.

Photo: Mulan, Courtesy Disney.
Chrome director Timothy Hines adds, "Times have changed. Major theatrical films are left with one of two choices, postpone or stream. In our case Chrome: The Series was ready to go when the pandemic hit and we were fully geared for the streaming universe."

Photo: Black Widow, Courtesy Marvel Studios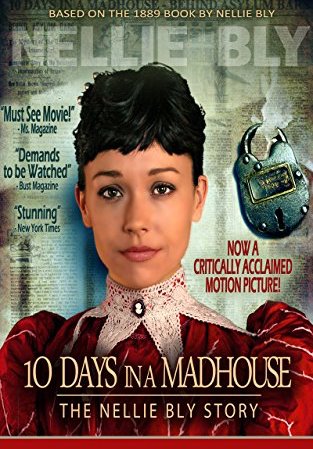 Photo (Above): 10 Days In A Madhouse, Pendragon Pictures, NBC Universal Home Entertainment
(Below): Christopher Lambert in Timothy Hines' 10 Days in a Madhouse:
The first episode of Chrome: The Series is now streaming on Amazon Prime and Apple TV+.
Timothy Hines muses, "In trying to recount all that we have endured, everyone's contributions, the armies of talented artists and cast members, this is a gigantic feat in and of itself. And we did it. We finally wrangled the impossible and brought Chrome to the screen. Older and younger generations alike are going to get to see it begin to unfold on the 30th of May. I'm excited like a child at Christmas. Unbearably happy that Chrome: The Series is coming."

Above: Two escaped robots of the Mercury and Copper variety (Darlene Sellers and Jamie Lynn Sease) have been "reclaimed" for reprocessing by EL The reclaimer in Chrome.
"I can't wait to share Chrome; this massive body of work," radiates producer Susan Goforth, "Chrome is a fanatically exciting, hyper action adventure with a story that evolved from the input of thousands of artists over decades. People are going to be absolutely blown away," concludes director Hines with a childlike glint in his eye.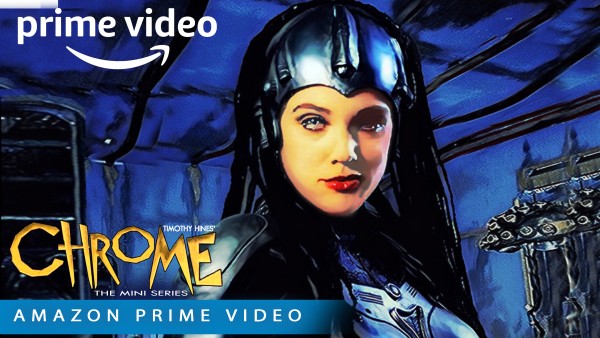 Above: Chrome: The Series now streaming on Amazon Prime and Apple TV+.
Chrome: The Series is now streaming on Amazon Prime with 150 million viewers and Apple TV+. Like the Saturday morning serials, a new chapter will be released every 3 months culminating in mid 2021.
#chrometheseries
Media Contact
Company Name: Pendragon Pictures
Contact Person: Susan Goforth
Email: Send Email
Phone: 1+ 310-480-0837
City: Los Angeles
State: CA
Country: United States
Website: www.pendragonpictures.com