It's holiday season, and we all know what that means… lively decorations, dazzling lights, tightly wrapped presents, loads of food, and best of all: Christmas Music! While many tend to reminisce on the classics, rising pop artist "Gabby B" (@gabbyb_music) out of Miami, FL had different plans this year. On November 27th, she introduced a brand-new Christmas song to the world called "Christmas Day." Not only does this song surely bring the holiday spirit, but it immediately gives off Mariah Carey vibes with the soulful and vivacious style of Gabby B's voice.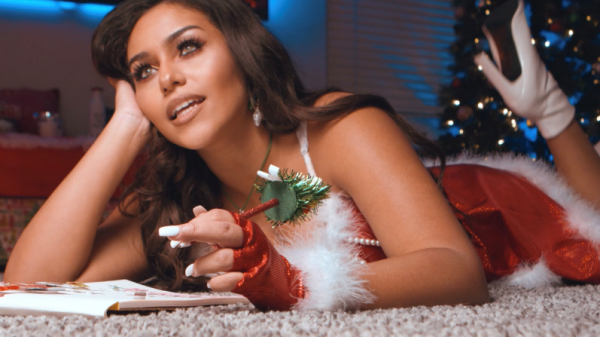 For Gabby B, creating her first Christmas song was not always in the plans for this year. "It kind of just happened when we were in the studio one day," she claimed. Gabby B was recording new songs for her upcoming 2021 album "Troublemaker" with producer Travis Kr8ts when it hit her. She stated, "I was thinking about the year we have had and how it's been a low point for so many people. I wanted to create something that made people feel good for the entire month, and something they could enjoy for years to come." A few hours later, "Christmas Day" was born and now continues to have great success.
For those who follow closely, a music video can usually be expected after a Gabby B song drops, and that is exactly what happened. The video depicts the lyrics of the song perfectly as one should "Never be alone on Christmas Day." Gabby B knew exactly how she wanted the video to be portrayed. "I didn't want any actors or extras in the video, I wanted it to be my real family. That's the whole point of Christmas and I wanted the video to be super authentic," she explains.
As for the music itself, you can easily tell that the production quality is top notch. The mixing and mastering took place in the studio of the all-time great Skip Saylor. If you haven't heard it yet, now is the time to turn up the volume and rock out to this holiday jam! Gabby B is here for the holidays and wants everyone to make sure they are not alone on Christmas Day.
Social Media:
Instagram: @gabbyb_music
YouTube: Gabby B Music
TikTok: @gabbyb_music
Website: gabbybmusic.com
Media Contact
Company Name: Muy Bueno LLC
Contact Person: Daniel Adelstein
Email: Send Email
Phone: 954-257-6321
Country: United States
Website: https://gabbybmusic.com/