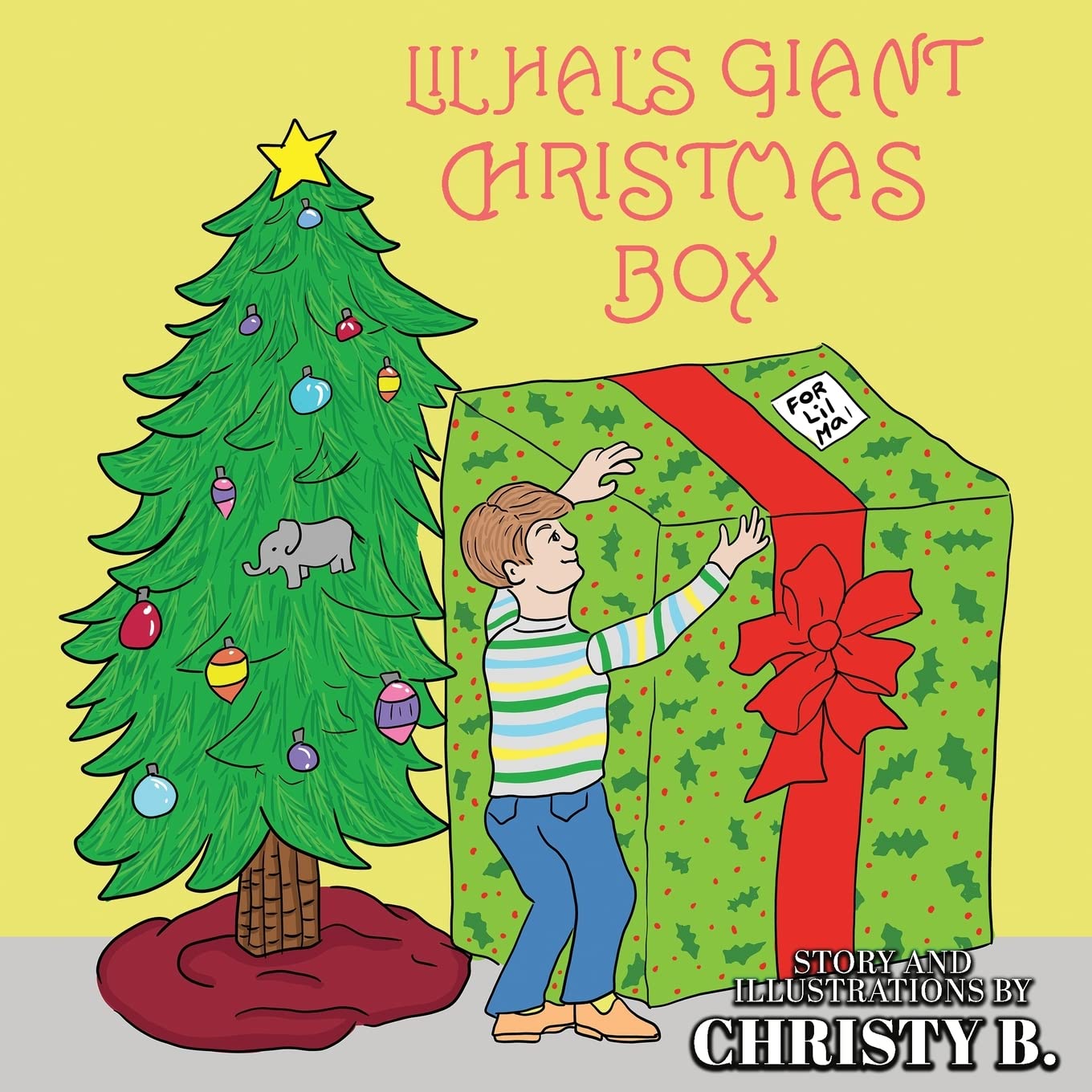 Gifted writer and retired Nurse, Christine E. Bruce aka Christy B aka Lil' Hal's daughter is excited to announce the launch of her new book titled Lil' Hal's Giant Christmas Box.
The back story about "Lil Hal's Giant Christmas Box" goes like this: Hal's uncle Clarence had a car repair shop. Hal really loved to watch his uncle at work. But for weeks he was kept away so Hal won't see his uncle's very special project. Clarence had acquired a used racecar that needed repairs. The car had a Delco light plant for a motor and used airplane landing tires.
In the meantime, to distract Lil Hal's curiosity, a big box weighted with bricks was wrapped and placed in the attic. His closet had the access stairs to the attic, so he snuck up to the attic for weeks to examine the mystery box.
When Christmas day came, he had the usual gifts under the tree; then he was told he could open the box in the attic. Hal unwrapped several boxes until he found the bricks. There was a note to go to the tree for instructions. there he found he was to follow the string, which leads him through a labyrinth of rooms in his and his grandparents' houses and his grandpa's hardware store. The journey ended in the attached garage, where the yellow race car was waiting. What a glorious present for a boy!
A week or so later, his cousin got a turn driving the car, but he ended his trip by crashing into a building. When asked why he crashed the car, he replied, "I didn't know how to stop the car."
But all was well because it was only a small repair to fix the dent.
About the Author
Christine E. Bruce aka Christy B aka Lil' Hal's daughter is a retired nurse, crafter, writer of stories and poetry, artist. As a child, she was sent to bed before her body was ready to sleep, so she made up stories until she fell asleep. After every holiday meal, her dad and her gramp told stories about each other and themselves. Those stories helped her hone her storytelling skills by remembering and retelling their stories to other people. Her first published tale was Lil' Hal's Giant Christmas Box.
"Writing is especially exciting for me because I had a lot of trouble reading as an elementary schooler. I was, in fact, dyslexic. Thankfully, I never gave up learning; I went from kindergarten through a Doctorate in Natural Medicine. I say, never give up, keep reading, because books can open up the world to you, too."
Lil Hal's Giant Christmas Box is published and marketed by Author's Tranquility Press, the best marketing tool for new and established authors, serving as the authors' ultimate book publicity partner.
Media Contact
Company Name: Author's Tranquility Press
Contact Person: Patricia Adams, Marketing Supervisor
Email: Send Email
Phone: (866) 411-8655
Address:239 Richmond Dr
City: Hiram
State: Georgia, 30141
Country: United States
Website: www.authorstranquilitypress.com